17 May 2019
Canadian politicians have been joining the Tamil community to mark the tenth year of Mullivaikkal and Tamil genocide remembrance in the lead up to May 18.
Speaking in Parliament, Gary Anandasangaree MP said:
"This May 18th we mark the tenth anniversary of the genocide of Mullivaikkal. Over 70,000 Tamils were killed, 300,000 detained and countless disappeared. I want to remember and honour those who died, their families and survivors. Within the designated 'No Fire Zone' the makeshift hospital was repeatedly bombed by the Sri Lankan military, the last remaining medical team became the lifeline for many. They saved thousands of lives working in treacherous conditions and putting their own lives at risk, all the whole reporting the atrocities to the world, to whomever would listen. They became the face of humanity at a moment when humanity forgot those in a small sliver of land called Mullivaikkal."
"I'm honoured to welcome to Parliament today Dr T Varatharajah and Mrs K Kandasamy, members of the medical team whose courage, valour and heroism have left the Tamil nation and all of humanity forever in their debt," the Mr Anandasangaree added.
Dr Varatharajah and Mrs Kandasamy were in Parliament as guests speakers at a screening of Callum Macrae's documentary 'Sri Lanka: In Search of Justice Ten Years On." The screening was attended by cross-party MPs and parliamentary advisors.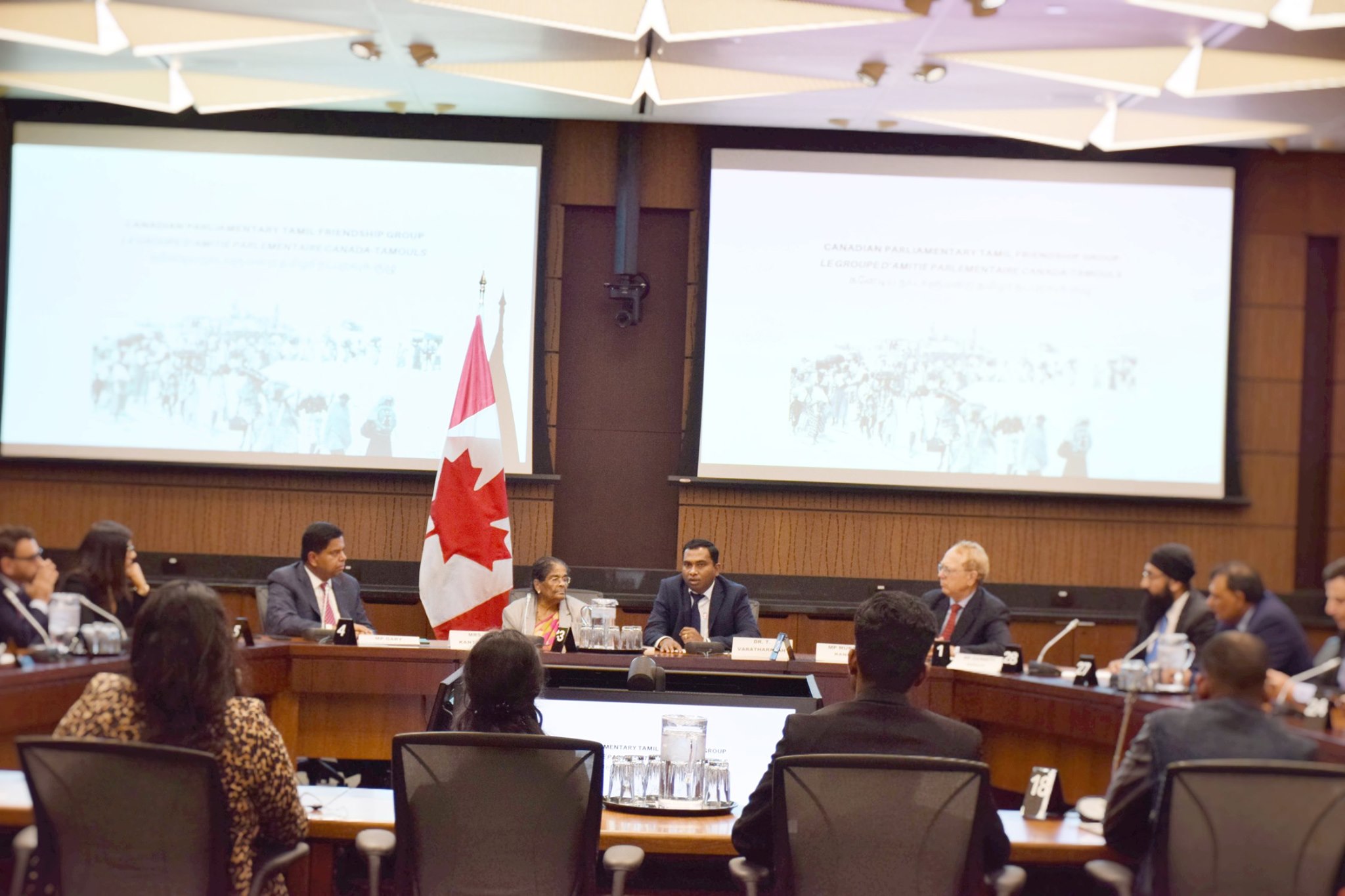 In a video message online, the leader of the NDP, Ontario's official opposition, Andrea Horwath MPP said she was hopeful there would be justice and recognition for the people of Tamil Eelam. Ms Horwath said:
"This May 18th marks 10 years since the Mullivaikkal massacre at the end of the decades-long civil war in Sri Lanka, and this month, New Democrats join with Tamil Canadians across the country in honouring and remembering the thousands of innocent civilians, loved ones, families and friends who were killed during the Tamil genocide in Sri Lanka. We stand together with the Tamil community in their ongoing struggle for justice for the victims of the Tamil genocide and in the need for formal recognition from all levels of government of this historic truth. Ten years ago, I stood with community leaders, when the Tamil community successfully led a blockade of the Gardiner Expressway in protest of the genocide and as a demand for political action and justice. Since then, Tamil Canadians - in particular Tamil youth - have emerged as leaders in the fight for human rights and across all fields - whether it be business, academia, medicine, government or the arts. It makes me hopeful for the future. Hopeful that despite everything that the Tamil community has endured that there will be peace and there will be justice and recognition for the people of Tamil Eelam. Thank you, and together, may we remember."
A tree planting in Scarborough was also organised by Gary Anandasangaree MP, attended by Toronto mayor John Tory, Vijay Thanigasalam Ontario MPP and Toronto city councillor Jennifer McKelvie.