18 May 2018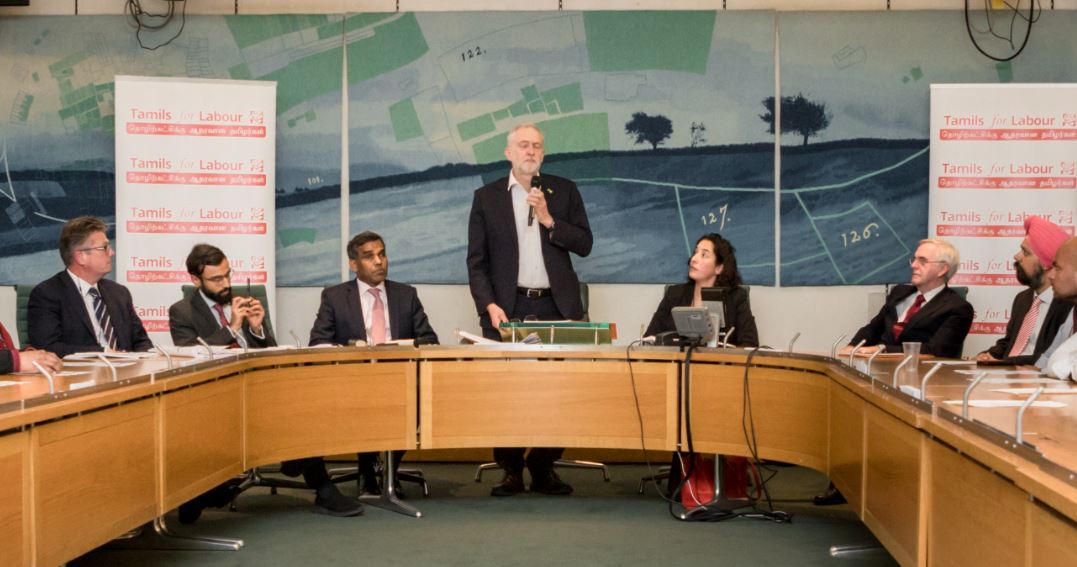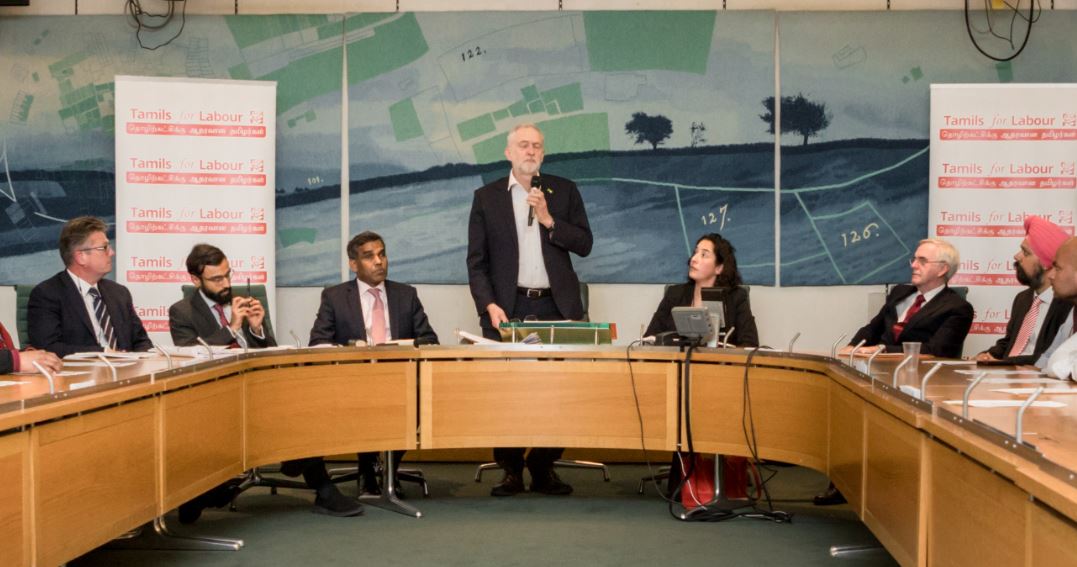 The leader of the British opposition Jeremy Corbyn committed to including fundamental Tamil issues in any future election manifesto whilst speaking at a Tamil genocide memorial event, organised by Tamils for Labour.
The remembrance event, which took place on Wednesday at the Houses of Parliament,  was chaired by Sen Kandiah of Tamils for Labour and Siobhain McDonagh MP.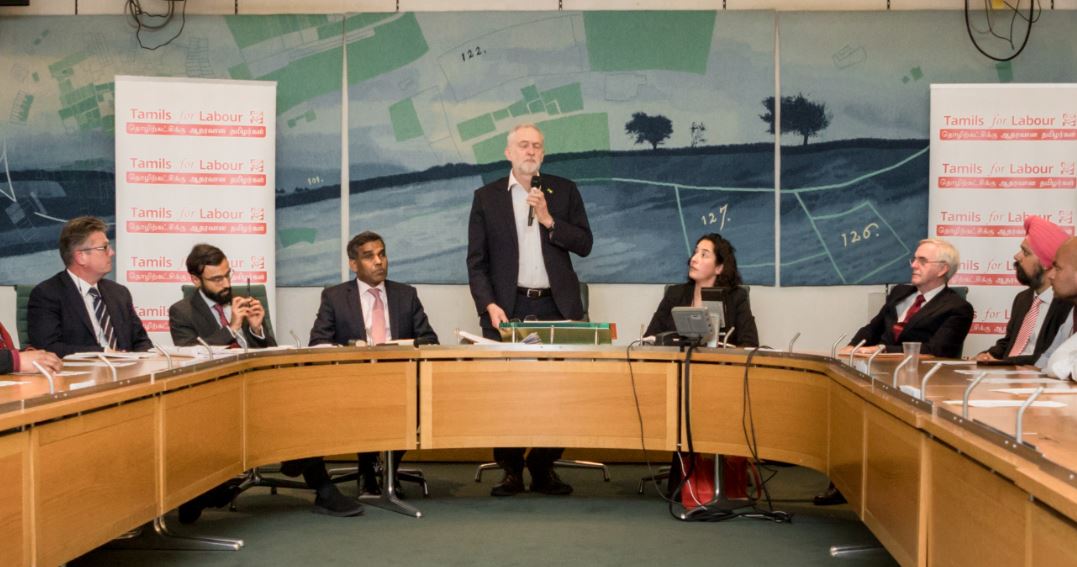 Speaking at the Mullivaikkal massacre remembrance event Mr Corbyn said,
"If there isn't truth, justice, reconciliation. There isn't of the rights of people (Tamil) to determine their own future then problems are being laid aside to come back again in later on, There has to be serious action taken to bring about peace and justice for the Tamil people. If there isn't I worry for the future in so many different ways. As we know, we now have a very large number of documented cases of torture of Tamil people in the North-East, which shows an awful lot more needs to be done. Our foreign policy will be basing our relationship with countries on human rights and their respect for human rights."
"The four fundamental points put forward by Tamils for Labour are a good start for us. An international judicial mechanism to address the crime of genocide, war crimes, crimes against humanity and other crimes committed by the Sri Lankan state, whist ensuring justice for families of the forcibly disappeared. Secondly a political solution that recognises the multilingual multi ethnic and multi religious nature of Sri Lanka as a society. And of course the right of Tamils to decide their own future. That is central to everything over the last years. And the repeal of the Prevention of Terrorism Act (PTA) with release of all political prisoners. The last point is the demilitarisation of the Tamil homelands in the North of the island and releasing all occupied lands. The assurance I want to give you is that the labour party fully understands the issue. And it will be included in our manifesto in any general election."
See video here.
Nina Tavikoli of the Red Lion Chambers, who has extensive experience in genocide and war crimes prosecutions, outlined the work she had conducted for the International Truth And Justice Project Sri Lanka. Speaking of ongoing torture under the current Sri Lankan government Ms Tavakoli concluded,
"It is quite clear that there is a culture of denial. And as a result there is no accountability. This creates an environment where this torture continues. It is clearly collective punishment intent on humiliating and eroding the Tamil community. Which is in complete contrast to the current government's rhetoric on reconciliation."
The Shadow Chancellor John McDonnell, reiterating the Labour party's commitment to end deportations of Tamil asylum seekers, added,
"The accounts that have been given are horrendous and reflects what we have all known for a number of years."
Fabien Hamilton the Shadow Minister for Peace and Disarmament, reiterated the Labour Party's commitment to self-determination of all nations.
Speaking after Sutharshan Sukumaran of the Tamil Guardian, Mr Hamilton said,  
"I caught the end of the last speech and it was very interesting to hear what you said. Primarily we believe of the people's right to self-determination wherever they are in the world. We want to use our already powerful role in humanitarian affairs, to save the lives of people who may be the victims of a genocide before it happens. And work through the united nations and other partners of peace where there is a threat of violence, to prevent. Looking at the history of the conflict in Sri Lanka and throughout the world. And in Gaza. I am Jewish and I am horrified that anybody peacefully protesting for their own rights and self-determination should be murdered in cold blood. That is unacceptable in the world."
Speaking on the pervading influence of Sinhala Buddhist nationalism in Sri Lanka's politics, Mr Sukumaran said,
"The key issue that has blocked all Sri Lankan political parties from delivering a solution to the ethnic conflict with Tamils is their need to pander to Buddhist nationalism. It's the same reason why Aan Sun Suu Ki is unable to speak aagainst and stop the ethnic cleansing of Christians and Muslims in Myanmar. When you look at Sri Lanka it can be argued that it is not really a democracy, and instead an ethnocratic state. Which really means we should frame the way we look at foreign policy on Sri Lanka in a whole new way. Sri Lanka is not just a foreign policy issue it is a British issue. There are over 400,000 Tamils in the UK. The labour party manifesto addresses issues like Palestine and other conflict issues with country specific policy. However Sri Lanka is still not mentioned in the manifesto. When we have had seven decades of ethnic conflict in Sri Lanka, it's clear that it is something that will not end in the next few years. There needs to be a manifesto commitment to Tamil demands on the ground and in the diaspora."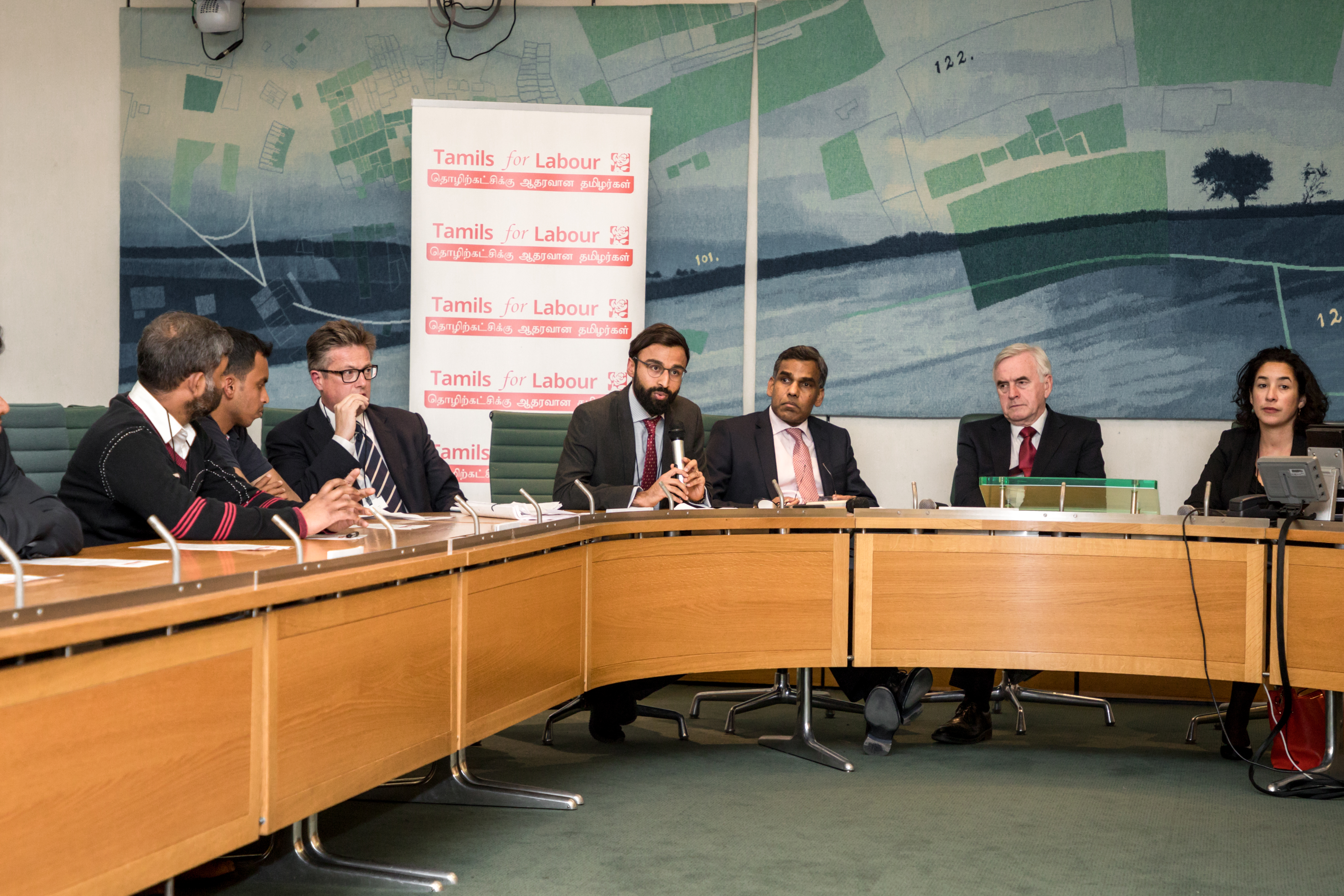 Labour MP for Ilford North Wes Streeting spoke on his lobbying efforts at the United Nations Human Rights Council and with the current government,
"It's so important that our government and others apply international pressure. So the Sri Lankan government looks and goes look at the consequences that might follow if we break our word that we have made in front of every country at the UN Human Rights Council."
Patrick Lewis of the Garden Court Chambers criticised the British home office for using "purported implausibility's" to defy its own tribunal concession of ongoing torture in Sri Lanka and reject asylum cases.
Drawing on his experiences from immigration law and Tamil asylum cases, Mr Lewis said,
"There is a real acknowledgement of the international communities failure to intervene during the final stages of the war. It is in that context we have to look at the ongoing failure of the international community and our obligations in this country. In my practice the attitude and approach to asylum seekers in this country is consistent with the failure of the international community. The abuses that occur in Sri Lanka today are not those claimed The level of rights abuses in Sri Lanka are not simply those argued by human rights lawyers, but is accepted by the home office in a case that reviewed the situation for asylum claims in this country and the rights situation in Sri Lanka. The home office conceded, on behalf of the secretary of state, that individuals in custody in Sri Lanka continued to be at risk of sexual violence and torture. It's in that context that one has to consider how the home office continues to approach asylum claims by individuals. The tragedy we face is where the home office continues to rely on discrepancies that are not there and purported implausibility's."
The Tamils for Labour Chair, Sen Kandiah said, 
"All Tamils should take heart from Jeremy's message of hope and his rock-solid support for the
fundamental rights and freedoms of the Tamil nation, including self-determination.A future Labour Government, under Jeremy's leadership, will make sure respect for international lawand for human rights is paramount and the Labour Party will continue to hold the Sri Lankan Government accountable for its actions.""
The event also saw Shadow Secretary of State for International Development Kate Osamor offer her support to Tamil issues outlined by earlier speakers.
Longtime campaigners on Tamil issues, Joan Ryan MP, Stephen Timms MP, Gareth Thomas MP all reiterated their commitment to an international justice mechanism nd criticised Sri Lanka's reneging on its commitments to UNHRC resolution 30/1.
Tan Dhesi MP, drew parallels between the Tamil communities struggle to secure accountability and the Sikh communities demands for accountability for massacres, adding that the communities could learn from eachother's experiences.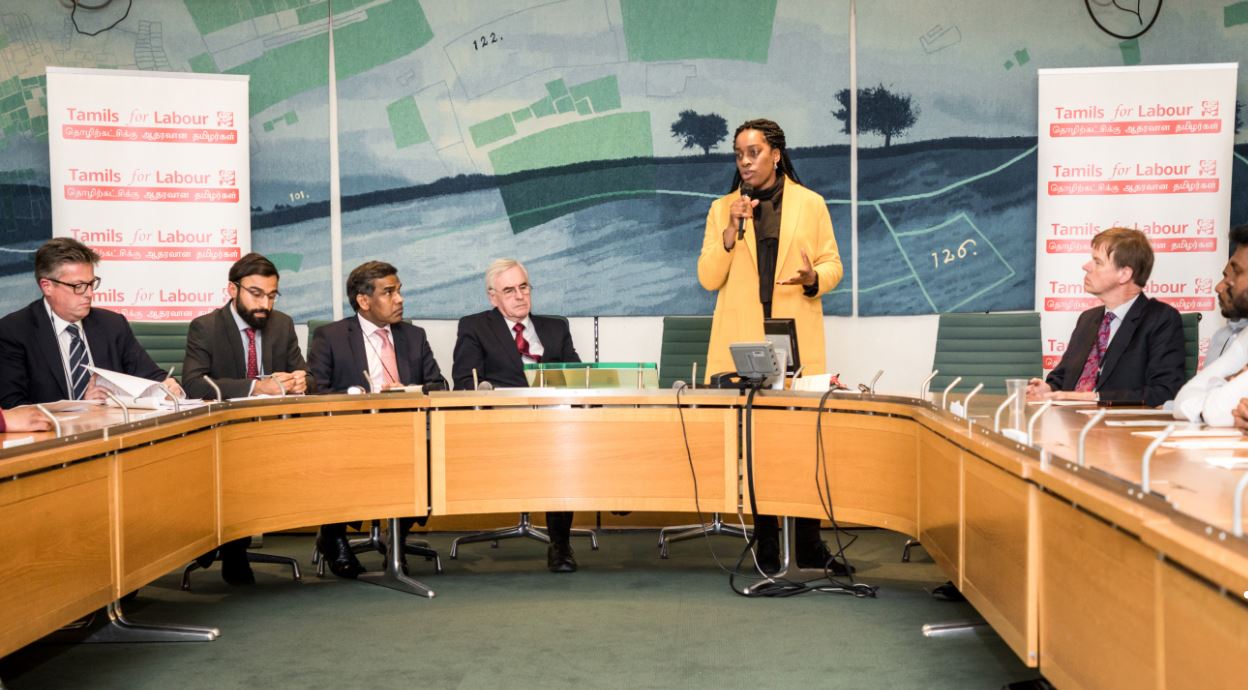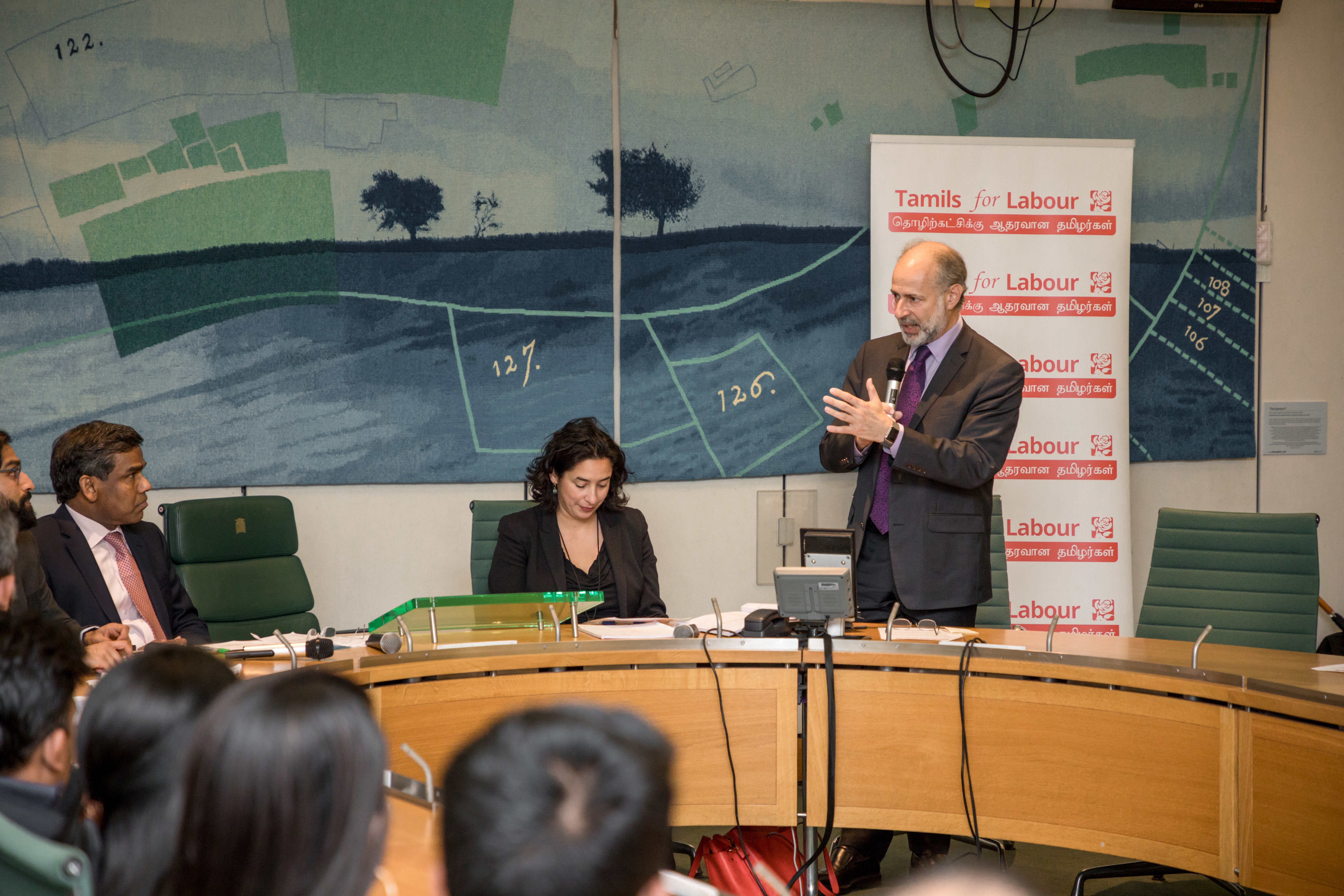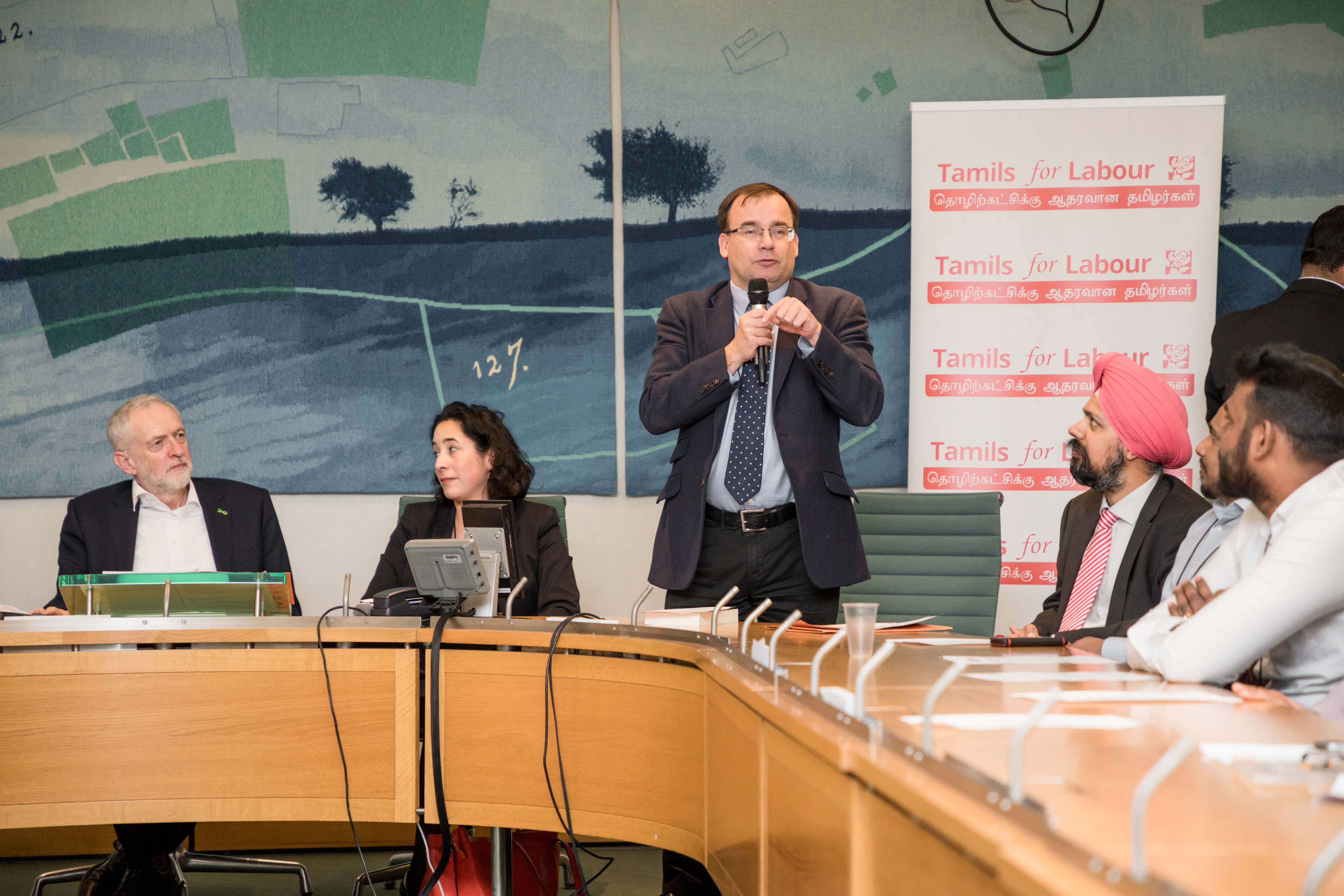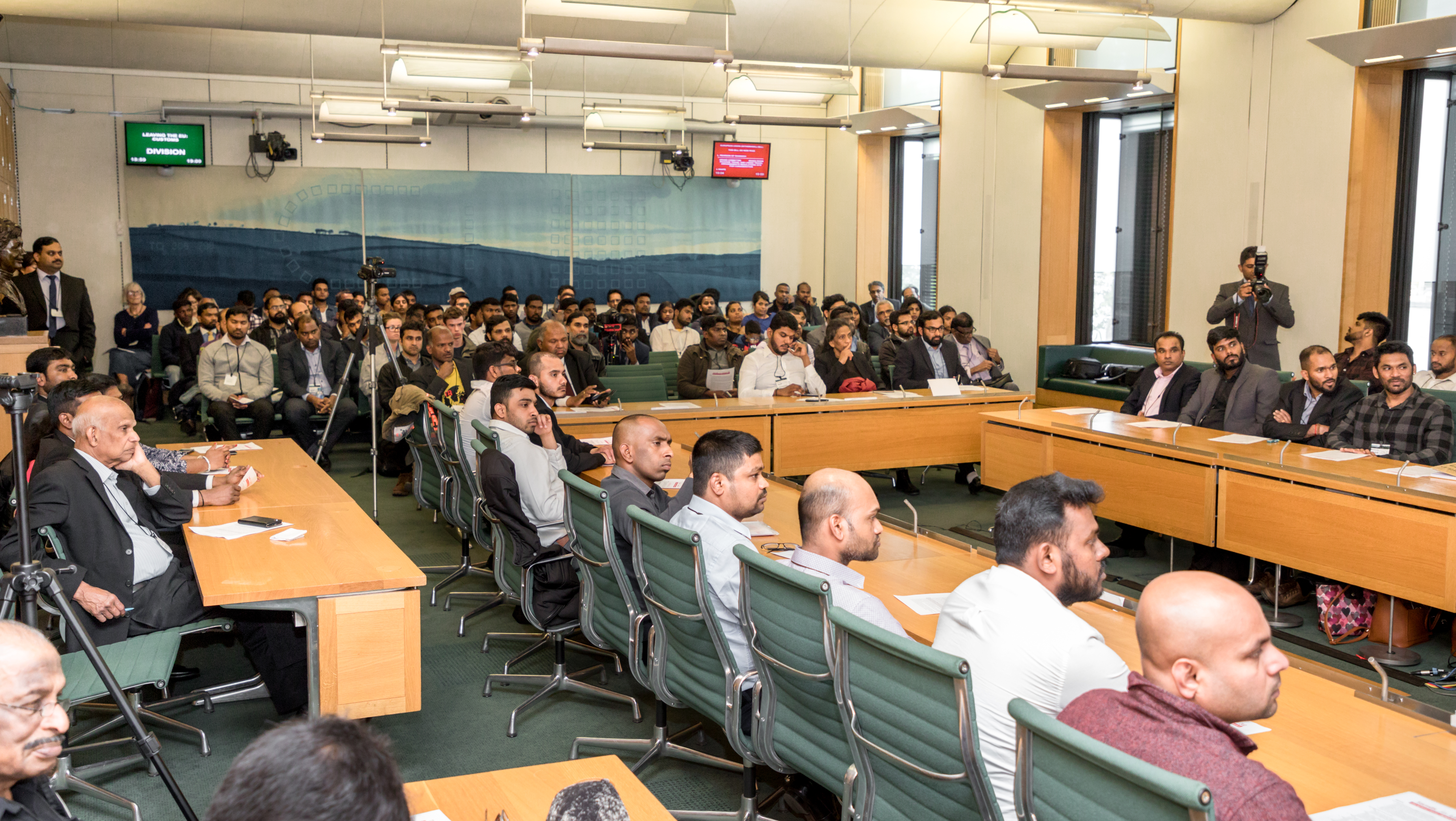 We need your support
Sri Lanka is one of the most dangerous places in the world to be a journalist. Tamil journalists are particularly at threat, with at least 41 media workers known to have been killed by the Sri Lankan state or its paramilitaries during and after the armed conflict.
Despite the risks, our team on the ground remain committed to providing detailed and accurate reporting of developments in the Tamil homeland, across the island and around the world, as well as providing expert analysis and insight from the Tamil point of view
We need your support in keeping our journalism going. Support our work today.
For more ways to donate visit https://donate.tamilguardian.com.