04 June 2019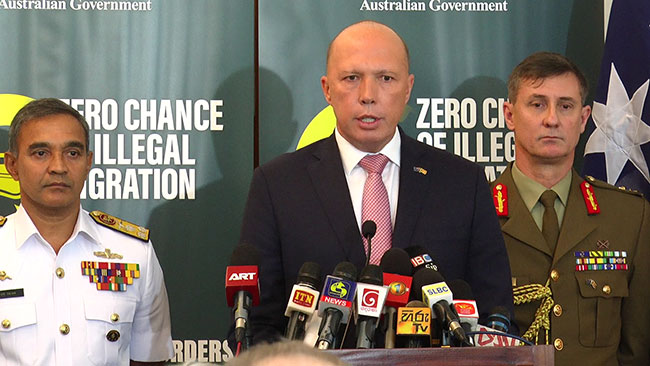 The Australian government expressed concern over an increase in the number of people fleeing Sri Lanka by boat towards the country in the past month, following a previous lull. 
Visiting Sri Lanka, the Home Affairs Minister, Peter Dutton said, "we have seen a lull recently and we've just seen an uptick in activity in the last month or so which has caused us concern." 
"But before that we'd seen a lull in activity and I think that is because of the strong stance that Australia has taken and our close work with Sri Lanka," Dutton told reporters whilst speaking at Australia House in Colombo, with a banner reading 'zero change of illegal immigration' behind him. 
Two boats with people fleeing from Sri Lanka were intercepted by Australian border control over recent weeks. 
His comments come just weeks after Sri Lanka experienced a renewed military presence following the Easter Sunday bombings, and widespread ethnic riots with Sinhala Buddhist mobs attacks Muslim homes, businesses and mosques. 
"Australia has just held our recent election and the government has been reelected. And on that basis our policy in relation to the protection and security of our borders has not and will not change." Dutton said, adding "but we will never bring in people by boat."
"I know that people smugglers might be telling some of those who would seek to come to Australia that the situation has changed. But it hasn't. People smugglers have been lying to you and you must reject what they say." 
"Regardless of how much money you handover, regardless of what is promised people will never arrive by boat in Australia," he added. 
"Ultimately if you give money to a people-smuggler, you will lose that money and you will be returned back to Sri Lanka very quickly."