28 June 2020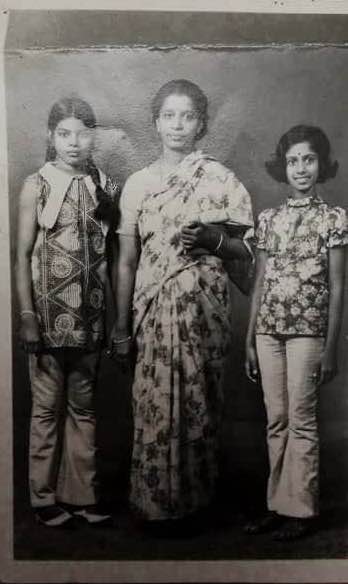 At age seven, I joined the Jaffna Library as a member of its children's section. Every Saturday my friend and I would take orange juice and beetroot and Kraft cheese sandwiches, and go with her mother, then English teacher at Vembadi Girls School, to the library.
We would run about aimlessly among the red stairs and the tiny chairs and tables and cases stacked with books, as if we were in the house of the seven dwarves My friend's mother would sit us in the children's section and go off to the adult section.
There were some aunties working there to watch us and to reorganise the books that we pulled out. What to take? What to read? That area was like a schoolroom, with children pulling out everything and anything. I cannot forget that children's section. This photograph was taken once on the way there. I was thirteen-years-old.
How can I describe the happiness I felt when I was returning to the homeland for the first time in 2016, that I was finally going to show my sons the house and the library about which I had told them countless stories? In Jaffna we stayed in a hotel near the library.
I went with so much excitement, only to be told that adults were not allowed in the children's section. I started to cry. When I told them I had been a member there from when I was seven-years-old, until the year 1981, the supervisor allowed me to see the section.
He introduced me as a member of the children's section and took me and my children inside. There we sat, as children ran around among the tiny chairs and tiny tables.
Shanthynee Varatharajan is a Tamil writer and poet based in Germany. The Art of Survival is a Tamil Guardian series on Tamil archiving and memory, launched to commemorate the burning of the Jaffna Library by Sri Lankan state-sponsored mobs.