12 March 2017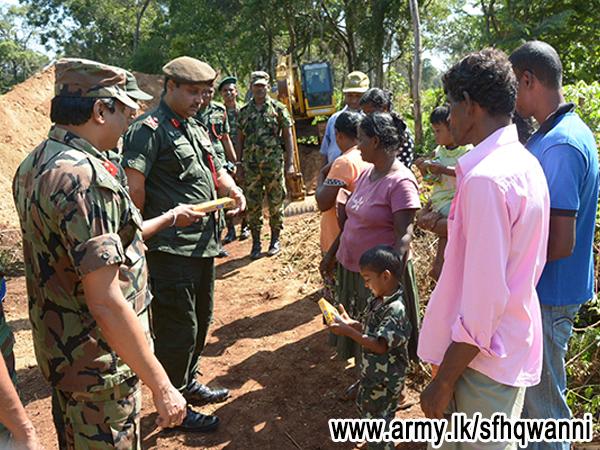 A child dressed in Sri Lankan military fatigues receives a handout from Sri Lankan military officials.
The commander of the Sri Lankan security forces in Vanni visited a Sinhala settlement in Vavuniya on Friday, where thousands of Sinhalese villagers were settled in 2013.
Major General J R Kulatunga went on a tour of the traditionally Tamil village of Kokkachaankulam, which has now been divided into new settlement villages and renamed in Sinhala, such as 'Bogaswewa' and 'Nandimithragama' - a mythical Sinhala giant, who fought against the Tamil Chola King.
On his tour of the area, the commander held discussions with Sinhala villagers who "were informed that their problems will be directed to the government authorities immediately," according to an official military news report.
He also visited the Roshan Mahanama school, named after the Sri Lankan cricketer and fully constructed by Sri Lankan troops.