28 July 2013
'Arappor' a film docmenting the wave of student protests that swept across Tamil Nadu was released in Chennai on Sunday, as a packed out crowd gathered to watch its first public screening.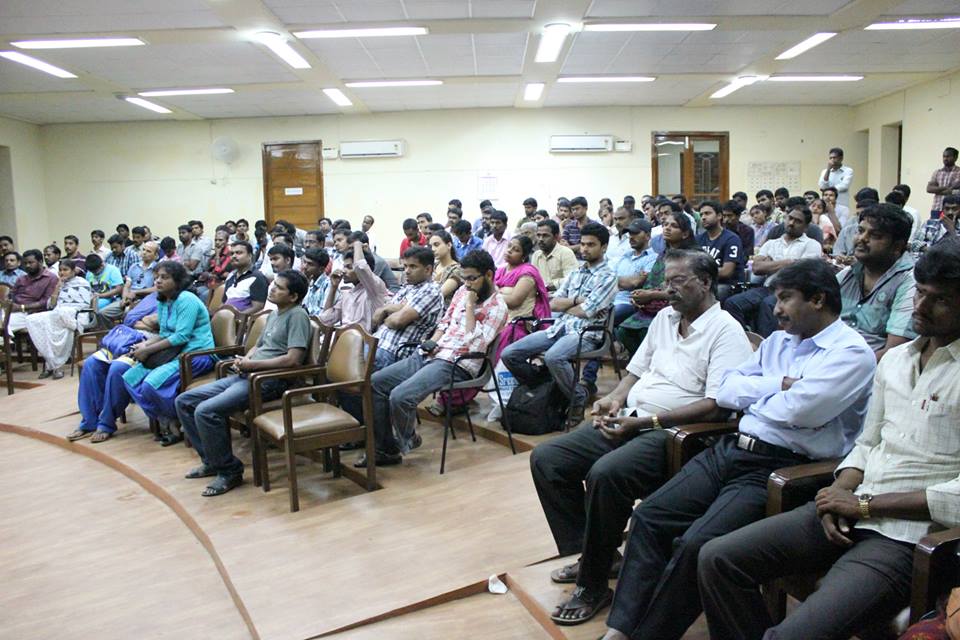 Picture courtesy of Arappor facebook page here.
The film began with a brief outline of the history of the Tamil struggle for independence, before going on to document the surge of protests that engulfed the Indian state. The protests, which started with students from Loyola College going on hunger strike, was sparked after newly uncovered evidence of atrocities by the Sri Lankan Army was brought to light.
In particular, the students talked of how photos of Balachandran Prabhakaran, moments before and after his execution, resonated across Tamil Nadu, and brought masses on to the streets, shutting down dozens of colleges.
A discussion followed the screening, with the panel consisting of Thirumurugan Gandhi of the May 17th movement, director Senthamizhan, renowned Eelam poet Kasi Anandan, Tamil Desiya Pothuvudumai Katchi General Secretary Venkatraman and critically acclaimed South Indian film director Ameer.

From left to right: Director Senthamizhan, Kollywood Director Ameer, Eelam poet Kasi Anandan, TDPK Gen Sec Vekatraman and Thirumuruga Gandhi from May 17th
Speaking at the event Senthamizhan said,


"We were told we were a 'fringe group'. But these protests have shown the true sentiments of the Tamil Nadu people."

Kasi Anandan told the crowd,


"The Sinhalese say we are a 'ethnic group'. We are not an ethnic group. We are a nation!"

"They say the North an East are merely provinces. They are not provinces. It is our homeland!"

"They call us a 'minority'. We are not a minority. In our homeland, we are the majority!"

See our live coverage from the event on our Twitter account here.