02 December 2021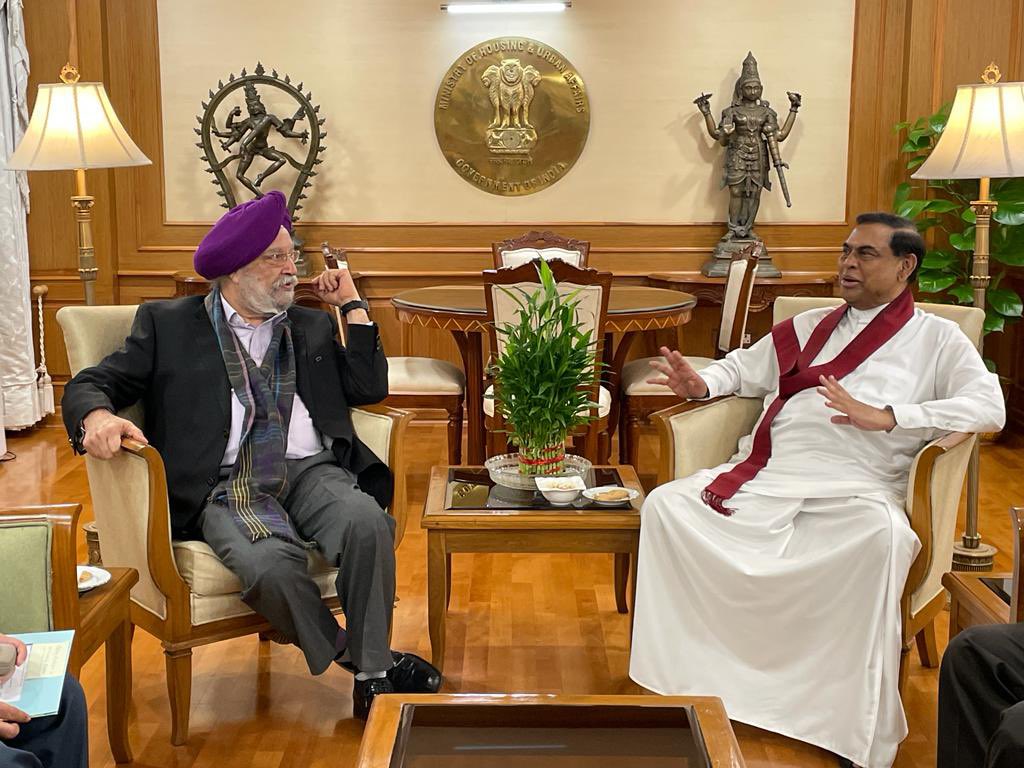 Basil Rajapaksa meets India's Union Minister for Housing & Urban Affairs & Minister for Petroleum and Natural Gas, Hardeep Singh Puri.
Sri Lanka's finance minister and another brother of the Rajapaksa regime, Basil Rajapaksa, is in Delhi this week, as his government looks to India for crucial financial support amidst a deepening economic crisis and growing tensions between the neighbours.
Rajapaksa arrived in Delhi on Tuesday, with a range of meetings scheduled. He is expected to meet with Indian prime minister Narendra Modi, as well as External Affairs Minister S Jaishankar and others.
Growing tensions
His visit comes at a particularly precarious time and recently fraught Indo-Lanka relations.
Just last week, the Sri Lankan cabinet decided to award a deal to a state-owned Chinese company for the second phase of the East Container Terminal (ECT) – a project that Delhi has been keen on for several years.
The development of the port was initially agreed upon in May 2019 by the previous Sri Lankan regime, when former prime minister Ranil Wickremesinghe signed a memorandum of cooperation (MoC) with India and Japan to upgrade the terminal. The deal would have allowed the Sri Lanka Ports Authority (SLPA) to retain full ownership, whilst India and Japan had a 49% stake in running the terminal. Over 70% of the transhipment business at the ECT comes from India.
Earlier this year, however, Sri Lanka unilaterally abandoned the deal, reportedly worth an estimated US$500 - 700 million.
The withdrawal came amidst intense pressure from Sinhala nationalist groups and Buddhist monks, who have long voiced their objection to any "foreign involvement" in the project.
"We heard that there is a lot of pressure from India over this project," Shyamal Sumanarathna, secretary of the Ports, Commerce Industries and Progressive Workers Union told the Nikkei Asian Review earlier this year. "But we are not a province of India, we are a sovereign nation and we do not need to dance to their tunes."
"Colombo's cancellation of the ECT deal caused considerable diplomatic strain," reported The Hindu, noting that "just a month ahead of the announcement External Affairs Minister S. Jaishankar had visited Colombo".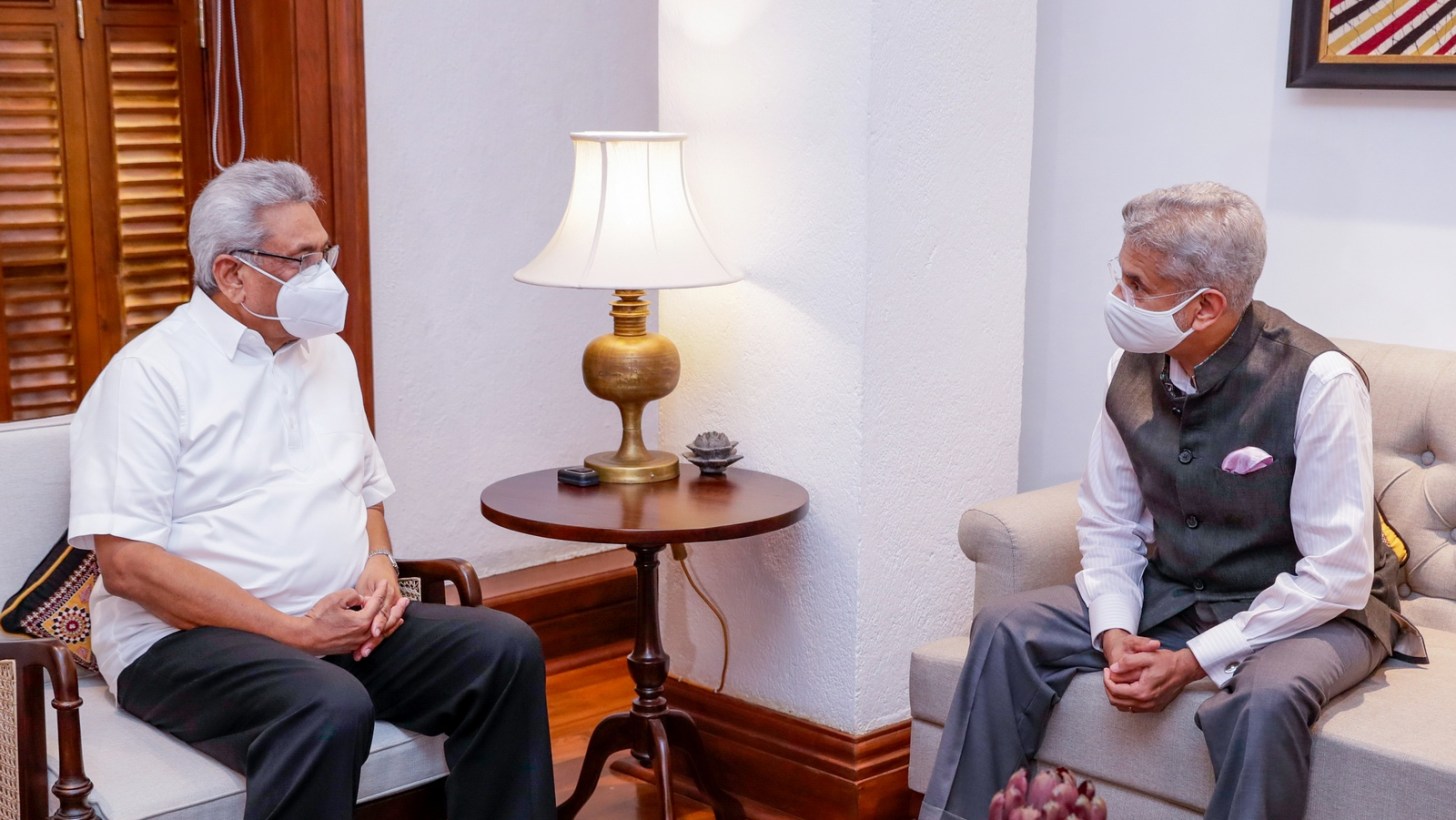 India's External Affairs Minister S. Jaishankar with Gotabaya Rajapaksa in Colombo earlier this year.
Responding to Sri Lanka's sudden withdrawal from the ECT, one Indian diplomat said,
"India is at a loss to understand Sri Lanka's action which is highly damaging. It feels Sri Lanka lost a good opportunity. India has maintained close trade, cultural and security relations. It has not been told a word about the ECT deal being cancelled before the Cabinet took a decision. This would naturally have a rupturing effect on bilateral relations."
Another high-ranking official from the Bharatiya Janatha Party (BJP) stated,
"It appears to us that it is a hoax from the beginning. Sri Lanka was not going to give it to us."
Sri Lanka looks to Beijing
The awarding of the deal to construct the second phase of the ECT was instead given to China Harbour Engineering Company (CHEC) – part of a state-owned Chinese company. The firm is already involved in several Sri Lankan projects, including the USD$1 billion Colombo Port City and a highway near the southern capital, which it will own and run for at least 15 years.
The latest announcement gives Beijing an increasing footprint on the island, with China Merchants Port Holdings Company holding a majority stake at the Hambantota Port and also at the Colombo International Container Terminal at the Colombo Port.
Meanwhile, in the Tamil homeland in the North-East, more Chinese projects were announced, with Delft Island, Analativu and Nainativu the site of three renewable energy projects, worth an estimated USD$12 million.
India diplomats responded by stating such projects would raise serious security concerns and reportedly lodged strong complaints. The awarding of the key ECT deal too will have ruffled feathers in New Delhi.
What about the WCT?
Sri Lanka did attempt to placate some of the consternation from India in the aftermath of the ECT withdrawal by instead offering up the West Container Terminal (WCT).
Earlier this year, Adani Ports inked a deal worth a reported US$700 million to build a new container terminal in the port, giving it a 51 per cent stake in the terminal partnership, while John Keells will hold 34 per cent and the Sri Lanka Ports Authority 15 per cent.
The deal remains curious for two reasons.
Firstly, it remains unclear how the Adani Group was chosen for the project. Whilst Sri Lanka claims that the firm was put forward by India, New Delhi insists that was not the case. Indeed, the Indian High Commission released a statement claiming that any nomination of the Adani Group and approval of the WCT deal was "factually incorrect". Earlier this year though, Adani Group chairman Gautam Adani called on Sri Lankan President Gotabaya Rajapaksa in Colombo, reportedly on a "private visit", and also visited Mannar in the North-East.
Secondly, the outcry from Sinhala nationalists seems to be more muted over the WCT deal, even though an Indian firm would hold a majority share.
Though the main opposition party the Samagi Jana Balawegaya (SJB) as well as the Janatha Vimukthi Peramuna (JVP) have opposed the WCT deal, the Sri Lankan regime has been attempting to cool tempers, by claiming the deal is simply not as significant.
The "WCT is not considered as important as the ECT, therefore, their [Adani Group's] experience in the port sector would be considered as a positive factor, not a negative factor" said Sri Lankan minister Udaya Gammanpila.
And the minister is right, as The Hindu explains;
"The ECT is partially functional with a 600-metre quay wall, backyard, and gate complex. It awaits further development to augment operations and cargo transfers, at an estimated cost of $ 700 -$800 million.

The WCT, on the other hand, exists only as an idea with no physical infrastructure, such that its development would require greater investment and take more time to be profitable."
Dire economic straits in Colombo
Aside from the controversy around ports, Rajapaksa's visit to New Delhi comes as Sri Lanka faces dire economic straits and extreme financial hardship.
Sri Lanka's oil bill has reportedly jumped 41.5 per cent to $2 billion in the first seven months of this year alone, compared to last year. Foreign reserves are shrinking, having dropped to a reported US$ 1.5 billion according to a senior opposition leader, including gold reserves of $US 300 million - less than one month's import payment. Gross Domestic Product has contracted by a record 3.6 per cent in 2020 and the Sri Lankan rupee has depreciated 9 per cent against the dollar during the past year.
Meanwhile, remittances dropped by a staggering 49% to US$ 317.4 million, according to the latest press reports.
All whilst Sri Lankan has approximately US$4.5 billion top pay service its sovereign bonds in 2022, amidst a heap of other international loans.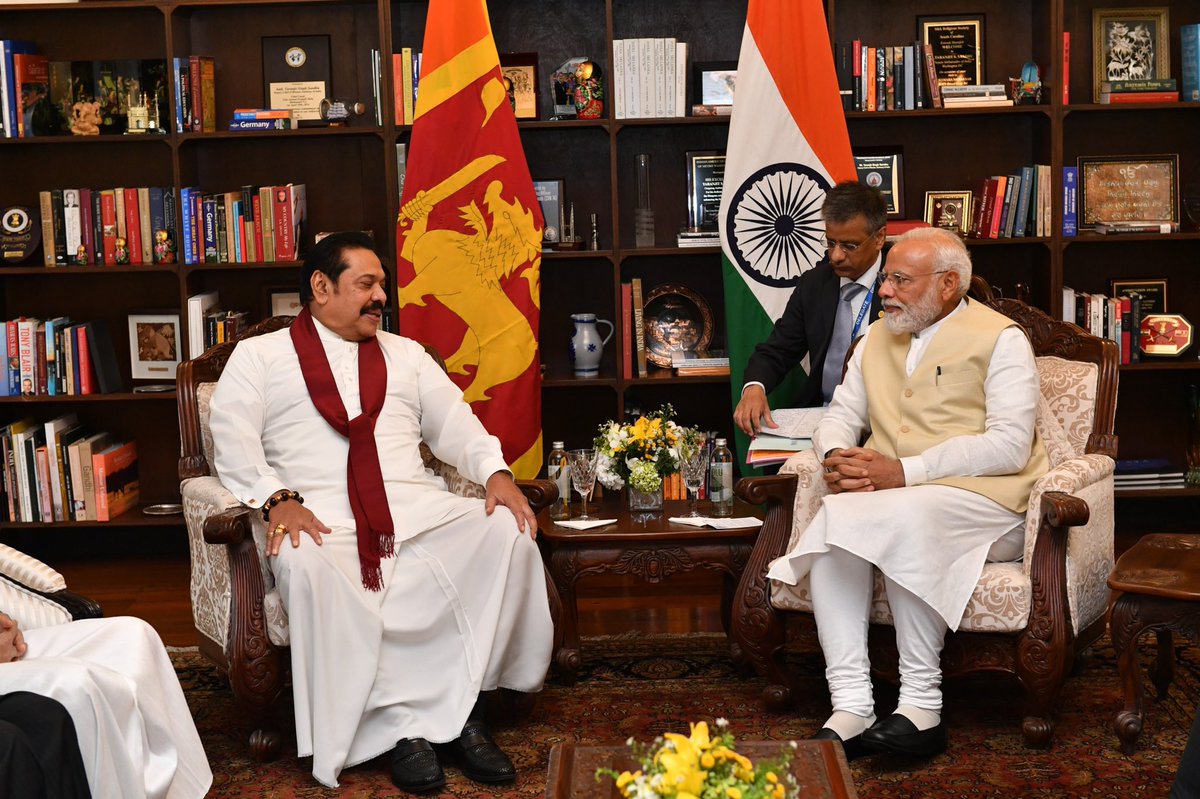 Mahinda Rajapaksa with Narendra Modi.
Whilst the crisis has been growing, Sri Lanka sought assistance from India. At least two requests are known to have been made for economic assistance from New Delhi - a debt freeze request directly by Sri Lanka's prime minister Mahinda Rajapaksa in February 2020 and a US$ 1.1 billion currency swap request from Sri Lanka president Gotabaya sought in May 2020.
"New Delhi is yet to respond to either, amid considerable strain," said The Hindu.
Now the third Rajapaksa sibling is in New Delhi with requests of his own, including a $500 million credit line and new investments, according to Reuters.
"Sri Lanka's erratic approach to Indian and U.S. investments – seeking them out and then backsliding for nationalist reasons – is emblematic of this effort to hold out for maximal political and economic gains," wrote Madura Rasaratnam and Mario Arulthas earlier this year.
"It is, of course, impossible for any of these international actors to provide the type of blank check financial and political backing that Colombo seeks; economic, aid, and investment priorities simply do not work this way," they continue. "The principal obstacle to U.S. and Indian interests on the island is not China per se but rather Sinhala Buddhist nationalism itself and the political as well as economic outcomes it seeks".
_____
This article has been updated to state that remittances in Sri Lanka by 49%, not 99%. The original figure was published using a report cited from the Daily Mirror.
We need your support
Sri Lanka is one of the most dangerous places in the world to be a journalist. Tamil journalists are particularly at threat, with at least 41 media workers known to have been killed by the Sri Lankan state or its paramilitaries during and after the armed conflict.
Despite the risks, our team on the ground remain committed to providing detailed and accurate reporting of developments in the Tamil homeland, across the island and around the world, as well as providing expert analysis and insight from the Tamil point of view
We need your support in keeping our journalism going. Support our work today.
For more ways to donate visit https://donate.tamilguardian.com.