18 February 2020
(Photo Credit: Twitter @SingerHanaa)
Amnesty International (AI) voiced their solidarity with the families of the disappeared who marched in Colombo on Friday (Feb 14) and insisted the government "must deliver justice, truth and reparations to the families of the forcibly disappeared." 
The rally saw several families of enforced disappeared victims from all over Sri Lanka come together to demonstrate in Colombo last Friday to commemorate their missing loved ones on 'Missing Lover's Day'.
"The commemoration is a poignant reminder of the painfully long wait of families of forcibly disappeared for answers about their loved ones," said Biraj Patnaik, South Asia Director at Amnesty International. "Their families were taken away from their loved ones, and then they have been denied the truth about their whereabouts," he added.  
Demonstrators marched towards the offices of Prime Minister Mahinda Rajapaksa and the President Gotabaya Rajapaksa demanding that the government meets the demands of the families of the disappeared and initiate the necessary steps towards accountability, truth and justice.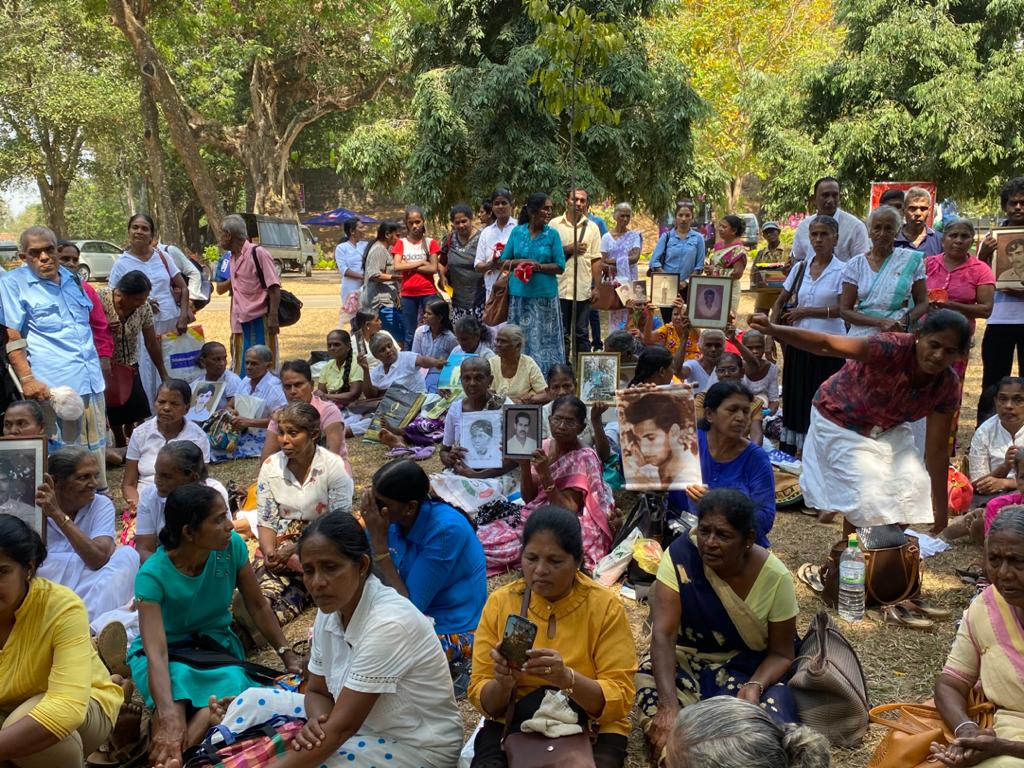 (Photo Credit: Twitter @SingerHanaa)
AI pointed out the horrific extent of Sri Lanka's enforced disappearances, citing Sri Lanka as "one of the world's highest number of enforced disappearances, with a backlog of between 60,000 and 100,000 disappearances since the late 1980s. The authorities have also failed to protect witnesses and families seeking truth and justice, and failed to prosecute those suspected of criminal responsibility."
The human rights organisation added that "Sri Lanka has made limited progress on the issue of enforced disappearances with the criminalization of enforced disappearances in March 2018" and pointed out that "the government, on many occasions, has appointed or promoted those suspected of crimes under international law into positions of power."
Biraj Patnaik urged the government to take immediate and the necessary steps in relation to the families of the disappeared;
"The government must proactively support truth-seeking efforts by the families of the disappeared to get answers. To start with, the authorities should immediately provide information to the families of the disappeared, with detailed lists and information of persons who surrendered to the armed forces in the final phase of the armed conflict. The authorities should also independently investigate all those suspected of criminal responsibility for the enforced disappearance, and bring them into justice in fair trials before ordinary civilian courts."
Read more here.