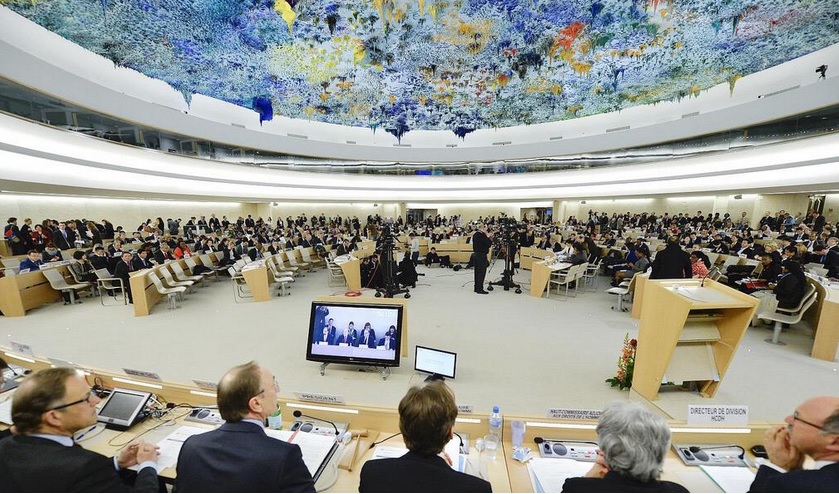 Photograph: HRC Secretariat
The findings of the UN investigation into Sri Lanka's atrocities are "of the most serious nature" and will require accountability that "brings deep institutional changes needed to guarantee non-recurrence," said the UN Human Rights Chief during his opening remarks to the 30th session of the UN Human Rights Council.
 
The report of the Office of the High Commissioner for Human Rights' (OHCHR) Investigation into Sri Lanka (OISL) will be released on Wednesday.
Addressing the council on Monday, Prince Zeid Hussein, said,
"Six years ago, we were confronted with serious violations and loss of civilian life in the last months of Sri Lanka's long civil war. This Council has been deeply engaged with the need for accountability, as a necessary step towards reconciliation in that country. On Wednesday I will release the report of the comprehensive investigation that OHCHR was mandated to conduct in March 2014, including my recommendations. Its findings are of the most serious nature. I welcome the vision shown by President Sirisena since his election in January 2015, and the commitments made by the new Government under his leadership. But this Council owes it to Sri Lankans – and to its own credibility – to ensure an accountability process that produces results, decisively moves beyond the failures of the past, and brings the deep institutional changes needed to guarantee non-recurrence."
See proceedings of the first day at the council below.
30th session of UNHRC commences amidst calls for international accountability mechanism to deal with UN inquiry into Sri Lanka (14 Sep 2015)
Sri Lanka's Foreign Minister addresses UN Human Rights Council (14 Sep 2015)
US pledges assistance in achieving 'credible accountability' in Sri Lanka (14 Sep 2015)
We expect Sri Lanka to take forward OHCHR recommendations - UK (14 Sep 2015)
EU to promote 'reconciliation and accountability' in Sri Lanka (14 Sep 2015)
Abduction, torture and sexual violence continues despite the change of government in Sri Lanka (14 Sep 2015)
'UN HRC must not fail families of Sri Lanka's dead and disappeared' - HRW (16 Sep 2015)