16 August 2022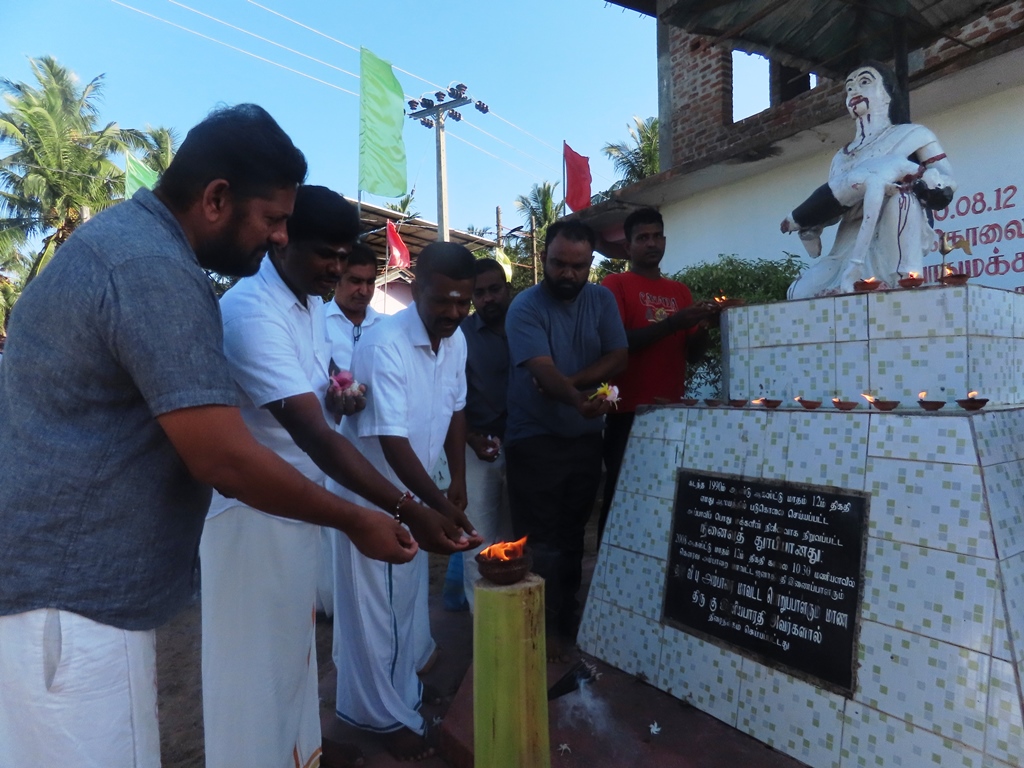 Tamils gathered in Amparai this week to mark 32 years since at least 55 Tamils were killed by the Sri Lankan military and Muslim home guards, part of a series of killings that left hundreds dead in just weeks.
Tamil National Alliance (TNA) MP Thavarasa Kalaiarasan was amongst those gathered in Amparai, as mourners lit a flame of remembrance before a monument that had ben constructed in memory of those killed.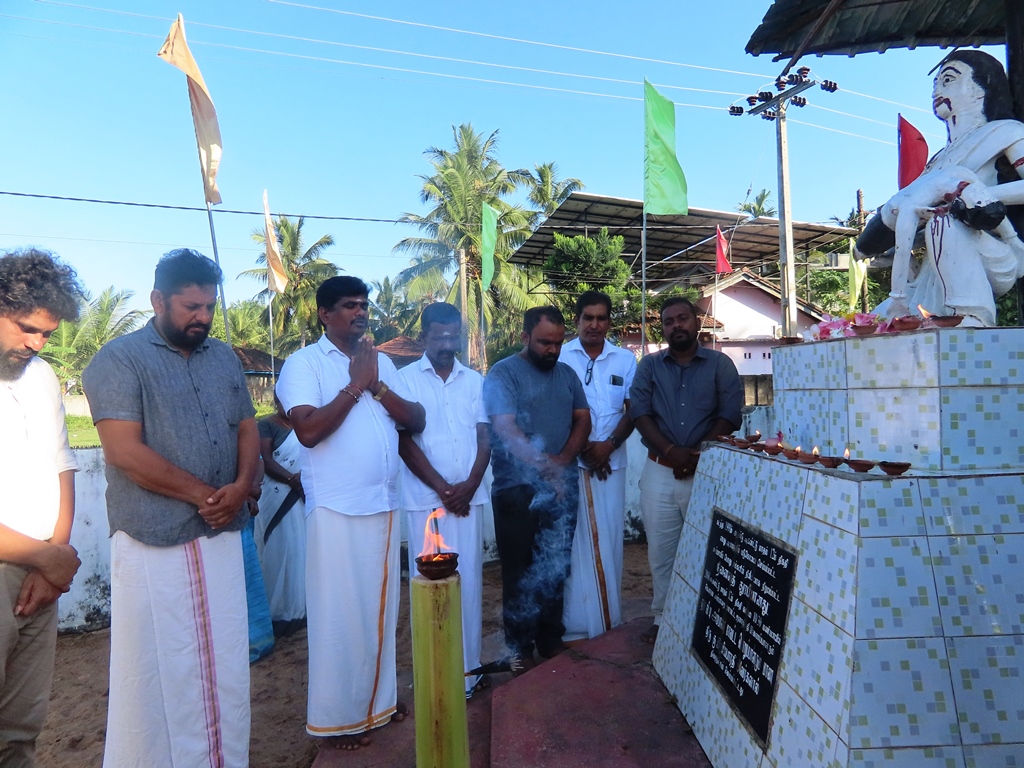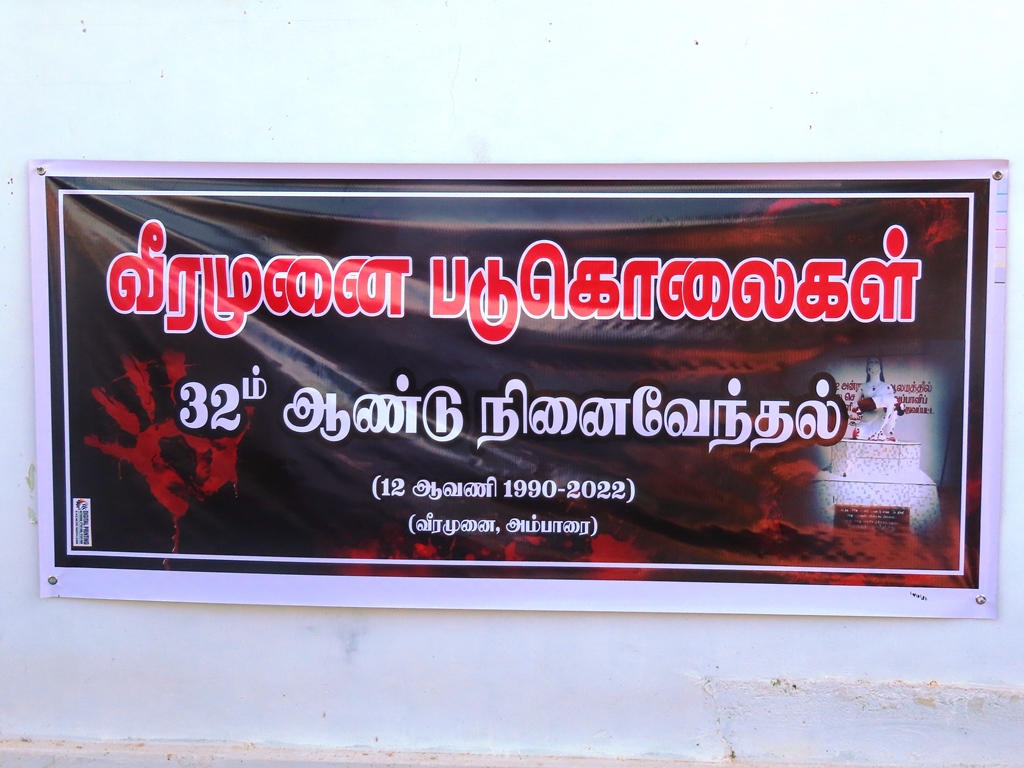 The Veeramunai massacre saw 55 Tamils including men, women and children by Muslim home guards on 12 August 1990. The home guards forcibly entered the Sinthayaathirai Pillaiyaar Kovil and Ramakrishna Mission Tamil Vithiyaalayam, and attacked Tamils from the villages of Veeramunai, Malvaththu, Mallikaiththeevu, Samaanthurai and Veerachcholai who had sought refuge there.
The massacre was the latest in a spate of killings in the Eastern district, which saw more than 200 people either killed or disappeared from Veeramunai and the adjacent villages as well as more than 2,000 homes destroyed.
The North-East Secretariat On Human Rights (NESOHR) detailed some of the atrocities that took place in the region at the time, as well as survivor testimony and the names of those killed.
See more from NESOHR below.
_____
Veeramunai is a village in the Amparai district. It is a traditional Tamil village. Sammanthurai is the adjacent Muslim village where the Muslim people who were chased away from the coastal areas by the Portuguese colonizers have settled. The Muslims and Tamils have historically lived side by side and together have built a prosperous and peaceful community.
On the 20.06.1990, Sri Lankan military rounded up the Veeramunai village and ordered the people to go to the Veeramunai Pillaiyar temple. Everyone who stayed at home without going to the temple was shot dead. Later on that day the military arrived at the temple in large numbers. There were more than 1000 people who had gone to the temple on orders from the military. The military selected every male over the age of 15 from the temple. 69 young men, all civilian youths, were arrested in front of their relatives. The arrested men were taken to the Sammanthurai Marjan School where they were tortured. 50 men died and their bodies were taken to the forest nearby and burnt.
The military again took several more people from the temple on 29.06.1990 and all of them have disappeared. Following these two incidents people displaced from the temple to the Karaithivu Mahavidhyalayam School.
On 03.07.1990, the military again rounded up this school and took 11 young men. They too have disappeared.
Again on 05.07.1990, the military took away a further 13 men. All of them were tortured and killed and their bodies were burnet with tires. People who went in search of those who were arrested were attacked by the military. Following this people displaced again to a refugee camp near Veeramunai.
On 10.07.1990, the military arrested another 15 young men from this Veeramunai refugee camp and took them to the military camp. There they were tortured and killed and their bodies were burnt.
On 16.07.1990, eight women who went from the refugee camp to check their homes were arrested at the Malwaththa checkpoint. They were gang raped by more than 30 SLA men and killed. Their bodies were burnt.
On 26.07.1990, the military again arrested 32 young men. 23 of them were school children. All of them have disappeared.
On 29.07.1990, eight school teachers who were travelling with their family were arrested. All of them have disappeared.
On 01.08.1990, 18 civilians who were passing through the Savalakkadai road were arrested by the military and the home guards operated by it. Among them were four women and a baby. They were all killed using sharp weapons and their bodies were put inside the Savalakkadai temple and burnt.
On 12.08.1990, Muslim groups that entered the Veeramunai refugee camp began attacking the people. Ten civilians were killed. Many more were injured. Among the dead are the temple manager Thambimuthu Sinnathurai and two babies. Those injured in the Muslim attack were taken to the Sammanthurai hospital where they were refused treatment. They were then taken to the Amparai hospital. The military came to the hospital and abducted three of the seven victims who were admitted to the hospital. The other four escaped back to Veeramunai.
In Veeramunai 600 houses were set alight. A further 1352 houses were set alight in the villages of Malwaththa, Mallihaithivu, Newtown, Kanapathypuram, Valaththapiddy, and Sammanthurai.
Between 20.06.1990 and 15.08.1990 more than 200 people were either killed or disappeared from Veeramunai and the adjacent villages. More [than] 2000 houses were burnt.
Some accounts of witnesses to these incidents follows.
A resident of Ganapathipuram, who was a witness said:
"When the army entered the limits of Malwaththa, the soldiers shot people at sight, while houses were looted and burnt. We, on hearing gunshot and seeing flames rising from burning homes, fled with our family to save the women and children. We reached the Veeramunai Temple on foot and found people from other villages had arrived at the Temple earlier. Subsequently, people from Amparai, Mallihaithivu and Sammanthurai Tamil division joined us."
A resident from Veeramunai said:
"We found the soldiers were creating a climate of terror. People were picked up from their homes, the road and the paddy fields. To escape from possible arrest and death, we went to the Temple that was made a refugee camp. I am aware that persons in the employment of the government on their way to work were seized and killed and burnt at a place called Aandhi junction."
The operation of the army at Veeramunai was described by a mother who said:
"On 20th June 1990 at 2.00 p.m. a number of army vehicles drove into the Veeramunai temple, where thousands of people (Tamils) had taken refuge. The soldiers made an announcement through the loudspeakers requesting all males over the age of 15 to assemble in the temple courtyard. People were agitated since the refugees had left their homes because of fear of the soldiers who had gone on a killing spree there. One by one the men went out into the open space opposite the temple and stood. Women were the most disturbed and stood watching. The soldiers entered the temple and examined the inner sanctum to ascertain whether anyone was hiding inside. They found no one and began to inspect the youths standing opposite the temple. Of the number surveyed, the soldiers began picking some youths and able bodied children and got them to board a CTB bus they had brought.

The women went before the soldiers and asked them what they were trying to do. One of the officers said they were being taken for questioning and would be released after interrogation. The women pleaded with the soldiers stating that their children were never associated with any form of terrorism and that every one of those picked up by the army was an innocent youth. The soldiers ignored the tears of the women and started to leave the temple premises with the youths. We fell in front of the vehicles and worshiped the soldiers to leave our boys. The officer who led the raid spoke harshly to us wailing women that he would order his men to shoot every man and women who were obstructing the vehicle. The women fearing the worst retreated and the army carried away our children. A few returned later battered and bruised, following severe torture".
A youth who escaped from sure death after arrest, made the following statement:
"I was one among those arrested on 20th June from the Veeramunai temple. The soldiers having picked up a number of young men, who were refugees at the Temple, took us to the Sammanthurai AI-Matjan Muslim School where we were beaten severely without any reason. The soldiers first attacked us with gun butts and thereafter kicked us and boxed our faces. The young men picked up at the refugee camp were later paraded before a fair, fat youthful stranger. When I was produced before him, he said "No" and I was taken aside. I found that the stranger saying "Yes" to most of the young men produced before him that evening. The people to whom he said, "Yes" were taken into another building. Those who were taken aside on the pronouncement of "No" were produced before another officer who made a speech in Tamil. I was in no mood to grasp what he said. The torture I had suffered a little while before had robbed me of my strength and vitality. I could hardly keep standing as I was assaulted by around 15 men simultaneously. The officer told us to get back to the Temple from where we were picked up. The others who were separated from us, we learnt were carried to a place called Malaikadu - a rocky place in shrub jungle - in army trucks and killed. Of the many picked up from the refugee camp at the Temple, only around 20 returned. We learnt that half burnt human bodies were rotting at Malaikadu and the Muslims, unable to bear the stench of decomposing human flesh, carried several tractor loads of paddy husks to cover the rotting bodies and burnt them."
The testimony of Madasamy Kathirkamamoorthy:
"I was living in Veeramunai, a village in Amparai. We were very poor. We had no dad. When I did not go to school, I used to go to Amparai for work. One day on the way to work I heard there was trouble. So I returned home. My mother said that it was not safe for us to stay at home - there are beginning to hit everyone. My sister who was married was living one kilo meter away. I told my mother to get ready and I went to get my sister. My sister too said that we had to leave with my mother. On the way to get my mother, five hundred meters before her house – an army truck had stopped. No one was in uniform. They were all in civil, but they were carrying weapons. I was living in a small village, with about ten or fifteen families. When I saw this truck I immediately felt scared. I stopped my bike and went into a relative's house. These armed men started hitting people – they spoke in Sinhala and told me to get into the truck. There were 9 of us that were hit and made to get onto the truck. Some of the nine had blood dripping down them. Two of us were young, the rest were married men with children. When the wives came to stop them – they hit the wives and children that got in the way.

In the truck, they told us to lie down and took us to a big forest in Amparai. They made us take our sarong off and used it to tie our hands behind our back. They stood in front of us, loaded their machine guns and shot everyone.

I turned to my side – my leg and arm were hit by the bullets. I have a big scar on my leg. As people tried to get up, they were again shot till they were dead on the floor. So I just laid there with my eyes shut. My leg was badly hurt. I was not even sure I had a leg. I dragged my leg and slowly walked away".
Available names of victims (name, occupation, age where available)

1. Namasivayam Thevarasa

2. T.Mathavan

3. Kanthakkuddy Tharumalingham

4. Rasalingham Alagaiah

5. N.Rasan

6. P.J.Piyanthan

7. M.Arulmani

8. Nagalingham Thavarasa

9. Palasuntharam

10. Kanthavanam Kumar

11. Thampipillai Kandiah

12. Ponnaiah Maheswaran

13. N.Santhirakumar

14. Murugesu Uthayakumar

15. Muthulingham Sellaiah

16. Karuvalthamby Thiruchchelvam, -, 31

17. Nagalingham Thiyagarasa, Masan, 24

18. Siththathurai Sammanthan, Farmer, 77

19. Thambimuthu Kandiah, Worker, 25

20. Thirunavukarasu Karunanithy, Farmer, 18

21. K.Alagaiah

22. Sinnaththamby Ravichchandran, Driver, 22

23. M.Muthukumar

24. A.Sivanesan

25. A.E.Thevathasan

26. Vairamuthu Sivam

27. Ilayathamby Kanapathipillai

28. Sinnaiah Muthaiya

29. A.A.Sanmugavel

30. Thangarasa Manokaran

31. Sanmugam Ilachsegar, Student, 18

32. Markandu Sivananthan

33. Kathiravelu Rasalingham, Farmer, 29

34. Thangarasa Uthayasooriyan

35. Kanthavanam Somasuntharam

36. Kanthavanm Arumugam

37. Alagaiah Samiththamby

38. Kandiah Thishanayakka

39. S.Manokaran

40. Sinnaththamby Annathasan

41. Sivasampu Thevarasa

42. Samiththamby Subramaniyam

43. Pandiyan Muniyandi

44. A.Siththiravel

45. Sellaiah Krishnapillai

46. P.Nanthasiri

47. A.Paramanathan

48. A.Murugasapillai

49. Kathiresapillai Santhirasegar

50. K.Ravichchandran

51. K.Alagaiah

52. V.Rasathurai

53. V.Piransis

54. P.Suseepan

55. A.Yoganathan

56. Selvan Sivanathan

57. Sivagnanam Kaneshan

58. Sellaiah Ashogan, Electricity worker, 24

59. A.Kanagaretnam

60. Sellaththamby Karunanithy, Paper company worker, 24

61. Manickam Jeganathan

62. Sinnaththamby Vanniyasingham

63. Veluppillai Suthakaran

64. Kalikkuddy Ulaganathan

65. Seeni Thapaseelan

66. Thevanayagam Mehenthiran

67. Markandu Yogarasa

68. Santhiran Arulappan

69. Maniam Somasuntharam

70. Veluppillai Nagenthiran

71. Siththiravel Pathmanathan

72. Palan Ketharan

73. Egamparam Tharumalingham

74. Veluppillai Theivanayagam

75. Nallathamby Thavarasa

76. Velluppillai Santhirakumar

77. Seeniththamby Velmurugu

78. Sivananthan Palachchandran

79. Kirupanantham Amirthalingham

80. Velluppillai Thiruchchelvam, -, 22

81. Sivanantham Ravichchandran

82. Arasaretnam Mahenthiran

83. Alagaiah Veerasenan

84. Alagaiah Ragunathan

85. Muthulingham Palapaskaran

86. Kanapathipillai Ponnuththurai

87. Sangarapillai Vilvarasa, Farmer, 20

88. Siththaturai Thevarasa

89. Sivananthan Indran

90. Kandiah Kaneshamoorthy

91. Samiththamby Thangavel, Student, 24

92. Samiththamby Kanapathipillai

93. Velluppillai Yogarasa

94. Subramaniam Nadeswaran

95. Iyathurai Kovinthan

96. Murugesu Paskaran

97. Kanapathipillai Sivapalan

98. Ponnuchchamy Kaneshamoorthy, Teacher, 26

99. Vairamuthu Kopalapillai

100. Karuppaiah Sivasamy

101. Irulandy Amirthalingham

102. Kandiah Navaratnam

103. Velluppillai Kathiramali

104. Siththathurai Selvarasa

105. Murugeshapillai Pathmanathan

106. Kanthasamy Vijayakumar

107. Ponnuchchamy Kanthasamy, -, 24

108. Vinayagamoorthy Palu

109. Manickam Murugesapillai, Farmer, 21

110. Kaththamuthu Nagenthiran

111. Kanapathipillai Parasuraman

112. Sivanadiyar Ravichchandran

113. Kanagaretnam Sithamparamoorthy, -, 21

114. Ramathasan Vanithasan

115. Nadarasa Kirubairasa, -, 39

116. Masilamani Vinayagamoorthy, Farmer, 26

117. Kanapathipillai Sanmuganathan, -, 35

118. Thambimuthu Thayaparan

119. Rasaiah Parameswary

120. Muruguppillai Gnanamma

121. Kanapathipillai Puspalatha

122. Veerapandiyan Jamuna

123. Kandiah Kanapathipillai

124. Kunaretnam Sivakowri

125. Kanapathipillai Thavarasa

126. Thambimuthu Sinnathurai, -, 52

127. Murugupillai Thangaratnam

128. E.Sinnapillai, -, 50

129. Ponnaiah Valliyammai, -, 67

130. Palaniththamby Manickam, -, 46

131. R.Mylvaganam, -, 50

132. K.Sivalingham, -, 48

133. Thambimuthu Siththathurai, Farmer, 70

134. S.Manickam, -, 35

135. Vellaiyan, Student, 07

136. U.Nadarasa

137. Kulenthiran Ajanthan, -, 03

138. Thanbimuthu Thayaparan

139. Kanapathipillai Sivalingham, Driver, 49

140. Ravi Thillaiyamma

141. Yogarasa Kirubananthy

142. Arulappa Inthurujan

143. Arumugam Kala

144. Raman

145. P.Mariyan

146. Muruguppillai Thangarasa

147. Muthulingham Parameswary, Teacher, 32

148. Nadarasa Uthayakumar, -, 07

149. Arasaratnam Valliyammai

150. Seeniththamby Marimuthu

151. Arunasam Sinnapillai, -, 55

152. Thangarasa Ragini

153. Kailasapillai Thevarasa, Student, 08

154. Rasaiah Parameswary

155. Rasaiah Subashini, Student, 16

156. E.Subashini, Student, 17

157. Kathiravel Rajenthiran

158. K.Marimuthu

159. Thanganesm Vellupilaai

160. Thambimuthu Siththathuram, Farmer, 70

161. Alagaiah Siva

162. Kanagasabapathy Ilango

163. Ponnampalam Rasamany

164. Nagalingham Marimuthu

165. Ramakkuddy Ponnama

166. Velluppillai Kasiyananthan

167. Markandu Thangavel

168. Arunasalam Rasaretnam

169. Masilamani Tharumalingham

170. Kathirgamathamby Karunakaran

171. K.Karuvalthamby

172. Velmurugu Muthu

173. Sellaiah Somasuntharam

174. Pathmanathan Vinayagamoorthy

175. Ramakkuddy Ponnamam, -, 65

176. Arunasalam Rasaretnam

177. Arumugam Theiventhiram, Carpenter, 34

178. Kanthavanam Kandasamy

179. Maruthuris Selvarasa

180. Kanapathipillai Sanmugam

181. Kaththamuthu Sanmuganathan, Farmer, 40

182. Siththathurai Kalickuddy, Farmer, 47

183. Krishnapillai Kanagasooriyam

184. Kathiramaththamby Rasaiah

185. Sinnathurai Kalickuddy

186. Sathasivam Puvanenthiran

187. Kaththamuthu Sanmuganathan

188. Sangarapillai Atputharasa

189. Sathasivam Thevarasa

190. Pavil Sanmugam

191. Ponnaiah UthayaKumar

192. Alagaiah Ramachchandran

193. Krishnapillai Mohanarajah

194. Kandiah Tharumalingham

195. Thambipillai Rasalingham

196. Kathiravel Rathigakrishanan

197. Manickam Palu

198. Pandiyan Muniyandy

199. Iyathurai Mageswaran

200. Solaman Mohanarajan Sakayanathan, Seller, 22

201. Krishnapillai Suntharalingham

202. Sinnathamby Kugathas

203. Seeni Jeyaseelan

204. Sellaiah Vadivel

205. Kanapathy Indran

206. Kumaran Sinnaththamby

207. Palan Mahenthiran

208. Nallathamby Vadivel

209. Kanapathy Santhiran

210. Nallathamby Vigneswaran

211. Vairamuthu Theivanai

212. Vairamuthu katpagam

213. Ilayathamby Sellamma

214. Sellan Arulamma

215. Krishnapillai Vijayakumary

216. Kanapathipillai Rageswary

217. Siththathurai Baby

218. Ilayathamby Sinnapillai

219. Masilamani Selvaratnam

220. Tharmalingham Ponnuththurai

221. Arumugam Kandasamy

222. Sinnaththamby Thilageswary

223. Veerackuddy Kidnan

224. Ponnampalam Ragenthiran

225. Nadaras Ilango

226. Sellathurai Tharmalingham

227. Nallathamby Kopal

228. Arasaretnam Kathiramalai

229. Samiththamby Kunaseelan

230. Kanthackuddy Packiyarasa

31. Thirunavukkarasr Pusparasa

232. Retnam Selvarasa, Farmer, 20
We need your support
Sri Lanka is one of the most dangerous places in the world to be a journalist. Tamil journalists are particularly at threat, with at least 41 media workers known to have been killed by the Sri Lankan state or its paramilitaries during and after the armed conflict.
Despite the risks, our team on the ground remain committed to providing detailed and accurate reporting of developments in the Tamil homeland, across the island and around the world, as well as providing expert analysis and insight from the Tamil point of view
We need your support in keeping our journalism going. Support our work today.
For more ways to donate visit https://donate.tamilguardian.com.