22 December 2019
On February 20 2017, Tamil families of the disappeared started their roadside protest across the North-East, starting off in Kilinochchi, followed by Vavuniya, Trincomalee, Mullaitivu and Maruthankerny.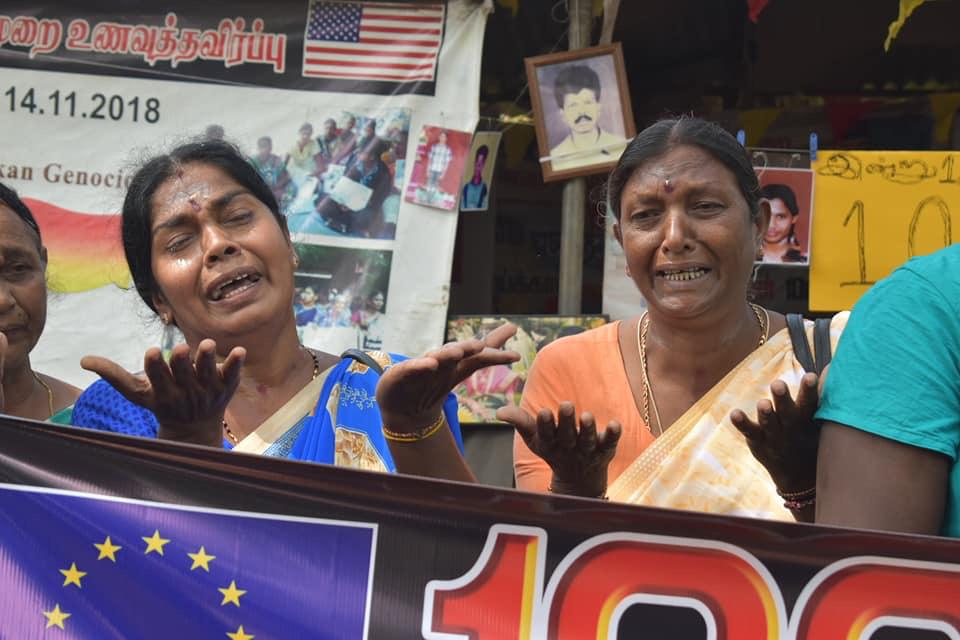 Families of the disappeared marking 1000 days of their protest in Vavuniya
It has now been over 1000 days since the beginning of their roadside protest but this has been preceded by decades of struggle and suffering. Tamil families have been determined to find out the truth about their loved ones despite facing increasing intimidation and surveillance by the Sri Lankan military and police.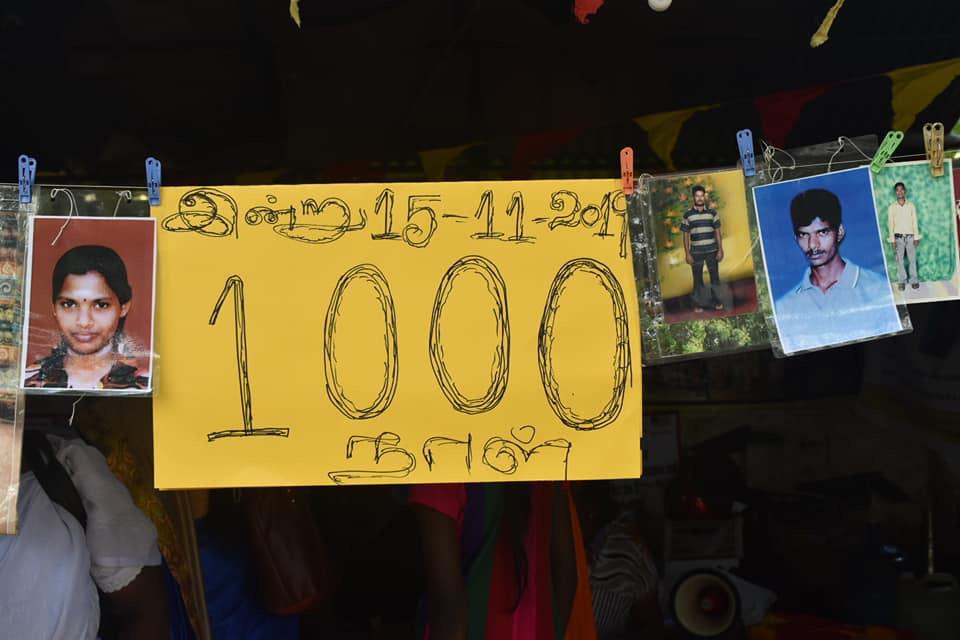 The 1000 day mark fell on the day of the Sri Lanka's 2019 Presidential election but Tamil families of the disappeared knew that a new President would not improve their circumstances. Relatives of missing loved ones have been repeatedly misled by different regimes and with the election of President Gotabaya Rajapaksa, there is little hope for any meaningful action.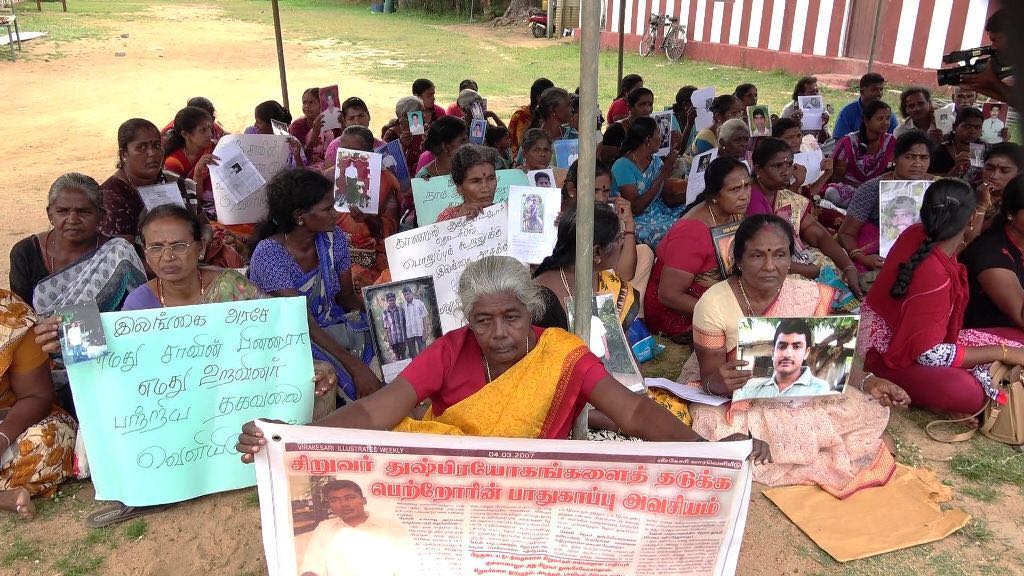 Gotabaya was Defence Secretary during the last phase of the bloody civil war, overseeing the military offensive that killed tens and thousands of Tamils. At the end of the war, thousands of Tamils surrendered to the Sri Lankan forces, never to be seen again. Enforced disappearances continued after the war ended but Gotabaya strenuously denies any wrongdoing. Since his election as President, Gotabaya has spoken about developing the North and East but has not addressed a single demand of these Tamil families.
Read more: Gotabaya rules out federal solution to ethnic conflict
In 2017, Sri Lanka's previous President, Maithripala Sirisena, met with the families of the disappeared on multiple occasions, assuring the families that he would meet their demands and promised to release a list of those who surrendered to the Sri Lankan army. Unsurprisingly, he did not deliver on his assurances.
Read more: President Sirisena promises families lists of forcibly disappeared will be released 
Previous President, Maithripala Sirisena meeting with mothers of the disappeared
Sirisena's so called 'unity government' prided itself on the establishment of the Office of Missing Persons (OMP) but families of the disappeared have repeatedly denounced this mechanism as a way to appease the international community. 
In a memorandum to the OMP, Tamil mothers of the disappeared explained the multiple reasons for their lack of confidence in the mechanism. The OMP appointed a military representative as a commissioner, highlighting the lack of impartiality. "How do you expect OMP to bring justice to us, when OMP act section13 (2) mentions that the findings of the OMP could not be used in any civil or criminal cases for seeking justice?" they asked. Since its operation, the OMP has failed to provide tangible results, as expected by any domestic mechanism produced by the Sri Lankan government.
In 2017, Tamil Guardian conducted a series of interviews to hear the individual stories that make up this unyielding movement of Tamil families of the disappeared.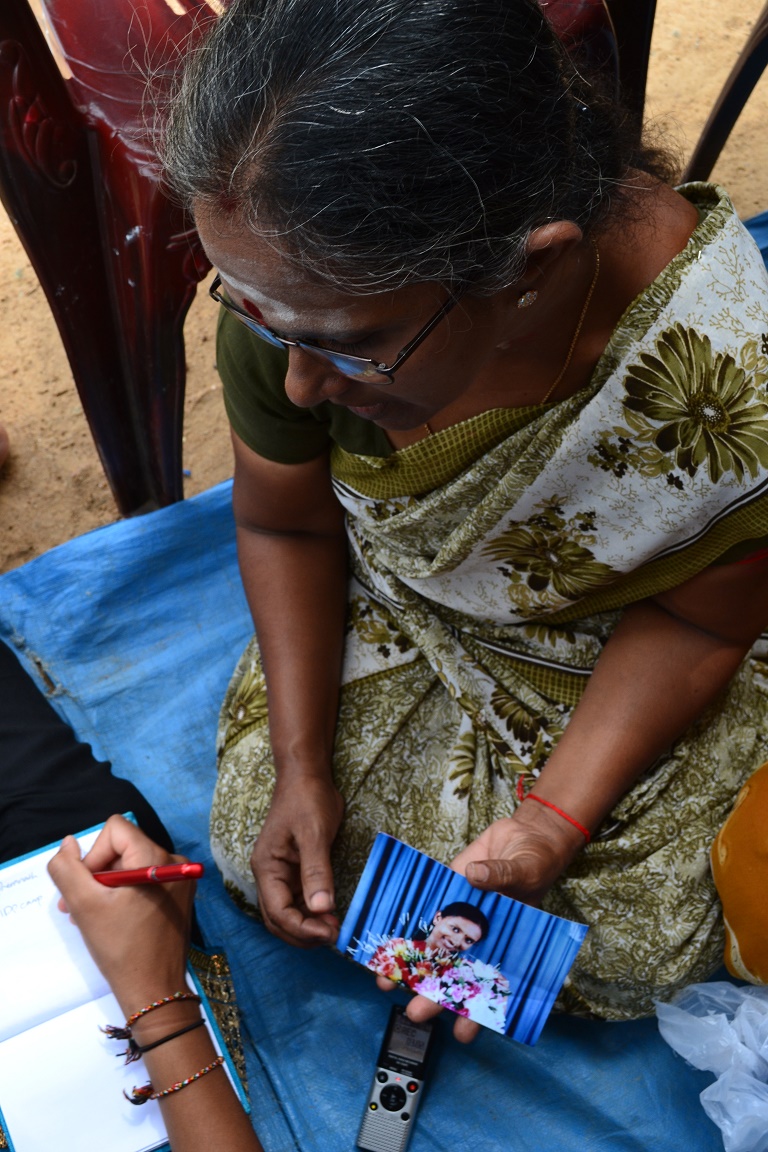 Abirami's mother talking to Tamil Guardian in 2017
See a testimony below:
Name(s): Abirami
Date of Disappearance: 2009
"People said that she had been loaded onto a bus," says Abirami's mother as she sits on a tarpaulin sheet in Kilinochchi. "Just like that she's missing."
"When we were travelling during the war we got separated," says her mother. "It was loud and there was shelling," recalls Srimathy. "We were there till the war finished."
"There were so many people," she adds. "So, we were separated like that."
Read more: Behind the protest-Families of the disappeared: Abirami
Throughout their protest, Tamil families have maintained simple demands: 
1. Release a list of surrendees from the final phase of the armed conflict;
2. Release the yearly lists of detainees under the Prevention of Terrorism Act (PTA) since 1978;
3. Investigate and release the list of all past and present secret detention centres;
4. Continuously consult families to keep them at the centre of any solution; and
5. Commence all four transitional justice mechanisms in tandem, including a justice mechanism.
Yet, the Sri Lankan state continues to ignore their demands. Up to 100,000 have disappeared, families have spent over 1000 days protesting but have received 0 answers.  It is clear that the new President, just like his predecessors, will not take any meaningful action on their demands, reiterating the need for the international community to keep pressure on Sri Lanka to ensure genuine progress on justice and accountability.