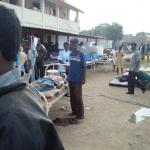 As part of a series marking the atrocities of Mullivaikkal,​ we invited activists, journalists, and writers from around the world to share their experiences and reflections a decade on.

"With the Sri Lankan government winding back commitments to reconciliation and justice measures, it's up to the international community to hold them to account," writes Tamil activist Nirmanusan Balasundaram in the Guardian. "For Tamil war victims and survivors, the statements by the Sri Lankan president and prime minister are indeed disheartening. Apart from a few symbolic returns of occupied Tamil lands and the release of some political prisoners, unsurprisingly, there have been no constructive actions to address wartime accountability or end the culture of impunity." Read the full article...
Detailing the difficulties faced by Tamil voters in the North-East during Sri Lanka's presidential election on January 8, the exiled journalist Nirmanusan Balasundaram, called for a strong international justice mechanism to be set up, stating that regardless of who wins the election, Tamils could not expect justice through a domestic process. "A gruelling battle is taking place in Sri Lanka between both leading presidential candidates despite certain factors which keep them united, such as 'war victory', denial of mass atrocities and rejection of an international investigation into such atrocities. Disturbingly all leading figures in the presidential debate are in competition with each other for self-proclamation and self-promotion in terms of credibility for the war victory, and complete denial of responsibility or acknowledgement of mass atrocities during the war," Mr Balasundaram wrote. "Regardless of which leading candidate is to win Sri Lanka's seventh presidential election, victims and survivors of mass atrocities will find it difficult to expect justice or a genuine and credible domestic mechanism into these heinous crimes. Considering Sri Lanka's political dynamics, the culture of impunity in Sri Lanka will remain unchanged regardless of the outcome of the election. The colour may change but the cage will remain the same," he added.