22 November 2014
Updated 03 Jan 2015
Last month the former secretary general of the Sri Lanka Freedom Party and minister of health, Maithripala Sirisena, who was also sworn in as the acting defence minister in May 2009, was announced as the common opposition candidate for the upcoming presidential elections.  
See our editorial: No Choice (22 Dec 2014)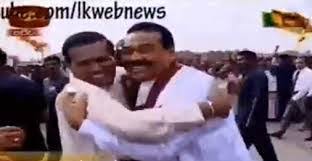 Sirisena and Rajapaksa embrace during Sri Lankan government celebrations on May 19 2009 Photo: lkwebnews.com
Sirisena has had a busy lead in to the elections after announcing his intention to run as the common opposition candidate against the Sri Lankan President, Mahinda Rajapaksa.
Reaches out to BBS for support 
The Bodu Bala Sena (a SInhala Buddhist nationalist group widely held responsible for inciting violence against ethnic communities in Sri Lanka) shortly after the announcement of Sirisena's decision to run as opposition candidate, confirmed that he had reached out to the BBS to garner their support. 
Immediate guarantees to protect Mahinda Rajapaksa and army from potential international war crimes prosecution
Within a week of assuming the role as the common opposition candidate, Sirisena stressed that he would not allow Mahinda Rajapaksa or armed forces to be tried for war crimes.
"I will not allow President Rajapaksa, his family or any member of our armed forces to be taken before any international war crimes tribunal," Sirisena said to reporters.
Coalition forming with nationalist Buddhist political parties
Less than 14 days after, launching the opposition campaign, Sirisena signed an MOU with the Buddhist monk led political party, the Jathika Hela Urumaya (JHU). The JHU broke away from the ruling party coalition warning Rajapaksa that the Sinhalese were becoming a 'minority community' whilst calling on the president to follow 'Buddhist teachings.' 
Rejections of Tamil demands based on elected TNA mandate, alongside pledges for Buddhist prominence
On 02 Dec 2014, Sirisena, at an election rally, said that he rejects calls from Tamil leaders for a federal constitution that granted greater powers of autonomy to the predominantly Tamil speaking North-East.
The Tamil National Alliance (TNA) was elected to the Northern Provincial Council last year under a mandate calling for a federal solution that devolved powers to a merged Northern and Eastern province and acknowledged the Tamil people's right to self-determination.
At the same rally Sirisena pledged further to preserve constitutional prominence given to Buddhism in any newly drafted constitution.
Reiterated rejection of international inquiry into Sri Lankan atrocities
At a joint election rally with the new opposition partner, the JHU, Sirisena reiterated his commitment to opposing any international investigation into Sri Lankan atrocities and prosecution of military authorities including current President Rajapaksa.
Categorical rejections of all rumours alleging promises to meet 'extremist' Tamil demands
Responding to rumours of the common opposition candidate party joining a pact with the 'extremist' Tamil National Alliance (TNA) to meet Tamil demands, Sirisena rejected that any pact had been made with the TNA.
Sirisena's opposition party made further rejections of the UN inquiry into Sri Lankan atrocities in an interview with the Hindu.
Official Maithripala manifesto rejects international investigation into Sri Lankan atrocities
Maithripala Sirisena's official manifesto, released on 19 Dec 2014, further reiterated, that "No international power will be allowed to ill-treat or touch a single citizen of this country."
In response to violations of human rights allegations, Sirisena's manifesto said that such allegations would be combated by "disseminating among the learned Western society Buddhism and its vision of impermanence and denial of soul that expressed non-violence, equality and great compassion for all."
Maithripala Sirisena hailed as only way to defeat foreign intervention
Sri Lanka's main opposition on 23 Dec 2014, stated that only Sirisena could settle the 'crisis' faced by Sri Lanka at the United Nations Human Rights Council (UNHRC). The opposition UNP blamed the current regime for "earning the wrath" of the international community.
Buddhist nationalists call on army to vote Sirisena for international protection
The ultra-nationalist Buddhist party, National Bhikku Front, called on the Sri Lankan army to vote for Sirisena, as the opposition candidate would never allow for an international investigation into Sri Lankan atrocities.
Reminds voters of 'patriotic' assumption of defence minister role during height of war against LTTE
In an interview with the Daily Mirror, Maithri assured readers he is a "patriot" saying,
    "I was the Minister in Charge of Defence during the last two weeks of the war in which most of the leaders of the LTTE were killed with General Fonseka at the helm of the Army."
    "Prior to that I have acted as the Minister of Defence five times during the height of the war."
 
Whilst serving his tenure as the Minister of Health, Sirisena has been one of the more vocal SLFP politicians in past years.
Endorsement of action against pro-opposition SLFP politicians
Sirisena, in 2007, endorsed the sacking of government ministers in the SLFP who were seemingly supportive of the opposition United National Party (UNP) in Sri Lanka.
Support for ending 6 year ceasefire with LTTE
In 2008, the minister, rejected calls to uphold a ceasefire with the Liberation Tigers of Tamil Eelam (LTTE) that had been in place for 6 years.
"The government will not go for a ceasefire with the LTTE. We will not have any form of discussion with the LTTE," said Sirisena, after the 6 year ceasefire was broken in 2008. 
Sworn in as acting defence minister in May 2009
Maithripala was sworn in as acting defence minister before Sri Lankan president Mahinda Rajapaksa on May 14 2009 , to assume duties whilst the president was on an official visit to Jordan.
Alleges that TNA and opposition candidate working for 'terrorist' demands
In 2010, Sirisena alleged that the Tamil National Alliance and the, then opposition candidate, General Fonseka, had betrayed Sri Lanka to 'terrorist' demands by pledging to withdraw armed forces from the North, dismantle the High Security Zone, re-merge the North East, release LTTE suspects and give autonomy to the province.
Commends India's protection of Sri Lankan sovereignty at UNHRC
Commenting on the 2012 United Nations Human Rights Council (UNHRC) resolution, Sirisena commended India  for making amendments to the resolution that safeguarded Sri Lanka from "the interferences of UN bodies," adding that no intrusions should be imposed without consent of the Sri Lankan government.
Accuses NGOs of working against Sri Lanka at UNHRC
Sirisena went on to allege that a Catholic NGO, Caritas SEDEC, was instigating protests and working against Sir Lanka at the UNHRC.
Accuses TNA and UNP of working to re-establish LTTE
Later that year, the SLFP general secretary went on to accuse the Tamil National Alliance (TNA) and the opposition UNP of assisting "LTTE activists" to help re-establish the LTTE.
Repeatedly rejects UNHRC resolution for investigation into Sri Lankan crimes
 In 2014, Sirisena repeatedly rejected the UNHRC resolution mandating an international investigation into Sri Lankan war crimes and crimes against humanity, stating that the SLFP "rejects the resolution against Sri Lanka moved at the UN Human Rights council."
"The SLFP said that these invasive forces who ruled Sri Lanka from 1505 to 1948 are conspiring against the country based on the misleading information provided by the LTTE rump overseas, when Sri Lanka is in the process of rebuilding the country through national reconciliation process with the end of terrorism," he added in March 2014.
Rejection of any UN-led investigation into mass atrocities
Reaffirming this rejection, Sirisena said in July 2014,
"The ghosts of the LTTE are behind all these 'strategies' implemented against Sri Lanka. We have already agreed to the conventions of the UN. Therefore, no matter who visits this country or who probes us, they should remember that Sri Lanka is a member of the UN. We have no faith in this team, or that panel, we have no faith in those who give evidence."
"They say they will never reveal the names of the persons who give evidence for another 20 years. They say they will seek evidence from countries such as Canada, Netherlands, Norway etc. This shows how biased the probe is. We do not have faith in this one sided biased probe".
"Their objective is very clear. They have a totally different agenda. Their real but hidden agenda is changing the democratically elected government and the leadership of Sri Lanka."
Condemns NPC calls on Sri Lanka to allow UN officials to North-East
Sirisena, also expressed concern over a Northern Provincial Council resolution that called for Sri Lanka to allow access to UN investigators.
"All provincial councils including the Northern Provincial Council have pledged to act within the constitution of Sri Lanka. They cannot violate it," warned Sirisena in Sepetember 2014.
TNA to decide on common opposition candidate endorsement (23 November 2014)
SLFP general secretary to be common opposition candidate (21 Nov 2014)
Common candidate must pledge end to militarisation and land grabs in Tamil areas - TNA (13 Nov 2014)
We need your support
Sri Lanka is one of the most dangerous places in the world to be a journalist. Tamil journalists are particularly at threat, with at least 41 media workers known to have been killed by the Sri Lankan state or its paramilitaries during and after the armed conflict.
Despite the risks, our team on the ground remain committed to providing detailed and accurate reporting of developments in the Tamil homeland, across the island and around the world, as well as providing expert analysis and insight from the Tamil point of view
We need your support in keeping our journalism going. Support our work today.
For more ways to donate visit https://donate.tamilguardian.com.