21 January 2022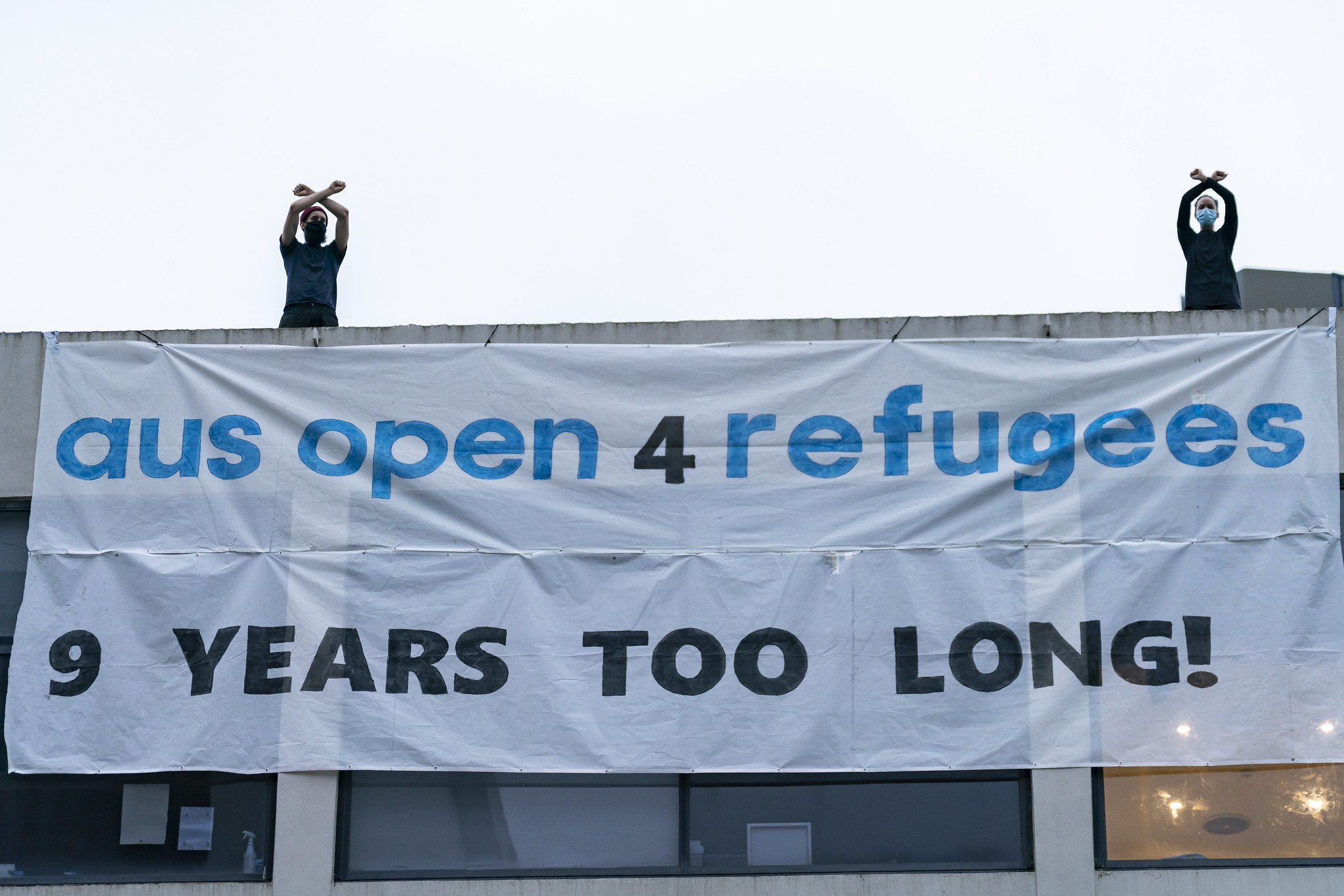 Photo credit: Matt Hrkac
Last week several refugee supporters, including myself, were arrested after dropping a banner off the rooftop of the Park Hotel in Naarm/Melbourne in protest of the plight of approximately 30 refugees who had been imprisoned onshore for the last 3 years by the Australian government (and even longer offshore). While there have been ongoing demonstrations outside the building for years, for the refugees inside and their supporters the recent media interest was unlike anything we had seen before. 
Why? The World No. 1 men's tennis player Novak Djokovic had been detained there after his visa was canceled by the Australian government. 
The banner we dropped from the rooftop of the Park Hotel read: "aus open 4 refugees. 9 YEARS TOO LONG", hoping to bring to the world's attention the human rights abuses happening in the heart of the city. We managed to hold the roof for under an hour before we were all arrested. The action received some airtime in the morning news but it was quickly overshadowed by the Djokovic story. 
Don't be fooled by the name, Park Hotel - we call it Park Prison. The halls are surrounded by guards employed by Serco, whose staff have been consistently accused of abuse in detention centres. The refugees' room windows are locked, they have been served mouldy and maggot-infested food, and currently have no access to outside exercise. Even a recent fire at the Prison was not enough to be evacuated outside and breathe fresh air.
Some abbreviated context is required for those unfamiliar. Naarm, the Aboriginal name of the place the city of Melbourne is built upon, is the unceded traditional lands of the Wurundjeri, Boonwurrung, Wathaurrung, Daungwurrung, and Dja DjaWrung peoples who were driven off their lands through a campaign of murder, rape, and enslavement - a continuing genocidal process that first began when Australia was established as a British colony. The ideology beind the ongoing dispossesion and genocide of First Nations people, based on a racial policy of white supremacy, is a key factor in Australia's dehumanising treatment of asylum seekers. This includes the policies that have led to refugees being detained at Park Prison.
Worse than any convicted criminal inside Australia's official prisons, these men are subject to indefinite detention. Can you imagine losing nearly a decade of your life for seeking safety, with no end in sight? The freedom fighters inside don't have to conjure up hypotheticals, they live this everyday.
Those in the Prison were all medically evacuated from offshore immigration prisons in 2019 but are yet to receive the medical care they were promised. Mohammed Miah, one of the freedom fighters inside the Prison said to me: "We have not been able to get any treatment at all. We are all mentally ill. We are all physically ill. We are locked up by the Australian Government for 9yrs for no crime. I am unwell because of this torture and condition."
The last of the Eelam Tamil refugees inside the Prison were released last year on tenuous temporary visas. My friend Thanush Selvarasa wrote in the Sydney Morning Herald,
"While being released is better than detention, my visa and the one given to my friends who were released only brings more pain. This visa has to be renewed every six months, it means we cannot get credit from banks and we do not get any support. This was very difficult, I could not find a job, because all companies expect a long-term visa, they kept saying "no, we want a permanent visa". Every day I was always just thinking about my visa, it is always on my mind."
Treatment of the Park Prisoners is just one aspect of the overall policy to stop asylum seekers reaching Australia. This includes working closely with countries like Sri Lanka and Indonesia to prevent asylum seekers attempting to reach Australia. If this fails, the Australian military intercepts boats that would otherwise arrive through brutal 'push back' and 'take back' operations, which have virtually ended the arrival of new asylum seekers by sea. The policy, named Operation Sovereign Borders, is commemorated by Australian Prime Minister Scott Morrison with a lasercut plaque on his desk in the shape of a boat that reads 'I Stopped These'. 
The final aspect of border policy is deterrence through punishing those who arrive. This includes indefinite offshore detention on Manus and Nauru, and indefinite onshore detention in the Park Prison and other detention centres on the mainland. For those who made it into Australia before this policy, the refugee determination process has been increasingly designed to deny as many claims as possible. Those whose claims are accepted by the government and arrived by sea are granted only 'temporary protection' visas, denying their ability to ever reunite with their families overseas.
Both the Labor and Liberal governments have been responsible for implementing policies that have created this situation. And apart from some elements (a promise to abolish temporary protection visas) Labor has committed itself, and indeed voted in unison with the Liberal government on virtually all anti-refugee legislation. To take just one example is Rajan, first detained under the last Labor government, spent 12 years in immigration detention before his release late last year. 
Many hundreds of Eelam Tamils whose asylum applications have been rejected under a system created to fail them, have no real options within the normal legal framework to fight their deportations. The exception is the campaign of Priya Acca, Nades Anna, Kopika, and Tharunica (often called the Biloela Tamil family) but many individuals and families that face similar danger do not have the same media, grassroots, and political support. This includes my friend Gajendran Mohan or Kanna, a stateless Eelam Tamil refugee, arrested and imprisoned on the other side of the country. There is nothing to suggest that a change in government would address their plight.
As the egregious abuse of the basic rights of refugees at the Park Prison is absent from the media, so is the role of the Australian government (and Western powers its allies with) in the creation of the refugee crisis. My childhood ran parallel to the US-led invasions of Afghanistan and Iraq. Two decades after these invasions began, the devastating effects are still felt - some have conservatively estimated the numbers displaced by US-led wars since 2001 at 37 million people. As I discussed in this article, the US and its closest allies such as the UK and Australia have key responsibility for the displacement of the approximately ten thousand Eelam Tamil refugees that fled by sea to safety in Australia since 2009 because of their role in undermining the Sri Lanka Peace Process which began in the late 90s. According to the Permanent People's Tribunal, this was not only through the arming, training, equipping and providing intelligence to the Sri Lankan military "but perhaps even more significantly…from blocking and even reversing political and diplomatic initiatives to implement the peace process" which lead to the destruction of the LTTE and the persistent insecurity faced by Eelam Tamils today on the island.
The situation of refugees in Australia forces me to ask serious questions of my own role as a dual citizen of the UK and Australia - states both directly responsible for the plight of the Eelam Tamil and other refugees, including those locked up in detention in places like the Park Prison. While some Western politicians are happy to promote Thai Pongal or Tamil Heritage Week, their policies and actions continue to oppress Eelam Tamils, imprison refugees, destroy other countries at their whim, undermine struggles for self-determination, and sabotage working-class movements all across the globe.
I am inspired by the legacy of Eelam Tamil liberation fighters whose vision for justice sought to challenge chauvinism in all its forms. It is in respect and admiration of their dreams and sacrifices that should drive us to confront the reality of the global order with a renewed determination.
If the current system always benefits those with the most money, power, and guns, the most rational and ethical solution is to stop appealing to their non-existent humanity but circumvent their domination. 
Many politicians run campaigns with pro-refugee or pro-peace platforms but after securing power end up voting consistently for continuing barbaric border, immigration, and imperialist policies. What does that tell you about 'democracy'? 
When working within the current electoral systems creates no substantial change, despite the will of the people, we need to come together and present an alternative that is adapted for the current material conditions.
The only way forward is to develop a people-led movement that will not acquiesce to those that treat war, torture, and genocide as trivially as plaque on their desk.
_____
Barathan Vidhyapathy is a filmmaker based in Naarm in so-called Australia. He is an anticapitalist and member of Tamil Refugee Council.
We need your support
Sri Lanka is one of the most dangerous places in the world to be a journalist. Tamil journalists are particularly at threat, with at least 41 media workers known to have been killed by the Sri Lankan state or its paramilitaries during and after the armed conflict.
Despite the risks, our team on the ground remain committed to providing detailed and accurate reporting of developments in the Tamil homeland, across the island and around the world, as well as providing expert analysis and insight from the Tamil point of view
We need your support in keeping our journalism going. Support our work today.
For more ways to donate visit https://donate.tamilguardian.com.