File photograph: Stephen Rapp at an
event
 in London in 2014, highlighting sexual violence by Sri Lanka soldiers. (Photograph Timothy Anderson)
The international community must be "tough and supportive" towards Sri Lanka whilst the government continues to undermine "trust and confidence" by rejecting foreign participation in an accountability mechanism, said the former US Ambassador-at-large for Global Criminal Justice Stephen Rapp, in an interview with the Tamil Guardian.
"Progress has been slower than it should have been," said the former ambassador, as he spoke to the Tamil Guardian in London this week and called for the international community to continue foregrounding public calls for accountability.
"There are serious allegations supported by evidence that could justify indictments to be frank," he added. "I'm not saying convictions but indictments for serious international crimes. That's there and that has to be confronted in a process that will clear the air."
The international community must continue to play an important role in ensuring this process pushes forward he added. Though the Sri Lankan president claimed "cries for a war crimes tribunal have ceased" this week, Mr Rapp insisted that "messages are being delivered".

Stephen Rapp in a meeting with Sri Lankan military personnel in 2012.
Acknowledging that "quiet but firm diplomacy" on justice and accountability has been underway, he stated that nevertheless the international community should be "continuing the message that this is important publically".
"It doesn't help their (Sri Lanka's) ability to work this thing through if the perception is the pressure is off," he said. "Even in the public sphere it is important to make statements about those expectations… it is an important part of making it happen."
Though he no longer represents the United States, Mr Rapp asserted that his government remained "very strong about what needs to be done in terms of consultation, in terms of plan and policy for transitional justice", suggesting that international leverage has paid off in Sri Lanka.
Pointing to the government's newly announced – and heavily criticised - Office of Missing Persons' (OMP), he said "there was concern about an original draft that would essentially have barred information gained from that process from any judicial process".
"And because of, let's say, concern, about that issue raised within Sri Lanka and from its partners from outside, that was changed to the extent so that it would be possible to share that information".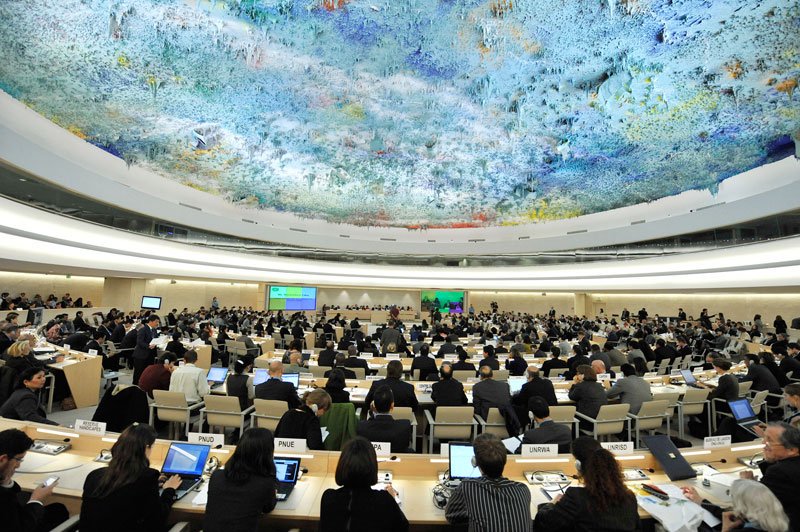 The 32nd session of the UN Human Rights Council is currently underway in Geneva. Photograph:
@UNGeneva
That diplomacy is set to play out over the coming weeks in Geneva, as the United Nations Human Rights Council session gets underway, where Mr Rapp expects to hear these public calls for action. Sri Lanka is on the agenda, with the UN Human Rights chief mentioning the island in his opening statement and due to present a report on its implementation of a UN resolution that the government had co-sponsored last year.
Speaking ahead of the session Mr Rapp expressed concern at how Sri Lankan leaders continued to reject foreign participation, despite the move being a crucial part of that resolution.
"Certainly the rejection by the government and statements made by the prime minister that something that they have agreed to in a consensus resolution… it was something that would undermine the trust and confidence in this process that is very important going forward".
Despite international concern Sri Lankan president Maithripala Sirisena has been unperturbed; reiterating once more this week that his government does not need foreign judges to participate in an accountability mechanism.
Mr Rapp disagrees.
The former ambassador is clear that an international component is vital to unpick the cases of mass atrocities that occurred as the Sri Lankan government offensive reached a peak more than seven years ago, leaving tens of thousands of Tamil civilians killed.
"From the point of view of building trust and expertise among those that are going to do these kind of cases which are more complicated about the laws of armed conflict - what's proportionate, how this constitutes a crime, what's not a crime – these are difficult issues," he said. "So having internationals, can help both capacity and can also give the victims in whatever communities greater confidence that these will be decided independently and not on some political basis."
Mr Rapp, who was in Britain for the launch of an International Truth and Justice Project report, says that the Sri Lankan government should have already taken several steps to address issues of accountability on its own accord. "I understand there is progress on some issues," he noted, but states more should have been done.
"I'd like to see them changing legislation to domesticate international criminal law, so that war crimes and crimes against humanity and genocide can be prosecuted in the courts of Sri Lanka or in a hybrid court," he said. "I'd like to see them establish a special investigative unit, a special prosecuting unit."
Yasmin Sooka, a former member of the South African Truth Commission and co-author of the UN Panel of Experts report, "wants the special courts set up yesterday," quipped Mr Rapp. "I would too, to be frank."
"These are things that should be moved forward on and they can do this now."
-----
Continued on next page.