04 May 2021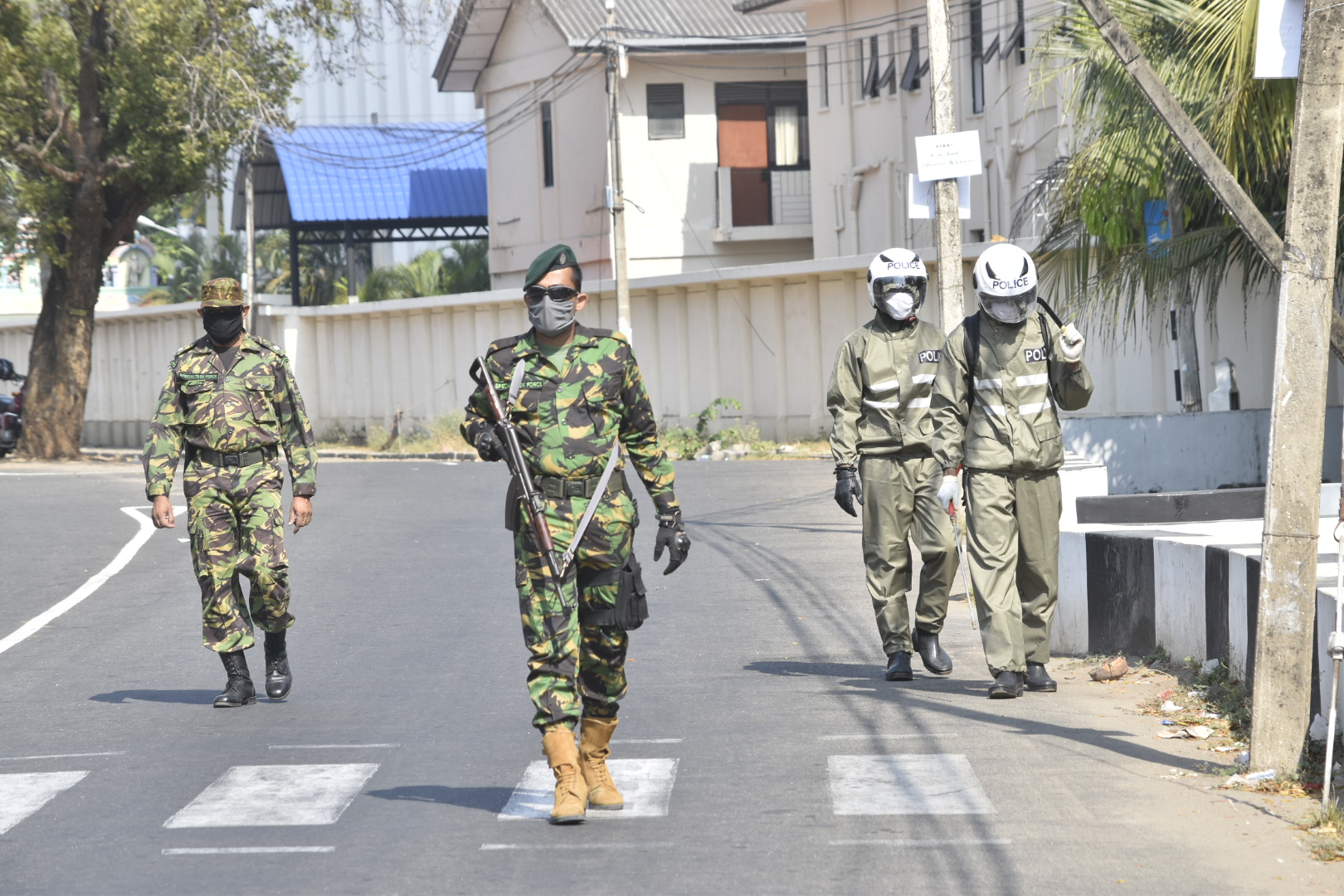 As India grapples with a wave of coronavirus infections, Sri Lanka's cases continue to hit daily highs, sparking fears of deadly infections being met with an intensified authoritarian response from the state.     
Amidst a devastating wave of coronavirus in India, across the Palk Strait in Sri Lanka infections have also been rapidly rising, with newly diagnosed cases breaking records every day. Clusters are now appearing across the island, sparking fears not only of a new wave of deadly coronavirus infections, but also of an increasingly authoritarian Sri Lankan state response, with Colombo free to intensify its militarised approach to tackling the pandemic. With India's regional neighbours looking to avoid the same catastrophic peak that New Delhi is caught in the midst of, Sri Lanka's next steps must be scrutinised closely. An unchecked and securitised response could have deeper and longer-lasting ramifications for the island.    
'No need to panic'
Silva at a Sri Lankan military run quarantine centre last year.
At first glance, it seems as if those in Sri Lanka were paying little heed to what was taking place just North of the island. As cases surged in Delhi last month and heart-breaking images of patients struggling to receive oxygen hit screens across the world, crowds continued to gather at events, unaware or unbothered by the scale of suffering. The political and financial elite of Sri Lanka mingled in the hills of Nuwara Eliya, clinking glasses as they watched horses race at the exclusive annual Governor's Cup festival. Elsewhere in the South, the omnipresent military continued to hold religious and sporting events, some with hundreds in attendance, whilst a high-powered Chinese military delegation met with senior government officials and toured Colombo. In the Tamil North meanwhile, a Tamil Hindu religious festival took place in Jaffna, with hundreds of devotees in attendance. All whilst the death count on the island continued to creep up. 
"There is no decision to go for a complete lockdown," declared the head of Sri Lanka's army Shavendra Silva just days ago as cases continued to rise. "Therefore, there is no need to panic." Yet, in the last 24 hours alone, more than 1,500 new COVID-19 cases have been recorded, with the UK variant of the coronavirus confirmed to be present and spreading. As Sri Lanka's case count continues to tick upwards Silva's words, will provide little comfort.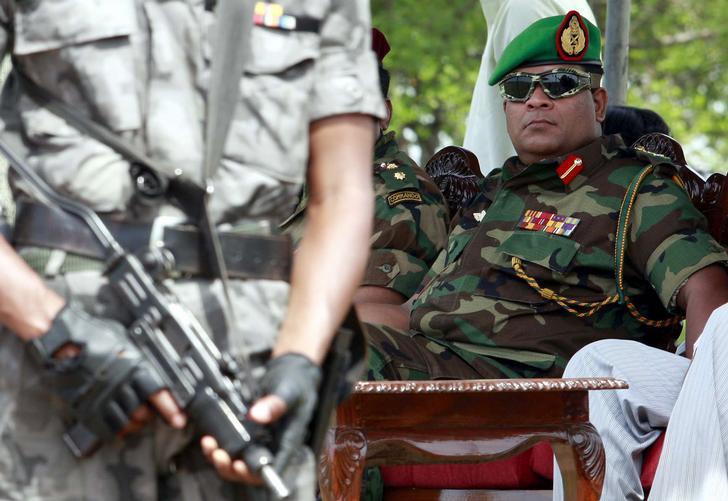 File photograph: A uniformed Silva overlooks a military event
The veteran army commander, who was promoted to a four-star general by the current regime, has been placed in charge of the island's COVID task force despite having no prior public health experience. Indeed, the military man is not known for his humanitarian tendencies. As a senior commander during Sri Lanka's military offensive in 2009, he led a unit that stands accused of executing surrendering Tamils, sexual violence and the deliberate shelling of hospitals. Reports of those crimes have led Silva and his immediate family from being banned from travel to the US, amidst growing calls from rights groups for Silva to face international prosecution. Yet, it was Silva and his military that has been charged with leading Sri Lanka's pandemic response.  
"You have to confide in us," he told the public last year, as the first wave of coronavirus swept across the world. "We are an Army which has won a war," he added triumphantly.  
Lessons from the first wave
For those on the island however, there is little trust in the security forces, which have a long history of systemic rights violations and unaccounted massacres. The Tamil people, who bore the brunt of the security force's abuses throughout the armed conflict, are particularly wary of the commander's words and of the military's actions. 
During Sri Lanka's first wave, more than 40,000 people were arrested for reported breaches in coronavirus regulations and curfews, as troops patrolled streets and security forces confiscated thousands of vehicles. With tens of thousands of soldiers stationed still across the North-East, arrests of Tamils have once more become commonplace and have ramped up in recent months. Whilst currently arrests are taking place under the guise of anti-terror legislation, there is a fear that the latest wave of infections may usher in new military enforced regulations, providing the state with another excuse to launch a crackdown.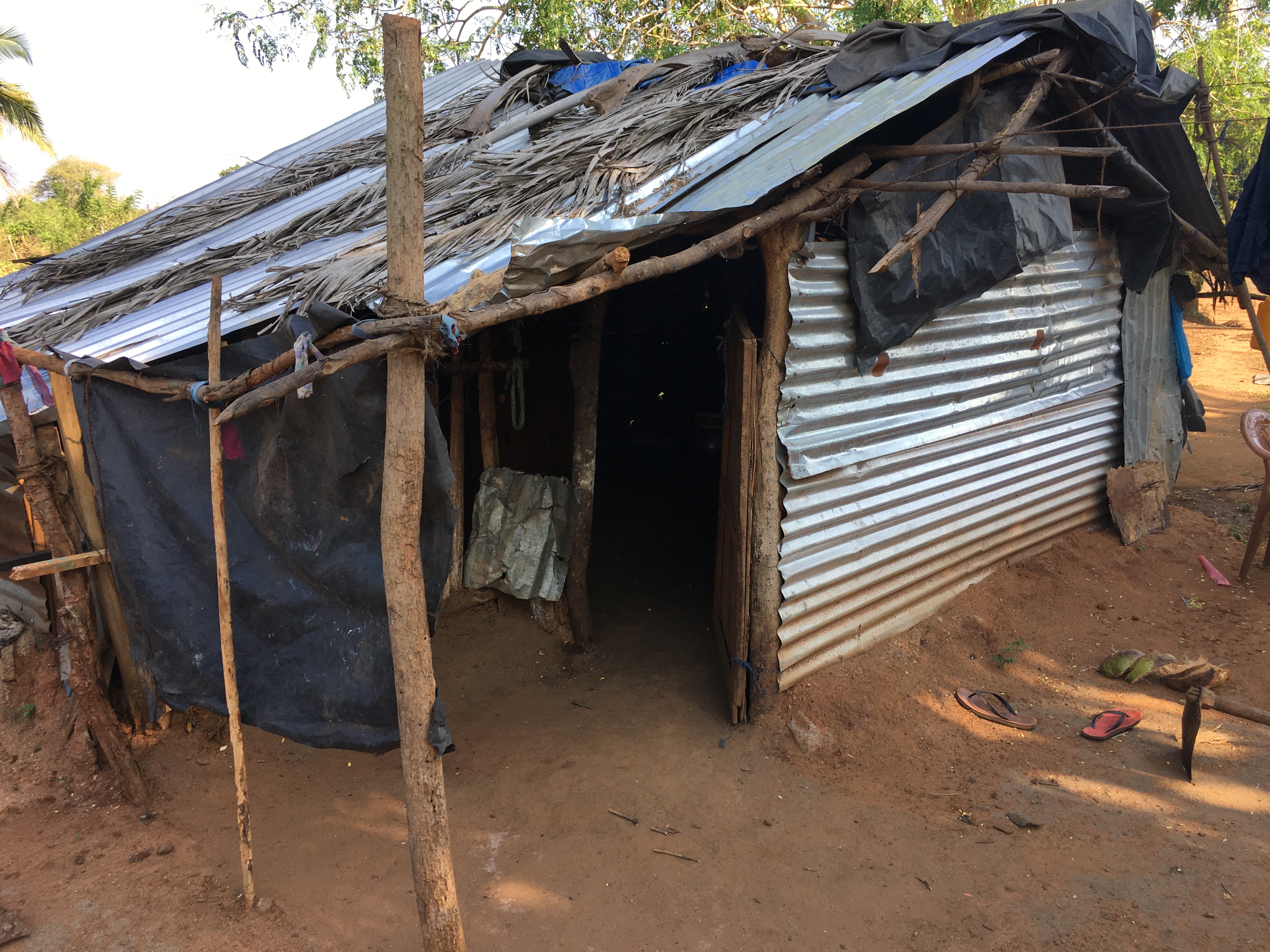 A Tamil home in Vavuniya last year, one of the districts that were hit particularly hard by the lockdown.
In addition, many are apprehensive of the economic repercussions that another lockdown could bring. The military occupation of the Tamil homeland, which has led to soldiers running everything from barbershops to tourist resorts, has deeply impacted on the civilian and economic life of the region. Tamil National Alliance parliamentarian M A Sumanthiran warned that last year's military enforced curfew had left people in the North-East "near starvation". The state's policy of setting up quarantine detention centres also led many in the North-East smarting. The move, which saw the military take over schools and other educational buildings to isolate suspected coronavirus cases, was heavily opposed by locals. These centres, set up hundreds of miles away from infections and from the island's international airport, were almost entirely set in the North-East.  
"[Sri Lanka] is not following epidemiological principles," said one local clinician last year. "This is due to corruption and racism in the government... There is obvious discrimination." 
Sri Lanka's COVID Military Overlords 
As COVID struck the island last year, instead of strengthening civil society organizations, improving health education and building health infrastructure, Sri Lanka chose instead to lead with a militarised response to the pandemic. Sri Lanka's president Gotabaya Rajapaksa – another former military man and credibly accused war criminal – used it as an opportunity to further embolden and expand the already massive military. Sri Lanka's defence secretary acknowledged the use of military intelligence operatives and computer software to track people it suspects of having contact with the coronavirus, in an admission last year that gave a glimpse into the extent of the military's reach across the state. Meanwhile, Silva announced the use of a "Drone Regiment" that was deployed in parts of the island last year where the armed forces arrested those it claimed were breaking coronavirus lockdown regulations.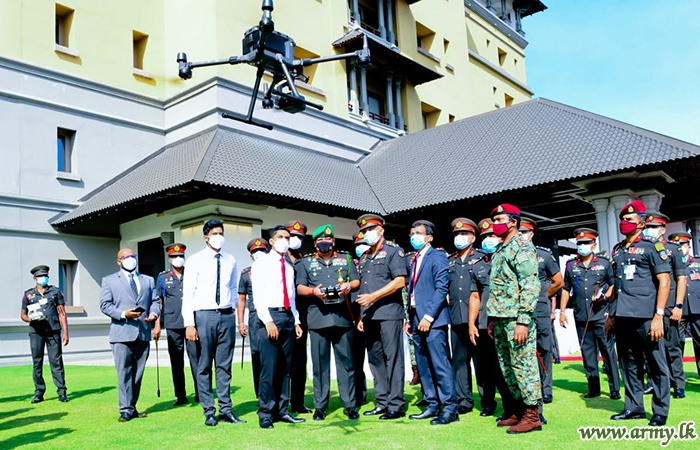 Silva inspects a drone from a new Sri Lankan army regiment last year.
Throughout his tenure Rajapaksa has already overseen the security forces' swallowing up of various government institutions, in an escalation of militarisation. A hardened Sinhala nationalist, he has worked to widen the role of the military on the island. The pandemic has given his regime an excuse to intensify that process. The International Truth and Justice Project noted how Colombo attempted "to whitewash military officers who face allegations of war crimes" by placing them in charge of civilian health across the island. They were dubbed "Sri Lanka's COVID Military Overlords". 
"Their appointment is a cynical attempt to use the COVID emergency to cleanse a tainted organisation," said the organisation's Executive Director Yasmin Sooka. "It poses a serious problem for the international community in how to respond. Diplomats and donors should not facilitate the dismantling and disempowerment of the civilian administration."  
Fear of another crackdown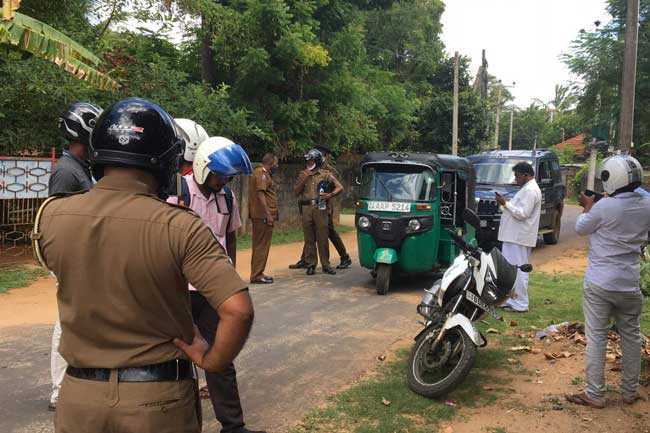 Sri Lankan police arresting Tamils at a memorial event in September
That process of militarisation however has only worsened in recent months, alongside Rajapaksa's brash ethnic chauvinism and authoritarianism. Freedom House highlighted last year how Sri Lanka's actions during the pandemic illustrated a global trend in abuses of power, the silencing of dissent and an undermining of systems of accountability. And earlier this year the UN Human Rights chief warned that the government had 'sown the seeds' of further violence, as the human rights situation on the island deteriorated. Critics of the state have been detained and remain imprisoned, Tamils continue to be arrested and the military continues to occupy - and even attempt to grab - land in the North-East. 
With new cases steadily rising, Sri Lanka's prime minister reiterated his army chief's claim that a national lockdown would not be imposed. However, he did not rule out 'local lockdowns', many of which have already been enforced in hotspots, including Jaffna last month. These could prove equally devastating to those caught in them. Just last week, Sri Lanka's police spokesperson confirmed that they had arrested 177 people for supposed COVID regulation violations, in one day alone. As infections across the island rise, so too does the number of those being detained or charged by the security forces.  
Whilst Narendra Modi's government in India has sought to censor social media and remove posts on Twitter and Facebook that criticised the state's handling of the pandemic, Sri Lanka already has a well-versed military-led social media monitoring network. Reports have emerged of Sri Lankan security forces also attempting to remove posts from Twitter, whilst over the past year several people have been arrested for posting on social media - including a Batticaloa-based journalist who was detained under anti-terror charges that Reporters Without Borders labelled "Kafkaesque". As the senior Chinese delegation travelled across Colombo last month, one man was arrested as he protested against road closures for the visiting convoy. More arrests may soon follow.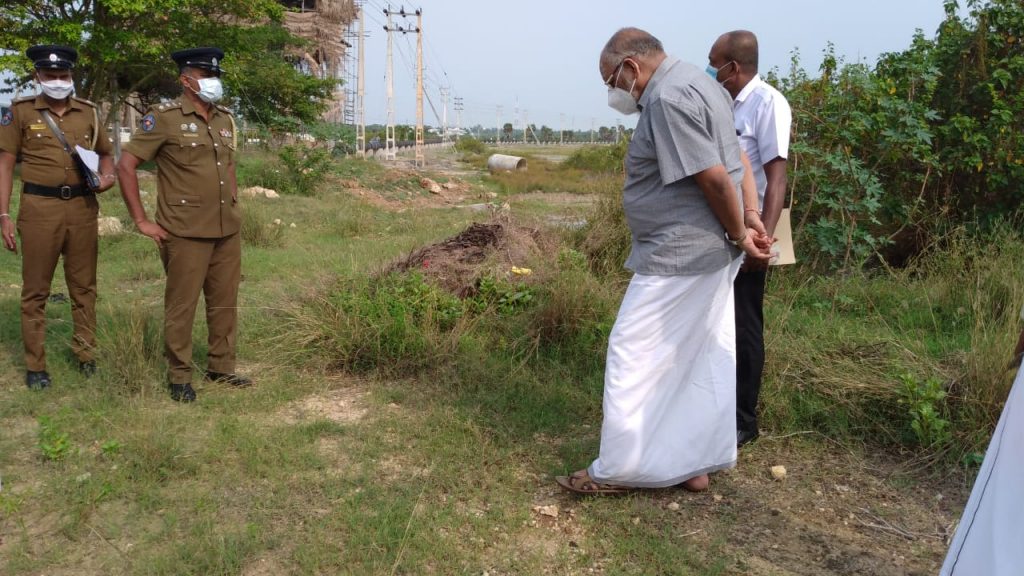 Sri Lankan police block Tamil politician C V Wigneswaran from travelling to a memorial event last May
For the Tamil people, this month in particular carries an intensified apprehension of a state clampdown. Tamils around the world will look to mark the 12th anniversary of the massacres at Mullivaiikkal throughout May, commemorating the tens of thousands who were slaughtered by the Sri Lankan military. Last year, court orders were issued under the guise of coronavirus restrictions, to prevent memorial services from being held at the offices of political parties and of newspapers. Politicians and activists were blocked from travelling to memorial events. Organisers from the Tamil National People's Front were arrested and their offices surrounded as small-scale commemoration events were underway. The Sri Lankan police warned one local Tamil activist, "If you light lamps, the army will shoot you". 
"Everyone is nervous," said one Mullaitivu-based Tamil journalist this week. 
"We can already see the setting up of new checkpoints and older supposedly temporary checkpoints becoming more permanent. We worry that just like last year, the army will use coronavirus as an excuse to crackdown on us even more." 
'We are bracing ourselves'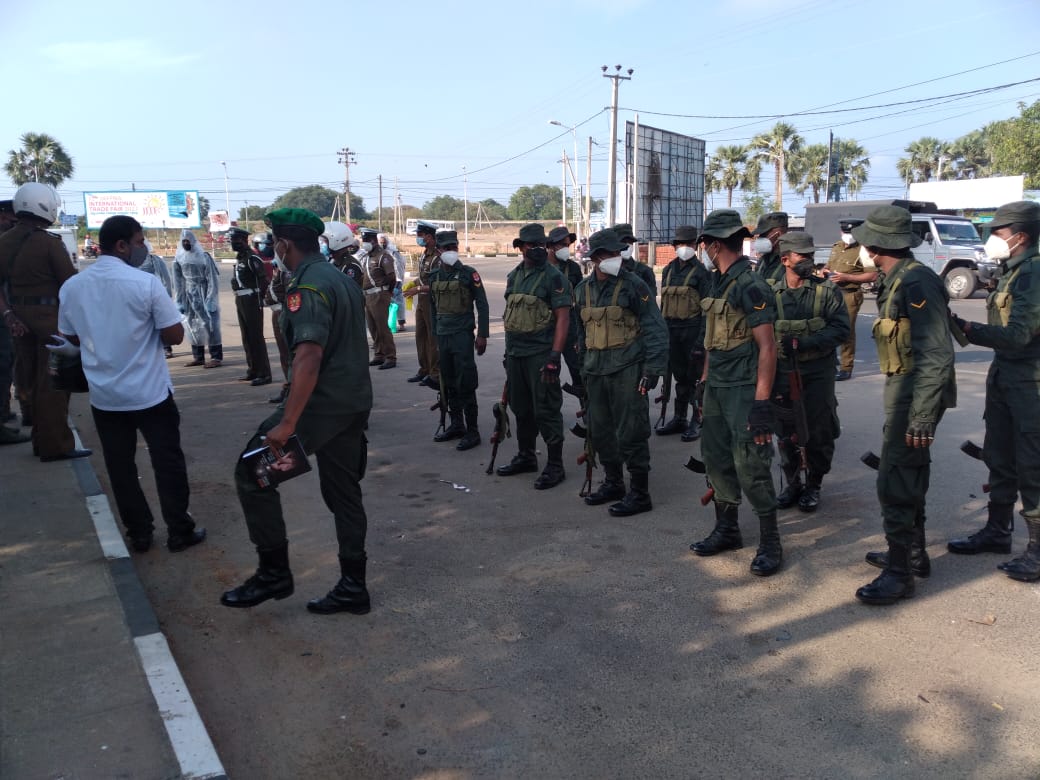 Sri Lankan troops deployed in Jaffna earlier this year.
"We anticipate a sharp rise in the coming weeks," Silva told journalists at a meeting in Colombo on Thursday. He went on to state that the island's media should deliver news of the military's coronavirus prevention measures in "a more impressive and positive manner, rather than adopting a destructive attitude". 
Though a restrictive response to the pandemic may be required, the enforcing of a militarised approach must be viewed critically – particularly given the rapid endangering of human rights and civil liberties. Not only could it fail at containing the pandemic, but it may grant the state free reign to further entrench authoritarianism and exacerbate the state's oppressive policies. That racist approach was exemplified last week. As the case count on the island continued to rise, there was outrage on social over the mass events that were permitted to take place. Whilst the security forces arrested the Tamil organisers of the temple festival in Jaffna, those involved in the Governor's Cup roam free, without even a warning.
"We all know this government is racist," said the journalist from Mullaitivu. "Now we are bracing ourselves."
We need your support
Sri Lanka is one of the most dangerous places in the world to be a journalist. Tamil journalists are particularly at threat, with at least 41 media workers known to have been killed by the Sri Lankan state or its paramilitaries during and after the armed conflict.
Despite the risks, our team on the ground remain committed to providing detailed and accurate reporting of developments in the Tamil homeland, across the island and around the world, as well as providing expert analysis and insight from the Tamil point of view
We need your support in keeping our journalism going. Support our work today.
For more ways to donate visit https://donate.tamilguardian.com.