19 January 2022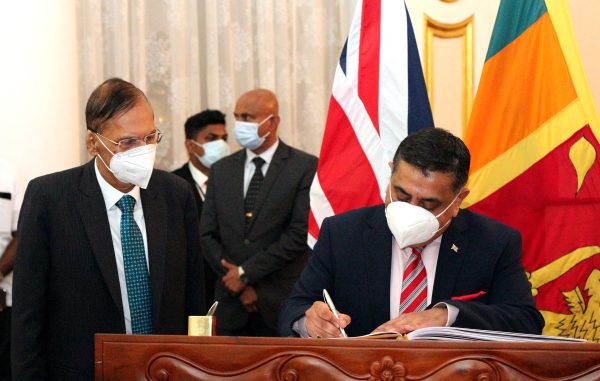 British South Asia Minister, Lord Tariq Ahmad, has been on a whirlwind 3-day tour of Sri Lanka landing in Colombo and making trips to Jaffna and Trincomalee where he stressed the importance of human rights and accountability.
This was the first time the minister visited Jaffna.
In advance of his visit, the minister penned an op-ed in the Daily Mirror where he stressed the need to "deal with the past" and detailed Britain's "renewed focus on the importance of the Indo Pacific region to global trade and investment, and our mutual security".
Tamil demands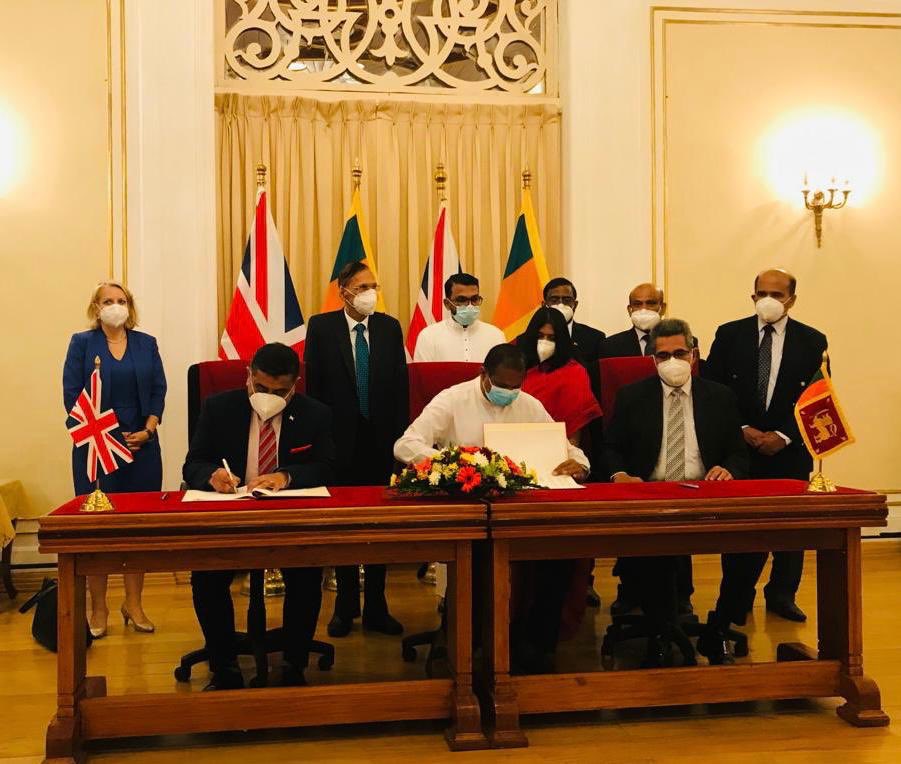 His piece evoked criticism from Tamil Families of the Disappeared for his silence on the "burning issues of enforced disappearances" and prioritisation of engagement with Sri Lanka. They maintained the need for concrete action on Sri Lanka including prosecutions under universal jurisdiction and sanctions on Sri Lankan war criminals.
Read more here: 'Imagine if it was your child who disappeared' – Families of the Disappeared slam British Minister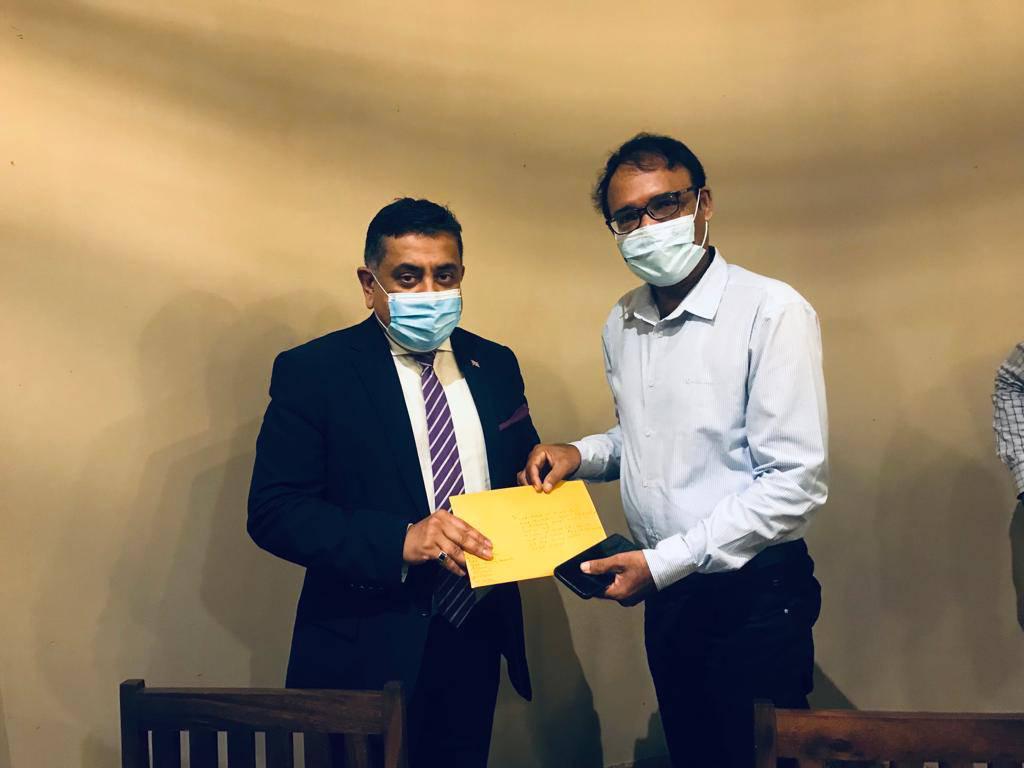 During his trip, Ahmad met with the People Uprising Movement (P2P) and civil society members from the Eastern province. In letters to the minister, the P2P movement reiterated the demands of the protesters and explained their rejection of Sri Lanka's 13th Amendment.
"As long as Sri Lanka remains a unitary state with absolute powers in the hands of the Sinhala politicians, the structural genocide of Tamils will not stop. We do not believe a solution based on the 13th amendment or similar provisions will lead to long-lasting peace".
They further called for Sri Lanka to be referred to the International Criminal Court; for Britain as a "voting member of the International Monetary Fund (IMF) to call for not only economic reform but state structural reform"; and for the UK to "work with international partners to find a political solution based on the Tamil People being able to exercise their democratic rights to self-determination".
Read more here: 'Tamils have been fighting for over 70 years for self-determination' - P2P movement demands state structural reform
Meeting with Sri Lanka's Foreign Secretary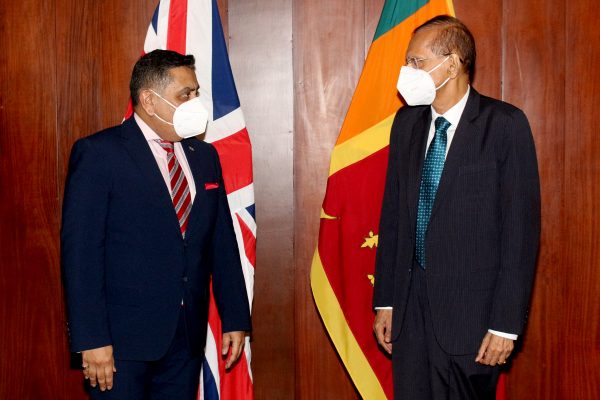 In his meeting with Sri Lanka's Foreign Secretary, G.L. Peiris, they discussed deepening bilateral ties in terms of "trade, investment and tourism; Indian Ocean cooperation, defence and counter-terrorism; climate change and renewable energy; education and STEM; and employment generation".
Minister Peiris further claimed that Sri Lanka was making progress in terms of transitional justice and insisted on a "domestically designed and executed reconciliation and accountability process". He further thanked the UK for upholding its proscription on the Liberational Tigers of Tamil Eelam.
Commenting on the Sri Lanka's diaspora in the UK both sides noted they were "a unique asset, making a significant contribution towards the prosperity of the UK". With Peiris alleging a commitment to engage with the diaspora "in order to forge a unifying narrative, that would positively contribute towards the development of Sri Lanka".
In March 2021, the Sri Lankan government has announced a sudden and wide-ranging proscription of hundreds of individuals and several Tamil diaspora organisations, as the regime continues to crack down on Tamil civil society and activists.
The meeting also saw a signing of an MOU on Healthcare Cooperation between Sri Lanka and the UK. This would provide employment opportunities for Sri Lankan nurses and other healthcare professionals in the UK. It is amidst Sri Lanka's economic crisis which has seen a shortage in basic goods such as food and medicine whilst an increasing number of Sri Lanka youth are leaving the country.
Today the UK and Sri Lanka signed an MoU on Healthcare Cooperation, which will improve best practice and expertise on healthcare and develop an ethical and sustainable recruitment programme for the employment of Sri Lankan healthcare professionals in the UK. pic.twitter.com/xzII51xwAm

— Lord (Tariq)Ahmad of Wimbledon (@tariqahmadbt) January 18, 2022
Read Sri Lanka's Foreign Ministry statement here.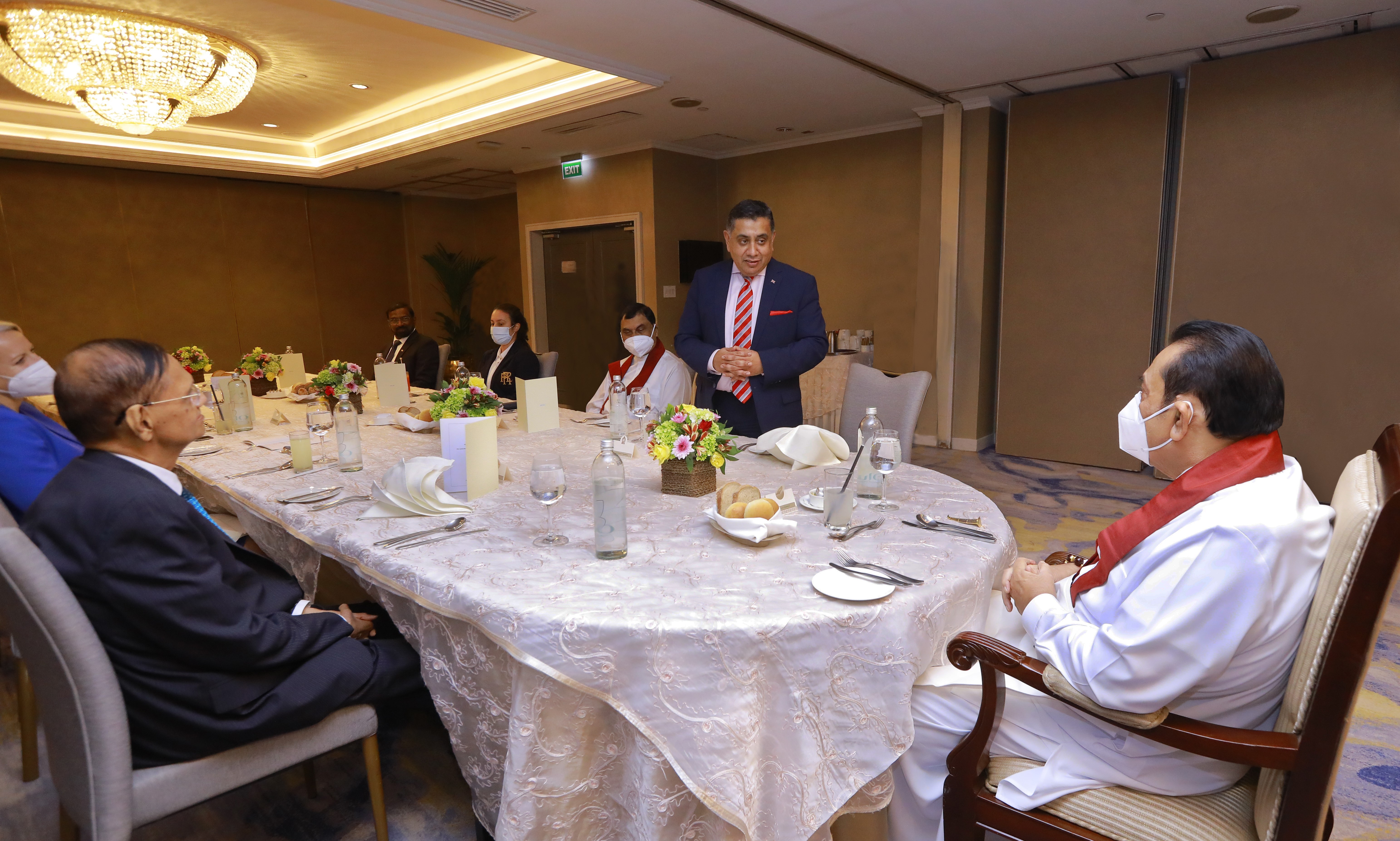 During his visit, he also met with Sri Lanka's Prime Minister Mahinda Rajapaksa where they discussed supporting tourism, foreign employment opportunities, and possible measures for the development of the education sector.
Read more here.
Visiting the North-East
Whilst visiting Jaffna, Ahmad met with Northern Provincial Governor, Jeevan Thiagarajah, and discussed the need for justice and accountability.
Insightful discussion with Governor Jeevan Thiagarajah on plans for the Northern province, his priorities and the need for justice and accountability. pic.twitter.com/UiELqhjk6b

— Lord (Tariq)Ahmad of Wimbledon (@tariqahmadbt) January 19, 2022
He also met with officials from the United Nations Development Programme in Sri Lanka and discussed the investments in Jaffna. The organisations tweeted that their project strengthened support for 600 families in agriculture, fisheries, livestock micro and small enterprises.
Lord @tariqahmadbt, Min of State @FCDOGovUK & H.E. @SarahHultonFCDO visited the Resettlement Area in the Tellipalai Division of the Jaffna District for a discussion w/ #livelihood beneficiaries supported under the Support to Durable #Resettlement (SDR) project supported by JPP. pic.twitter.com/furX0uL0fE

— UNDP in Sri Lanka (@UNDPSriLanka) January 19, 2022
Whilst in Trincomalee he met with Governor of the Eastern Province, Anuradha Yahampath, and discussed key concerns such as access to justice and matters of livelihood in the East. He also met with youth entrepreneurs.
Discussed the government's priorities to address key concerns and livelihoods, access to justice and integrated community relations in the Eastern Province with Governor Anuradha Yahampath. pic.twitter.com/rnPSiLWNmo

— Lord (Tariq)Ahmad of Wimbledon (@tariqahmadbt) January 19, 2022
A pleasure to visit businesses of returnee youth entrepreneurs resettled in #Trincomalee who have received training and support to grow and sustain their businesses through the British High Commission @UKinSriLanka @UNDPSriLanka. pic.twitter.com/M5AeEqNPQU

— Lord (Tariq)Ahmad of Wimbledon (@tariqahmadbt) January 19, 2022
Ahmad also made a cultural visit to the temple of Thirukoneswaram during his visit to Trincomalee.
Delighted to visit and pay respect to the ancient and beautiful Hindu temple #Thirukoneswaram during my visit to #Trincomalee, Sri Lanka. pic.twitter.com/p2eDVI7lag

— Lord (Tariq)Ahmad of Wimbledon (@tariqahmadbt) January 19, 2022
The minister also spoke with Tamil civil society from Trincomalee and Batticaloa to discuss the challenges they faced and emphasised the need to keep civic spaces open.
I spoke with representatives of Tamil civil society from #Trincomalee and #Batticaloa today to discuss their work and the challenges they face. A useful reminder of how valuable their work is to communities on the ground and the importance of keeping civic spaces open.

— Lord (Tariq)Ahmad of Wimbledon (@tariqahmadbt) January 19, 2022
His statement comes amidst heightened concern over the brutal crackdown on Tamil journalists and civil society members.
Climate
The British minister also planted a tree in Colombo to commemorate the UK's presidency of the United Nations Climate Change Conference, COP26. During the international event, Sri Lankan President Rajapaksa attempted to present himself as a model leader on environmental issues but was met by widespread protests by British Tamils and human rights campaigners.
Delighted to join the team @UKinSrilanka in planting a tree to commemorate the UK's presidency of #COP26.

An important reminder of the need for continued #climateaction #togetherforourplanet. pic.twitter.com/Op6mYb9Rn9

— Lord (Tariq)Ahmad of Wimbledon (@tariqahmadbt) January 18, 2022
"While Gotabaya presents himself as an environmental champion, his government's policies have in fact encouraged the destruction of precious forests and other natural resources by businesses with connections to the regime - and his crash course in organic farming has discredited the idea among farmers otherwise quite favourable to it", Alan Keenan, Senior Consultant on Sri Lanka at the International Crisis Group noted at the time.
He further added,
"It's essential to see the Sri Lankan government's sponsorship of the COP26 panel on nitrogen as part of their recently launched charm offensive with the UN and western governments, designed to prove they are good global citizens and to distract from the dangerously discriminatory and repressive policies they are pursuing at home and to undermine the UN Human Rights Council's calls for major reforms.
Read more here: Greenwashing genocide? The UK welcomes Sri Lanka's notorious president
Ahmad further visited Bellanwila Wetlands Park where he stressed the need to protect natural habitats.
Great tour of Bellanwila Wetlands Park in Colombo to learn about how protecting natural habitats support #climateaction, biodiversity and livelihoods. #COP26 #TogetherForOurPlanet pic.twitter.com/QBeV3Cahqh

— Lord (Tariq)Ahmad of Wimbledon (@tariqahmadbt) January 19, 2022
Read more here: Forests, another frontier of Tamil resistance
Religious Freedom
During his visit, he also met with civil society representatives and members of the Ahmaddiya community to discuss human rights. Last year two damming reports were produced on religious freedom in Sri Lanka by the Cristian Solidarity Worldwide (CSW) and the  U.S. Commission on International Religious Freedom which have highlighted the degradation of religious freedom on the island.
Met with civil society representatives and religious leaders, including the Ahmaddiya Community to discuss human rights, wider concerns of the Muslim community and expectations of the #HRC process. Useful and interesting discussions. pic.twitter.com/u1vc1NFjVZ

— Lord (Tariq)Ahmad of Wimbledon (@tariqahmadbt) January 19, 2022
Responding to these reports former US for religious minorities during both the Obama and Trump administrations, Knox Thames has urged for international pressure and sanctions on Sri Lanka to force a change in the government's policy of religious persecution against Hindus, Christians, and Muslims.
The US report highlights the continued use of Sri Lanka's draconian Prevention of Terrorism Act to target Muslims and jail them for lengthy periods on trumped-up charges. The report further adds that there have been attempts to "reduce the visibility of Islam through the destruction of mosques and restrictive stances on religious clothing". Further measures to reduce visibility include restricting Islamic religious practices, such as a ban on burqas and the closure of Islamic schools.
Read more here: Former US Envoy urges international pressure to end religious persecution in Sri Lanka
We need your support
Sri Lanka is one of the most dangerous places in the world to be a journalist. Tamil journalists are particularly at threat, with at least 41 media workers known to have been killed by the Sri Lankan state or its paramilitaries during and after the armed conflict.
Despite the risks, our team on the ground remain committed to providing detailed and accurate reporting of developments in the Tamil homeland, across the island and around the world, as well as providing expert analysis and insight from the Tamil point of view
We need your support in keeping our journalism going. Support our work today.
For more ways to donate visit https://donate.tamilguardian.com.