18 March 2018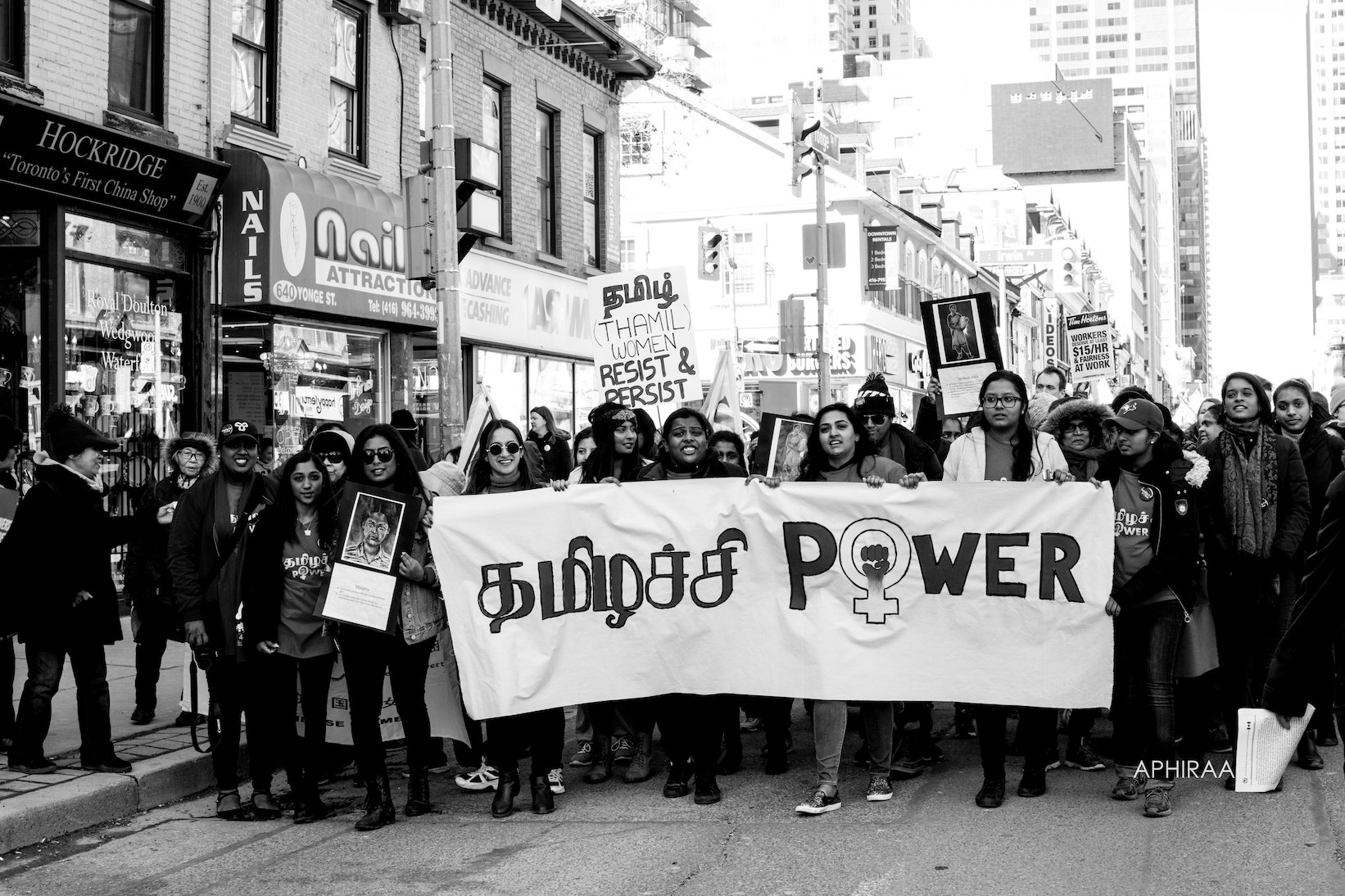 Photo: Aphiraa Gowry
By Yalini Rajakulasingam (Member of Thamilachi Power Organizing Team)
On Saturday, March 3rd, 2018 women from across the Greater Toronto Area marched together in Downtown, Toronto, to commemorate International Women's Day (IWD). IWD is recognized worldwide each year on March 8th to mark the victories and struggles of the women's rights movement. IWD recognizes and celebrates the achievements women have made in the fight for human rights, equity, environmental justice, economic justice and social justice. IWD is also the opportunity for us to remember and honour sisters we have lost because of violence, abuse, war and genocide.
Land Acknowledgement & Amaithi Vanakam
Under the Banner Thamilachi Power, the organizers welcomed Eelam and Tamil identified: women, queer, trans, non-binary, non-gender conforming individuals and allies to form the contingent.  The contingent was composed of children, youth, women and elders. The collective began by reciting a land acknowledgment to recognize the autonomy and sovereignty of the indigenous nations to whom the unseeded and unsurendered land belongs.  The land acknowledgement was followed by the Amaithi Vanakam, to pay respects to maaveerar, and civilians who have lost their lives in the genocide in Tamil Eelam.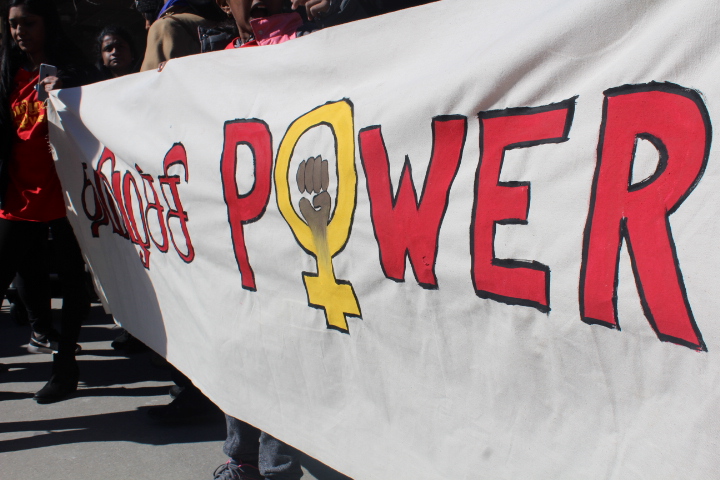 Photo: Genica Jeganathan
Our Message
This year's theme for the IWD March was "LIBERATION: Honouring Our Sisters, Celebrating Our Victories, Strengthening Our Resistance On Indigenous Land".  Thamilachi Power organizers ensured that Tamil women held the banner to lead the contingent, taking turns with groups of elders, youth and children, as allies followed closely.  Organizers distributed Thamilachi Power T-shirts to the contingent, along with buttons that were also distributed to other marchers.  In line with the theme of Liberation, the marchers held signs that profiled Tamil Women who have inspired liberation, such as Annai Poopathi, Lt. Malathy, Senkodi, Isai Priya, Avaiyaar and the Mothers of the Disappeared protesting currently in Tamil Eelam.  Thamilachi Power amplified its presence at the March with chants that echoed throughout march:
Who are we?
Thamilachi!
What do we have?
Power!
----------
Thamil Amma's on the ground!
Justice! Justice! Will be found!
The March concluded with a rally at Nathan Philip Square, located at Toronto City Hall to call attention to Missing and Murdered Indigenous Women; such as Tina Fontaine.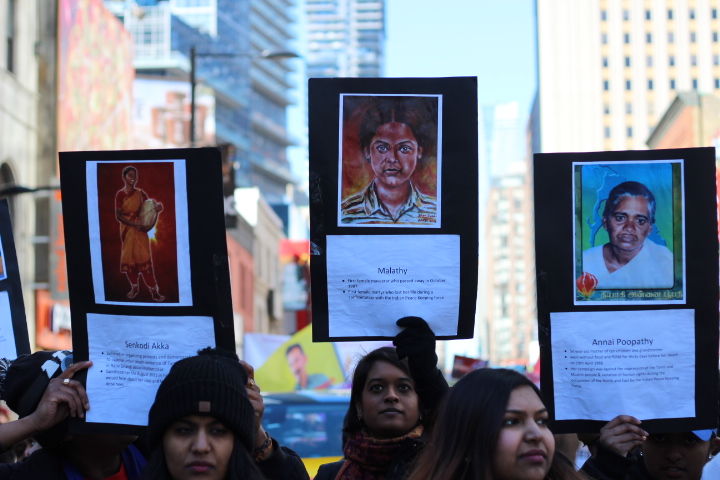 Banners left to right -  Senkodi from Tamil Nadu, Lt. Malathy, Annai Poopathi. Photo: Genica Jeganathan
The energy of the contingent resonated throughout the march, and marchers thanked organizers for making it possible for Tamil women to unite and showcase the will and strength of Thamilachi Power.
மண் பறித்து உண்ணேல்
Mann Parithu Unnel
Do not occupy others land illegitimately for your livelihood.
- Avvaiyar's Aathichudi
Photo: Aphiraa Gowry
For more information please email us at [email protected]