20 February 2021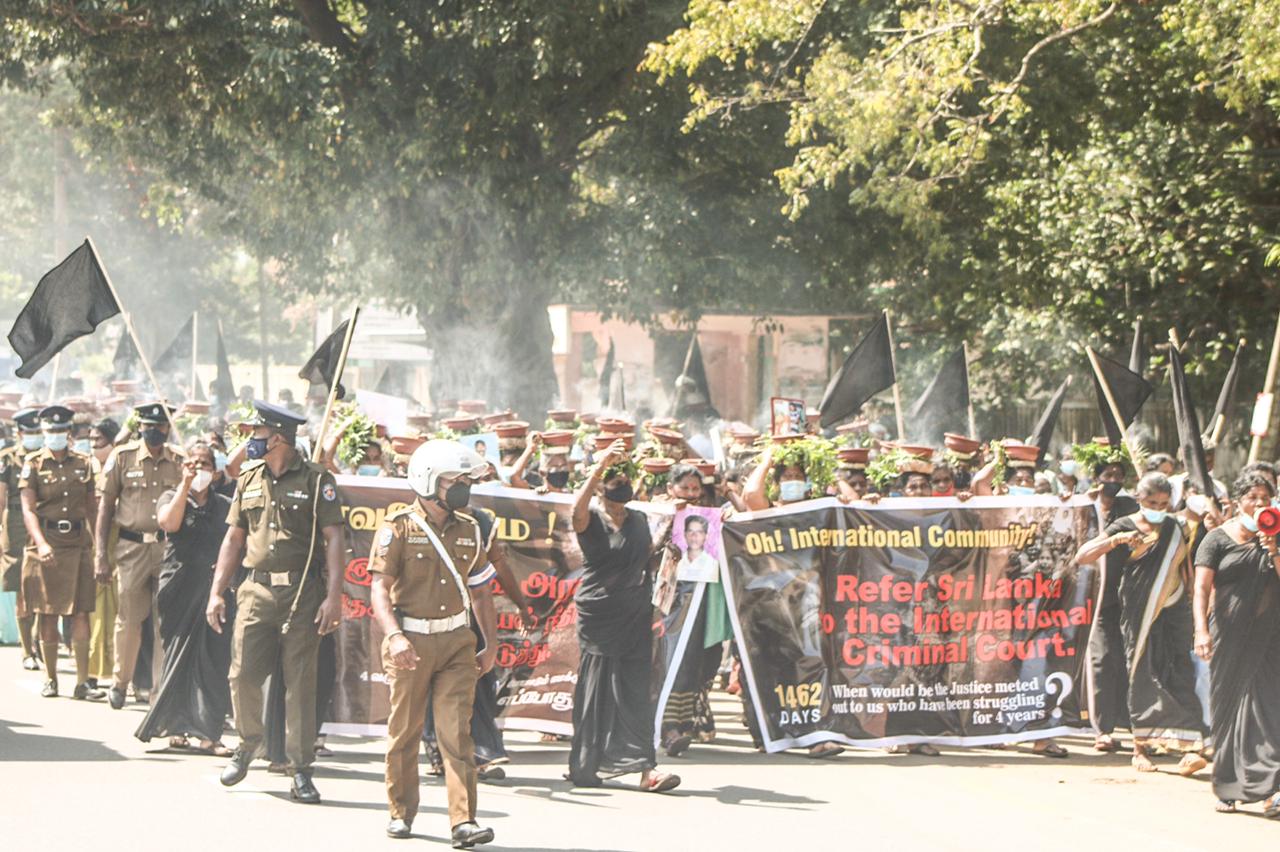 (Photo of  Kilinochchi protest 20 February 2021)
Writing in Just Security, Tasha Manoranjan, Executive Director of People for Equality and Relief in Lanka (PEARL), highlights that a failure to address impunity in Sri Lanka has "very real consequences, even beyond the preservation of international rule of law".
"Its consequences are lived daily by Tamil survivors, who continue to live in a heavily militarised security state," writes Manoranjan. In Mullaitivu, she notes, there is one soldier for every two civilians. She further remarks on the suffering of Families of the Disappeared stating:
"Tamil families of the disappeared also suffer the unimaginable, endless trauma of not knowing the fates of their children, spouses, or siblings".
Tamils demand for justice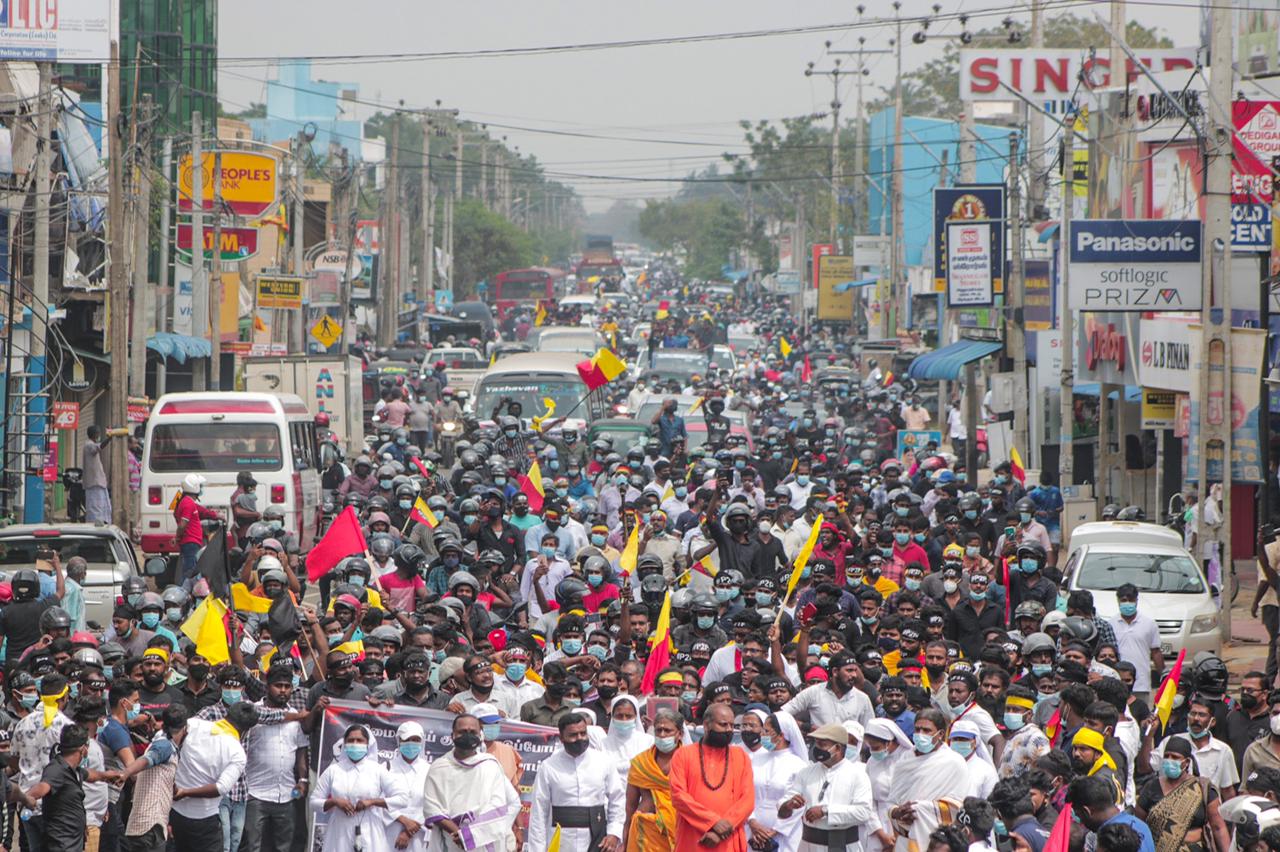 Reflecting on the peaceful mass demonstrations from Pottuvil to Polikandi (P2P) Manoranjan highlighted not only the size and scale of the protests but also the unprecedented acts of solidarity between Tamils and Muslims. These demonstrators who demanded "justice and accountability for Sri Lanka's war crimes, crimes against humanity, and genocide" as took aim at Sri Lanka's policy of forced cremation which violates the religious freedoms of Muslims. Demonstrators have been met "with surveillance, harassment, and threats, as well as court orders attempting to quash the peaceful march".
Families of the Disappeared also protested and have done so remarkably over the years despite intimidation from the Sri Lankan state. They are continuing to demand answers about the fates of their loved ones, many of whom were taken by the Sri Lankan government in 2009, just before the war ended, and have not been seen since.
Manoranjan notes that Tamils have consistently mobilised against virulent Sinhalese Buddhist nationalism throughout Sri Lanka's history, "from making Sinhala the only official language in 1956 to the unabashed Sinhalese nationalism of the current president, Gotabaya Rajapaksa, who was sworn in November 2019 at the Buddhist temple where an ancient Sinhalese king defeated a Tamil king and brought the island under one (Sinhalese) rule".
This, she notes, underlies the fundamental nature of the Sri Lanka state; that it was designed around, and to advance "Sinhalese Buddhist values and ideology, at the expense of non-Sinhalese communities, particularly Tamils". The landslide victory Gotabaya Rajapaksa enjoyed in 2019 was in small part due to his brutal campaign during the armed conflict which gave him the nickname "The Terminator".
Manoranjan further slams the Human Rights Council highlighting that, despite decades of Tamil protests and unequivocal calls for international action to end impunity in Sri Lanka, the HRC persistently "heeds Sri Lanka's requests for "time and space" to address allegations of international crimes with a homegrown solution". Sri Lanka's homegrown solution, Manoranjan remarks, is impunity.
Domestic Institutions Will Fail – They are Designed To
In her piece, Manoranjan sheds a light on the farce of Sri Lanka's domestic commissions by examining emblematic cases such as that of the Trinco 5.
In this case, in which five Tamil students were murdered by the Special Task Force (STF) in Trincomalee in 2006 just steps away from their parents, the officers were acquitted in 2019 due to a supposed "lack of evidence". The STF's role is so well known that Basil Rajapaksa admitted "We know the STF did it, but the bullet and gun evidence shows that they did not. They must have separate guns when they want to kill someone."
In 2016, an all Sinhalese jury acquitted six Sri Lankan soldiers who were reported to have shouted "Demala kattiya maranuwa" ("Death to the Tamils") when they went on a rampage and massacred 26 Tamil civilians in Kumarapuram in 1996.
Manoranjan further highlights that the lengthy delays and mishandling of these cases reflects a fundamental lack of political will to address state atrocities against Tamils.  This a trend that spans "over two decades and over three different regimes, it exemplifies Sri Lanka's systemic and structural barriers to justice, regardless of who is in power". PEARL's report concluded that Sri Lanka is completely unwilling to prosecute atrocity crimes perpetrated against Tamils.
Read more here: Impunity reigns in Sri Lanka
Manoranjan also notes that the rare exemption to the impunity was the conviction of Sunil Ratnayake, the only one of five defendants to be convicted in 2015 for the murder of eight Tamil civilians, including four children in Mirusuvil in April 2000. However, in March 2020 he was given a Presidential pardon, which the OHCHR condemned stating that pardons must comply with "international obligations under human rights and international humanitarian law, and should exclude those responsible for international crimes or gross violations of human rights."
latest OHCHR further reports that "despite investigations over the years by domestic Commissions of Inquiry and the police, and the arrest of some suspects and trials at bar, not a single emblematic case has been brought to a successful conclusion or conviction."
Sri Lanka's announcement of yet another domestic commission to investigate prior commissions has been met with scepticism from UN officials. The U.N. High Commissioner for Human stated she was "not convinced the appointment of yet another Commission of Inquiry will advance this agenda".
Decisive International Action Needed Now to Prevent Recurrence
Manoranjan further references the January OHCHR report which noted that Sri Lanka was "on an "alarming path towards recurrence of grave human rights violations". She notes that is only more apparent with Sri Lanka's public security minister statement that the government is preparing to file cases against the tens of thousands of protesters who participated in the march earlier this month. The minister further called for Tamil politicians who participated in the march to be teargassed and beaten.
She further lambasted the Human Rights Council's Core Group for its limited mandate, noting that a draft resolution called simply to "consolidate, analyse and preserve information and evidence" of violations of international law in Sri Lanka. Such a mandate falls far short of the independent investigative mechanism established by the U.N. General Assembly for Syria which explicitly mandated with preparing files to facilitate independent criminal proceeding. A more robust mandate would ensure that the investigation is focused on ensuring accountability.
Manoranjan also notes that the OHCHR has already collected and analyzed a significant amount of evidence during its work on the OHCHR Investigation on Sri Lanka and there is no need to duplicate this process.
"Any investigative mechanism created through the upcoming Human Rights Council session should also be explicitly mandated with investigating genocide, as Tamils have long demanded", she adds.
She further notes that the draft resolution fails to acknowledge the need for an international accountability process on Sri Lanka. She maintains that the resolution ought to urge member states to support proceedings against Sri Lanka in appropriate international fora, such as at the International Criminal Court. She further advocates for member states to work with Tamil civil society and to pursue accountability through their own courts under the principle of universal jurisdiction. "These options should be pursued simultaneously, not in the alternative", she notes.
The draft resolution further calls on the OHCHR to report back on options for advancing accountability at the 51st session of the Human Rights Council, which will be held in September 2022. This gap of 18 months, Manoranjan states, is far too long to wait, especially given the deteriorating human rights situation in Sri Lanka and instead calls for a report this year.
Manoranjan warns that the credibility of the "Human Rights Council — and indeed the entire U.N. system, given its "grave failure" in the past […] depends on achieving accountability for Sri Lanka's atrocities".
"Impunity in Sri Lanka also begets impunity elsewhere"
Manoranjan also highlights Sri Lanka's connections with Myanmar who similarly seek to establish a "pure" Buddhist state and that "militant monks in both countries reportedly have a signed pact".
Read the full piece here
We need your support
Sri Lanka is one of the most dangerous places in the world to be a journalist. Tamil journalists are particularly at threat, with at least 41 media workers known to have been killed by the Sri Lankan state or its paramilitaries during and after the armed conflict.
Despite the risks, our team on the ground remain committed to providing detailed and accurate reporting of developments in the Tamil homeland, across the island and around the world, as well as providing expert analysis and insight from the Tamil point of view
We need your support in keeping our journalism going. Support our work today.
For more ways to donate visit https://donate.tamilguardian.com.