26 July 2018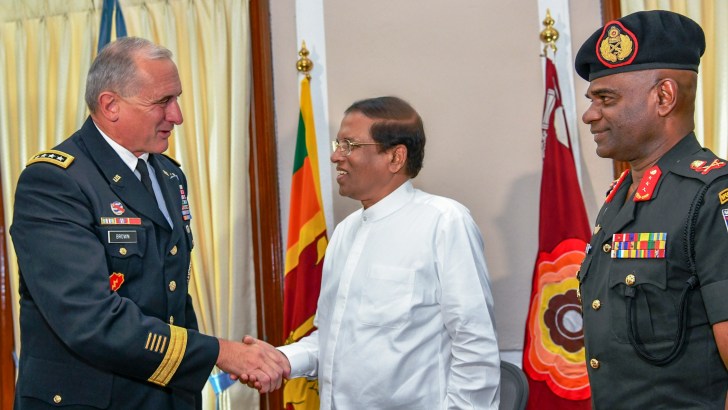 Sri Lankan President Maithripala Sirisena met with the Commanding General of the United States Army Pacific Command this week, where the two discussed the Sri Lankan military's role in the island.
General Robert B. Brown "praised the Sri Lanka Army for its contribution to the ongoing reconciliation efforts and nation-building tasks," according to the Sri Lankan president's official website.
"Discussions agreed that the Sri Lanka Army with its past battlefield gains would be capable of sharing their experiences with global partners in resolving such armed conflicts and restoration of normalcy within a short span of time as proved well in the Sri Lankan context," the Sri Lankan government site added.
During his visit General Brown also met with Sri Lanka's Prime Minister Ranil Wickremesinghe, the head of Sri Lanka's navy and Sri Lanka's defence secretary.
The US General's visit comes on the back of Sri Lankan troops participating in the US-led Rim of the Pacific (RIMPAC) navy exercise for the first time, where they were given weapons training amongst other exercises. US military relations with Sri Lanka have grown, with several training exercises having taken place between the two.