The Sri Lankan army co-ordinated the donation of bicycles in Kilinochchi yesterday as part of the Bikes for Life campaign started by international cricketer Kumara Sangakkara.
An official Sri Lankan military website declared that 75 bicycles were donated to "carefully selected villagers" in a ceremony that was organised "under the guidance of Commander Security Forces – Kilinochchi".
The commander, Major General Ajith Kariyakarawana, was the chief guest at the military ceremony.
Mr Sangakkara's Foundation of Goodness charity has repeatedly teamed up with the Sri Lankan military, and he has previously praised the army's work in the North-East.
"The military and their new role is I think benefiting the citizens of those areas immensely. They appreciate the guidance, their understanding and their social initiatives immensely," Mr Sangakkara said of the army in the Tamil North-East in 2012. And it has made our access into those areas, again with our social service programs, so much easier."
Last year, the cricketer was tipped to become Sri Lanka's ambassador to the United Kingdom.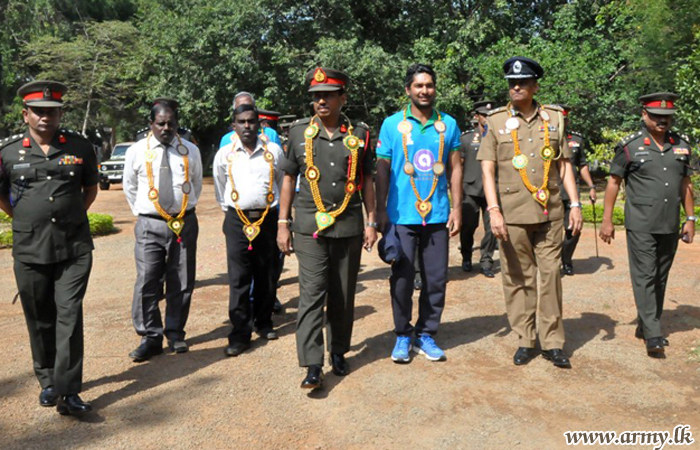 File photograph: Sangakkara with the Sri Lankan military in the North-East last year.
The cricketer was applauded by former Sri Lankan president Mahinda Rajapaksa and his brother Gotabhaya Rajapaksa for criticising the LTTE as terrorists and throwing his weight behind the Sri Lankan military.