17 January 2022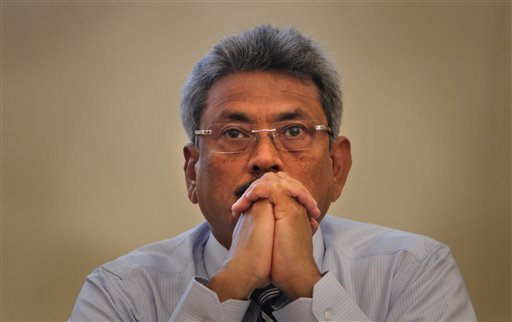 People are starving in Sri Lanka. The economy is in freefall as the cash-strapped government struggles to pay off its debts. The country has been forced to sell over half of its gold reserves and the prices of basic foods have skyrocketed. The pandemic has undeniably devastated Sri Lanka, but this is a crisis of the government's own making. Instead of pursuing a "people-centric economy", Sri Lanka's insular policies have been military-driven, unaccountable, and detached from the struggle of citizens.
Amongst the worst impacted by this mismanagement have been Tamils in the North-East, who have suffered not only from chronic levels of negligence but whose livelihoods have been threatened by the ongoing military encroachment and appropriation of their lands.
Responding to this crisis, the international community must not offer a blank cheque to the Rajapaksa regime. Sri Lanka's economic woes are inseparable from its failure to address its ethnocratic governance, unchecked militarisation, and unwillingness to offer Tamils a modicum of self-governance. Financial aid cannot simply seek to keep the current regime afloat but must be tied to tangible reforms which seek a course correction for Sri Lanka's authoritarian path.
Militarisation of the homeland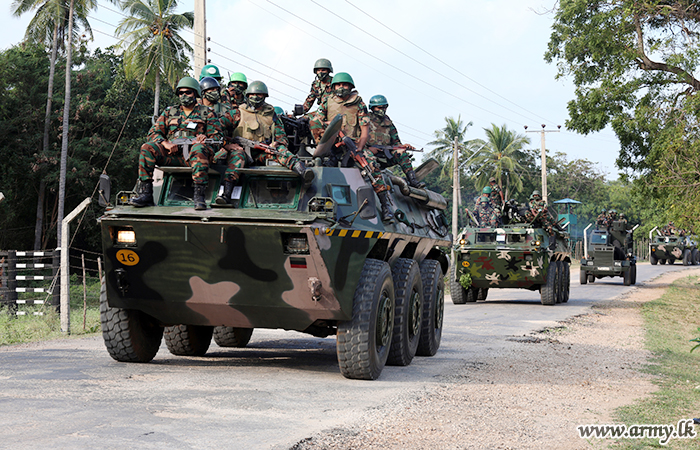 The economic crisis has been contributed to in no small part by Sri Lanka's oversized military budget which according to Janes, accounts for 15% of total government expenditure for 2022, a 14% increase over the allocation in 2021. Despite more than 12 years having passed since the end of the armed conflict, Sri Lanka's military remains one of the largest per capita in the world.
For generations, the North-East has suffered chronic underdevelopment and negligence as the state prioritised the development of the Sinhala south. In December Germany's ambassador to Sri Lanka visited Trincomalee and questioned why it was that Colombo and Hambantota played such a significant role as the island's ports but not Trincomalee. The unspoken answer is that the government in Colombo looks out to the Tamil homeland, not as equal partners, but rather sees the land and resources as those which must be extracted for the enrichment of the majority community.
Was allowed to take a closer look at Trincomalee port today. Cannot but wonder why this natural deep sea port does not play a more important role in 's ports development masterplan. Why only Colombo and Hambantota? So many opportunities in Trinco! pic.twitter.com/DNzTSXpuzI

— Ambassador Holger Seubert (@GermanAmbColo) December 2, 2021
In March 2021, the Oakland institute reported on the ongoing militarisation of the North-East and detailed that for every six civilians there was one soldier. In Mullaitivu alone, the military "acquired more than 16,910 acres of public and private land" and has set up "at least seven Army camps and five naval bases located just 15 km from the village of Alampil to the village of Kokkilai in Mullaitivu". This expropriation of the land has devastated Tamil farmers whose livestock have starved to death due to a lack of grazing land.
As The Economist notes, the regime in Sri Lanka has put the military in charge of everything with little reason that they will "do a better job of running ports, reducing poverty or increasing crop yields". "The positions filled by officers have little civilian oversight" it added. Indeed, the port of Myliddy in Jaffna which in the 1980s produced one-third of Sri Lanka's total fisheries has seen its output fall by 90 per cent.
Rajapaksa's mishandling of the economy has devastated all communities, but it is predominantly the Tamils who have suffered the brunt of militarisation and a lack of promised government aid.
 Authoritarian governance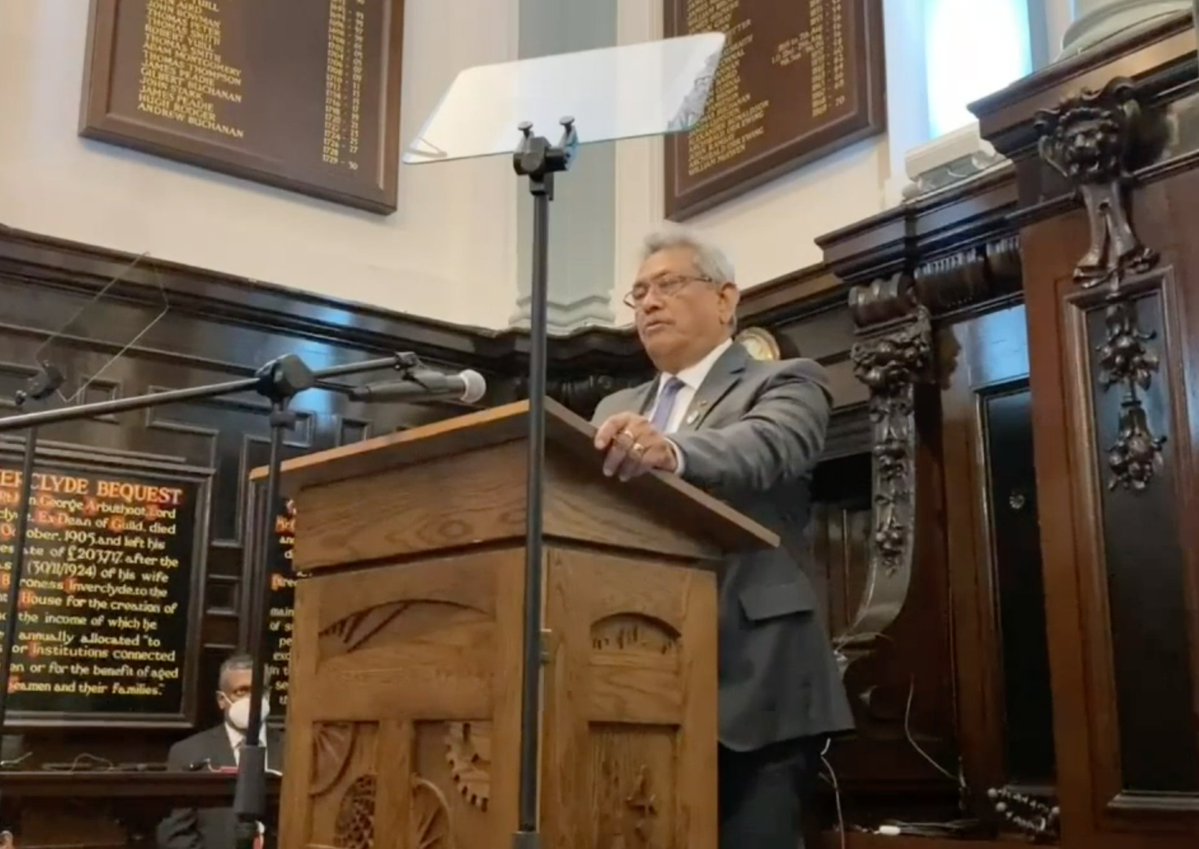 Responding to dissent across the island towards his policies Rajapaksa has chastised government ministers who have criticised his policies and cracked down on dissidents.
Speaking before an audience in Glasgow he further doubled down on his ban on the import of chemical fertilisers which has seen the impoverishment of Tamil and Sinhala farmers and wide-scale protests. He placed the blame on "chemical fertiliser lobby groups" as well as "farmers who have grown accustomed to overusing fertiliser as an easy means of increasing yields". Rajapaksa's policies have been criticised for an expected 85% crop loss.
Since assuming office, he has acted to consolidate power within the executive such as through the passage of the 20th amendment. He further established task forces that ran parallel to domestic institutions, undermining the latter and ensuring that these functions were accountable to him.
This has enabled him to push through draconian and unpopular reforms unmoored by the human suffering caused. Sri Lanka's economy is floundering because its leadership is unaccountable and unwilling to resolve a crisis that has been of the resulted of their own failed policies.
Isolation masquerading as sovereignty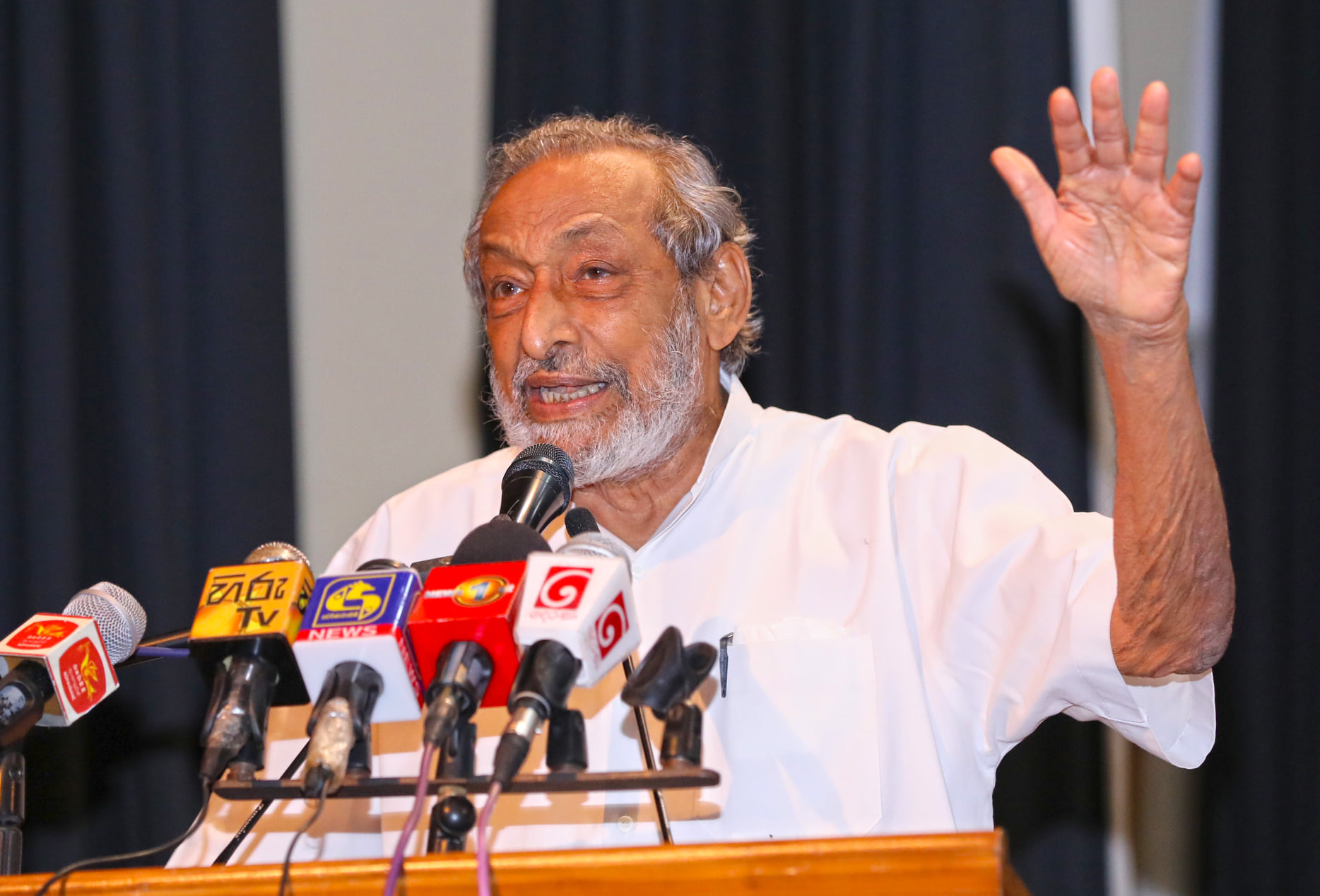 "Even if we die, we will not seek assistance from the IMF", claimed government minister Vasudeva Nanayakkara, as it was reported that an estimated 500,000 people have fallen below the poverty line since the start of the pandemic.
He explained his die-hard opposition to the international organisation in terms of Sri Lanka's much-vaunted "sovereignty". Deference to Sri Lankan "sovereignty" underlies a prevalent fear, particularly amongst the Sinhala South, that the island is at the mercy of great power rivalry. For years, Sri Lanka has attempted to play out that supposed international rivalry on the global stage, using it to leverage countries such as the US, China and India against each other.
However, in recent months as the island's financial crisis grew that delicate balancing act has unravelled. As part of his doomed fertiliser policy, Rajapaksa attempted to rebuff a  20,000 tonnes shipment of fertilisers from the Chinese company Seawin Biotech. The public spat led to China forcing Sri Lanka to pay a mammoth US$6.7 million in damages. Seawin Biotech would discourage other Chinese firms from trusting the Sri Lankan government and even encouraged firms to request payment in advance before undertaking transactions.
Meanwhile, after pushing back against New Delhi's attempts to expand business links on the island for decades, Colombo was finally forced to enter a deal over oil tanks in Trincomalee and still hopes for much-needed financial aid from its northern neighbour.
Yet Sri Lankan leaders have played to these fears to further their own political agenda, even at great cost to it's own population, as well as to protect the country's military which stands accused of genocide.  
The country's isolationist stance has been highlighted by the US State Department in their July 2021 report as they decried the country's import regime as "one of the most complex and protectionist in the world".
Sri Lanka's isolationist policies have devastated trust from investors and seen its credit rating plummet. In a bid to preserve the country's dwindling foreign reserves it doubled down imposing severe trade restrictions on essential goods including essential goods such as turmeric. These have been paired with disastrous tax cuts which have seen tax receipts plummet by a quarter and the budget deficit rising to 14% of GDP. Two-thirds of government revenue now go towards paying off interest payments. Yet, it is the Tamil North-East that has been worst impacted.
Since the end of the war, the Tamil homeland has been subjected to ever-increasing militarization with the army engaging in land grabs and undercutting their livelihood. However, the Rajapaksa administration accelerated this course through its militarisation of the state and uneven distribution of aid. This has seen the lives of Tamils across the North-East pushed to starvation.
International response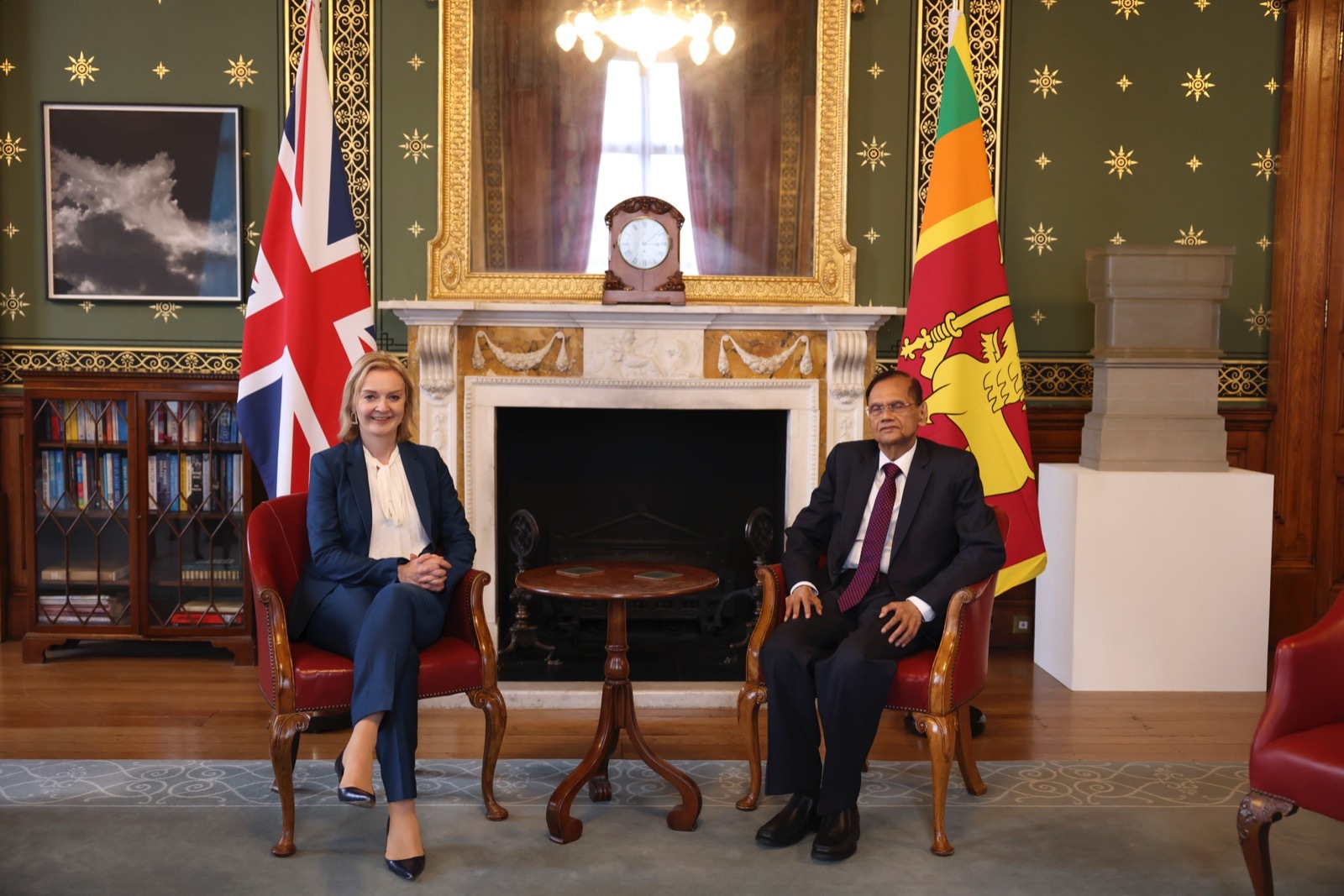 To the dismay of Tamils across the homeland and the global diaspora, Western countries have been far too willing to overlook the intransigence of the Sri Lankan state and provide the regime with undue legitimacy.
In the past year, both Germany and the UK have pledged their support for deepening economic ties with Sri Lanka and strengthening bilateral relations provoking criticism from human rights activists and the Tamil community. When the UK's Foreign Secretary met with her Sri Lankan counterpart last October, British MPs slammed her silence on the pressing issues of human rights and her call to "deepen trade and investment links" as well as "strengthening security ties" with the authoritarian regime.
This had followed the revelation in July by the UK Foreign Office that they had not undertaken a human rights assessment of Sri Lanka's compliance with human rights in its trade agreements. Following months of pressure, Britain's Minister for South Asia would claim that future agreements would be tied to Sri Lanka's commitment to human rights.
In responding to Sri Lanka's crisis, the international community must not divorce the political from the financial. It must tie economic aid to an improvement on human rights and the rolling back of the military's command of the Tamil homeland. Indeed, it is precisely such deep-rooted policy changes that are needed to ensure any sustainable equity, justice and prosperity on the island. Any short-sighted policies of the West may end up preventing the entire island from escaping yet another cycle of violence and corruption.
We need your support
Sri Lanka is one of the most dangerous places in the world to be a journalist. Tamil journalists are particularly at threat, with at least 41 media workers known to have been killed by the Sri Lankan state or its paramilitaries during and after the armed conflict.
Despite the risks, our team on the ground remain committed to providing detailed and accurate reporting of developments in the Tamil homeland, across the island and around the world, as well as providing expert analysis and insight from the Tamil point of view
We need your support in keeping our journalism going. Support our work today.
For more ways to donate visit https://donate.tamilguardian.com.