25 January 2022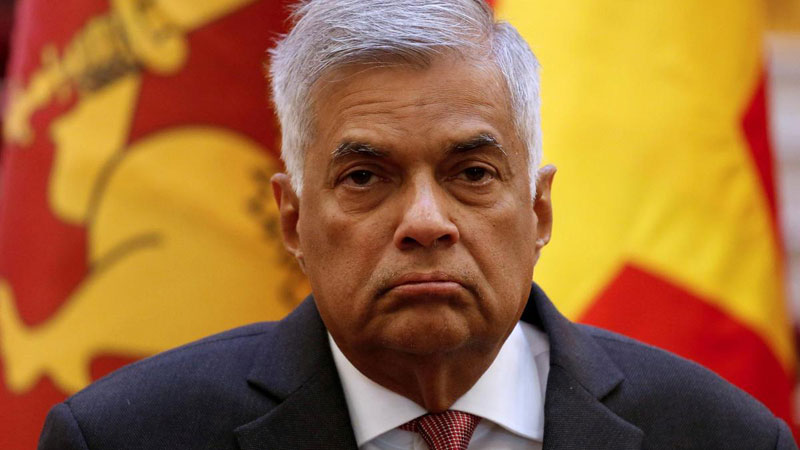 In an interview with the Island, former Sri Lankan Prime Minister, Ranil Wickremasinghe lamented the government's disastrous economic policy which has seen a surge in the price of basic goods and shortages in food and medicines.
"The country was caught unawares in the Covid pandemic at a time the government was pursuing a non-fiscal consolidating budgetary stance providing tax subsidies to the corporate sector depriving the country of its revenue and dropping several infrastructure investment opportunities with countries such as India, Japan and the USA" Wickremasinghe noted.
He further added:
"The government cancelled most of the agreements we had with other countries to boost investment in critical infrastructure; the Trincomalee Oil Tank farm deal – which they have now restored – two LNG plants with Japan and India, East Container Terminal project with India, the Central Highway Phase 3 and 4 with Japan and India, MCC compact with the United States that would have brought Sri Lanka investments worth about USD 4 billion which would have helped us mitigate the present economic crisis".
Commenting on Sri Lanka's economic relations with other countries he noted that Sri Lanka is not really friendly with any country.
"China, Sri Lanka relations were under strain following the fertiliser issue and I am told that there are issues in other projects as well. At least now we are talking to the Chinese government. Then there is the strained relationship with India, Japan, USA and the EU. These countries are donor countries and we need to be mindful of the fact that with the West we have a great trade balance in our favour."
His remarks come as Sri Lanka's High Commissioner to India, Milinda Moragoda has asserted that the country's relationship with India "is our most important".
Refusing to turn to the IMF
In his interview, Wickremasinghe further chided the government for refusing an "IMF stand-by facility of USD 400 million".
"I don't know where the government thought the foreign currency would come from. Seemingly they thought countries would willingly offer foreign currency to Sri Lanka" he notes.
His position is at odds with Sri Lanka's Central Bank governor who maintains that IMF relief is not needed.
"We don't need relief if we have an alternative strategy," Ajith Nivard Cabraal told CNBC.
He further alleged that Sri Lanka was able to finance its outstanding debts "without causing any pain to our creditors". This comes despite multiple downgrades by credit agencies.
Wickremasinghe criticised the government's refusal to turn to the IMF stating that this may be due to misconceptions of the organisation,
"I don't really know. It seems that they have some misconceptions about the IMF; that the IMF would ask the government to reduce employees in the public sector. From the experience I have had with the IMF and the World Bank. I don't think that they would have asked us to reduce employees in the public sector. Today they have formed a consortium and Sri Lanka is not part of it".
He further added:
"Maybe the government is not going to the IMF because the people who formed Viyathmaga and other groups are against economic reforms, restructuring, opening out, dealing with India, obtaining MCC funds etc. It appears that they didn't want to get something done when it was opportune to do so. And now we are paying the price for it".
Drastic measures
Commenting on the government's "extreme moves", such as selling over half of the Central Bank's gold holdings and enforcing US dollar conversion rules, he maintained they were not making the right choice.
"There are some fundamental issues in the economy. We have to address them. If you don't address them, the current moves will not be sufficient. We have the issue of our dwindling foreign exchange reserves and the decline in revenue against expenditure. There is about a trillion rupee gap there. Then there are other issues as we go along. One of them is, by 2035 we may not have money to pay the pensions of our government employees. You have to deal with such scenarios starting right now. This is one reason that we have to put the economy back in order so that we will have the capacity to face such challenges in the future. Then what about expenditure needed to tackle issues arising from Climate Change? Now all these have culminated in a crisis that can't be resolved in a day or two. We have to go deep into these issues and make policies for long term solutions."
Commenting on Sri Lanka's push for restructuring its debt with China, he noted, "You can't restructure the debt of one country and not of others. I can't see that taking place. And I don't think there was enough time during the Chinese foreign minister's recent visit to Sri Lanka to discuss matters of that nature".
He further insisted that if "all major political parties in Sri Lanka can come to an agreement on the economic fundamentals to be pursued with consistency, the country and its people can achieve growth and prosperity in 20 years".
"There is no short-term solution to the current economic crisis".
Myanmar
Responding to a question on convening the BIMSTEC member states – Bangladesh, Bhutan, India, Myanmar, Nepal and Thailand as its current Chair to discuss the matter of Myanmar's ousted civilian leader Aung San Suu Kyi jailed for four more years he stated
"I raised this matter in parliament and asked if we could discuss it privately and not in public, but I didn't get a reply. The predominant concern that remains is whether Sri Lanka would go to the IMF let alone BIMSTEC".
Wickremasinghe's record
When questioned if the previous administration bore the blame for the current crisis, Wickremasinghe rejected this stating:
"No, it was not in the making at that time. We had problems from time to time, but an economic crisis was not in the making. I don't want to delve too much into the past. In 2015, We did have a problem in terms of debt repayment. But by 2017, we were able to build a surplus in the primary account for the first time after about 60 years. And we were building upon it. Then again, despite problems in 2019, the economy was doing fine. There was a setback, but we picked up in the six months that followed. So, it wasn't the period of time when the problems began. Problems began when the present government reduced the value-added tax (VAT). During our time, the budgetary position improved because we increased the VAT. By reducing the VAT, the government deprived the national coffers of the revenue that was required to maintain a surplus. Secondly, Sri Lanka was quite unprepared for an external shock like the Covid-19 pandemic. Our economy should have been prepared for external shocks. We should have gone to the IMF and spoken with them to put the IMF facility back on track as we were finishing up the one we had been given at the time. We didn't do that. The government just carried on. If we had spoken with the IMF, we wouldn't have ended up here."
Read more here.
We need your support
Sri Lanka is one of the most dangerous places in the world to be a journalist. Tamil journalists are particularly at threat, with at least 41 media workers known to have been killed by the Sri Lankan state or its paramilitaries during and after the armed conflict.
Despite the risks, our team on the ground remain committed to providing detailed and accurate reporting of developments in the Tamil homeland, across the island and around the world, as well as providing expert analysis and insight from the Tamil point of view
We need your support in keeping our journalism going. Support our work today.
For more ways to donate visit https://donate.tamilguardian.com.