21 November 2019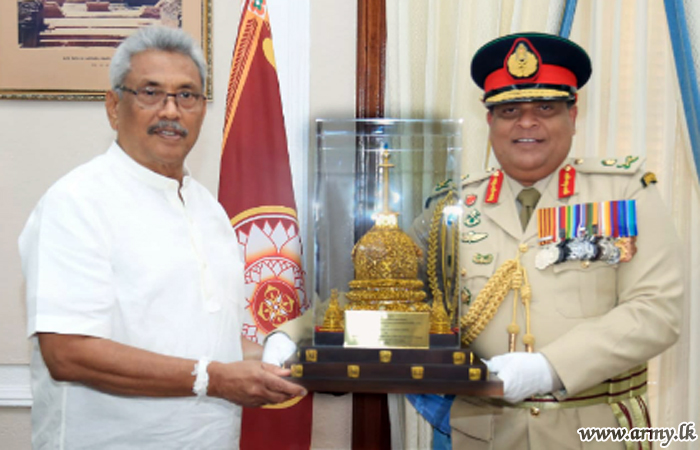 Sri Lanka's new president Gotabaya Rajapaksa was paid a formal courtesy call by the head of the army, Shavendra Silva, this week, as the accused war criminals met in their official capacities once more.
Whilst Rajapaksa was serving as defence secretary and oversaw a military offensive that killed tens of thousands of Tamils, Silva was the head of Sri Lanka's notorious 58 Division, an army unit that committed grave violations of international law.
Silva presented Rajapaksa with a Buddhist pagoda model as a memento.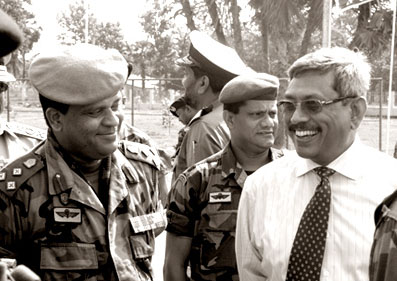 Rajapaksa and Silva in 2009.
One of the most disturbing crimes that Silva is accused of directing is the mass murder of surrendering Tamil civilians and LTTE cadres, since dubbed the "White Flag" incident. The officer quoted Silva as telling troops on the frontline;
"This is a very decisive day for us because last night I got a call from the defence secretary. He told me that we only have a small chunk of land left to capture. Do whatever it takes, however it is done… finish it off the way it has to be done."
An officer from Silva's 58 Division told Channel 4 News in 2011, 
"I can confidently state that those who ordered the killing of people who surrendered were defence secretary Gotabhaya Rajapaksa and Brigadier Shavendra Silva".