16 December 2019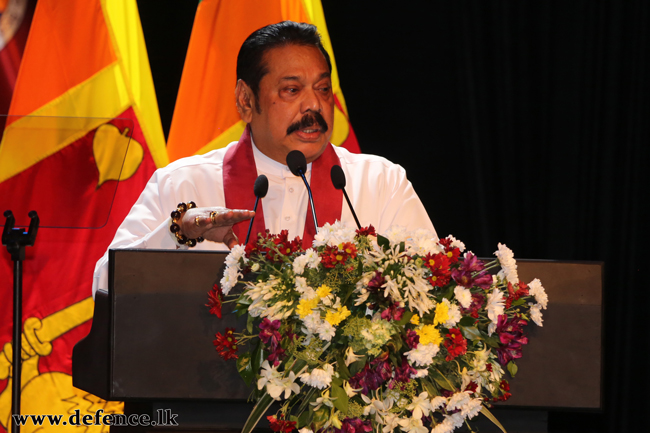 Sri Lanka's prime minister Mahinda Rajapaksa slammed attempts at holding the military accountable for war crimes through United Nations resolutions as a humiliation, as he vowed to use "whatever means necessary" to defeat "terrorism".
"No country in the world would humiliate its armed forces in the manner the former government did," claimed Rajapaksa at a military ceremony last week. "They made all our Military Intelligence inoperative by grilling and harassing them and brought a co-sponsored resolution before the UN appointing foreign judges. Thereby, they degraded the dignity and respect of our armed forces. I assure you that we would rectify all those and restore to the status quo before 2015."
"The idea was to create the impression in the minds of Sri Lankans and the international community that our armed forces were not war heroes but thieves and murderers," he further claimed. "The change of government in January 2015 was almost as if a hostile foreign force had invaded and taken over Sri Lanka. A comprehensive programme was launched to harass and demoralize the armed forces, to intimidate the Maha Sangha and to cow the majority community into submission and to obtain through dirty politics what could not be obtained through nearly four decades of civil war."
Rajapaksa specifically singled out the United Nations Human Rights Council, which has passed several resolutions on justice and accountability in Sri Lanka.
"All of you are aware of the manner in which the previous government went to the UN Human Rights Council in Geneva and co-sponsored a resolution against Sri Lanka, pledging among other things to institute war crimes trials against members of the armed forces with the participation of foreign judges and prosecutors," he said. "That was done by a Sri Lankan government elected by the people. Today, the people of this country have elected a President with an overwhelming mandate, to rectify the injustices of the past five years".
"I take this opportunity to pledge before the armed forces of Sri Lanka that the humiliation and injustices that they were subjected to over the past five years will be rectified and restitution provided where necessary," Rajapaksa added. "No sovereign country will allow such foreign interference in the internal affairs of its armed forces."
Speaking at a graduation ceremony for the Defence Services Command and Staff College at Nelum Pokuna Theatre, Rajapaksa went on to speak about the Easter Sunday bombings earlier this year, stating that the "terrorist threat will have to be contained by whatever means necessary".