10 February 2020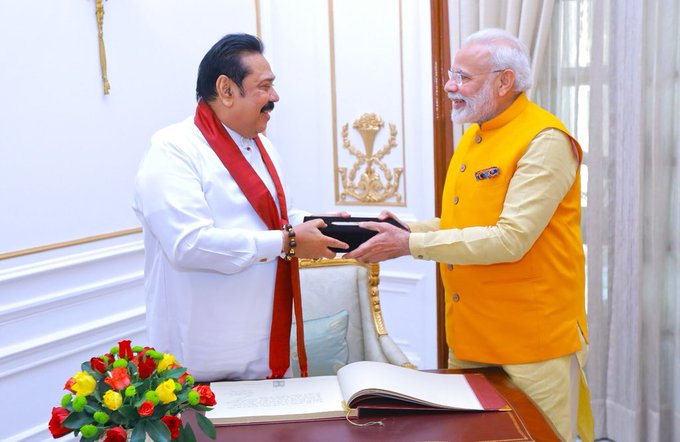 Sri Lanka's prime minister Mahinda Rajapaksa revealed that he requested a moratorium on all loan repayments to India for three years, as his regime struggles with Sri Lanka's repayment obligations.
In an interview with The Hindu, Rajapaksa admitted that Sri Lanka's debt repayments, with servicing totalling $60 billion, were "a worry".
"This is something we discussed with the Indian government as well, and have asked if we could get a moratorium on all loan repayments for three years, until we can revive the economy," he said. "If the Indian government takes this step, then other governments might agree to do the same thing, including China. The previous government took so many loans, they beggared the economy, and it is a mess. It all depends on the stand India takes."
"This year alone, you have to pay about $5 billion to service the debt, the highest in Sri Lankan history," The Hindu posed to the Sri Lankan prime minister. "Will you be able to do that?"
"We have to do it," Rajapaksa responded.
Rajapaksa tweeted a photograph with Indian prime minister Narendra Modi this weekend, thanking him for India's $400 million line of credit, with a further $50 million for "efforts in combating terrorism".
"We have decided that we must have more intelligence sharing now, and increase the technical assistance [from India], as well as training," he told The Hindu. "In addition, we want to continue our earlier [pre-2015] project for trilateral terror and security cooperation between Maldives-India- Sri Lanka. We might have the meeting for that as soon as possible, possibly in the Maldives and discuss how to take the trilateral idea forward."
Modi had earlier called for the implementation of the 13th Amendment to the Sri Lankan constitution, which devolves power to provincial councils across the island, as part of a process to "realize the expectations of the Tamil people".
Rajapaksa meanwhile said that that implementation "has to be discussed".
"We want to go forward," he claimed. "But we need to have someone to discuss, who can take responsibility for the [Tamil] areas. So the best thing is to hold elections, and then ask for their representatives to come and discuss the future with us."
"At the moment the TNA (Tamil National Alliance) is not interested in talks," he added. "They are asking for things, which the majority community in Sri Lanka will not accept."
See more from The HIndu here.