17 April 2022
As the anti-government protest continues at Sri Lanka's Galle Face Green, a host of Sinhala celebrities, from cricketers to musicians and politicians have joined the demonstration.
However, social media users have quickly spotted a few familiar faces, from those who have previously been staunch supporters of the Rajapaksas, to racists and homophobes.
We look briefly at a few of them who have been seen at the Galle Face protest over the last week.
Sanath Jayasuriya
Sri Lanka's former cricket captain Sanath Jayasuriya, was seen addressing protestors this week, telling them "Your message is loud and clear… I hope the authorities will listen and ensure a brighter future for all of us".
Master Blaster Sanath Jayasuriya joins Sri Lanka youth led protest in Galle Face, Colombo pic.twitter.com/HsKjzsQ8rT

— NewsWire (@NewsWireLK) April 15, 2022
His presence at the protests marks a remarkable shift from his previous Rajapaksa-backing stance. Jayasuriya was previously a member of parliament representing the ruling Sri Lanka Freedom Party (SLFP), under then-president Mahinda Rajapaksa. A year later, aged 41, he rejoined the Sri Lankan cricket team, a move slammed as a "selfish and an overtly political act".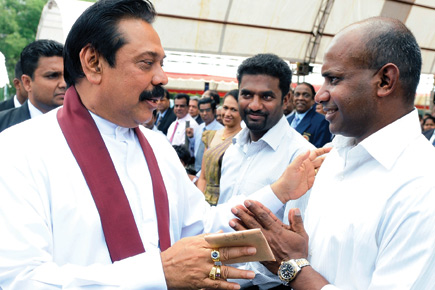 Just over two years ago, Jayasuriya fervently campaigned for Gotabaya Rajapaksa's Sri Lanka Podujana Peramuna (SLPP).
During his campaigning, he tweeted that Rajapaksa is "the only leader who can create a better tomorrow" and said the presidential election date will "change the destiny of Sri Lanka".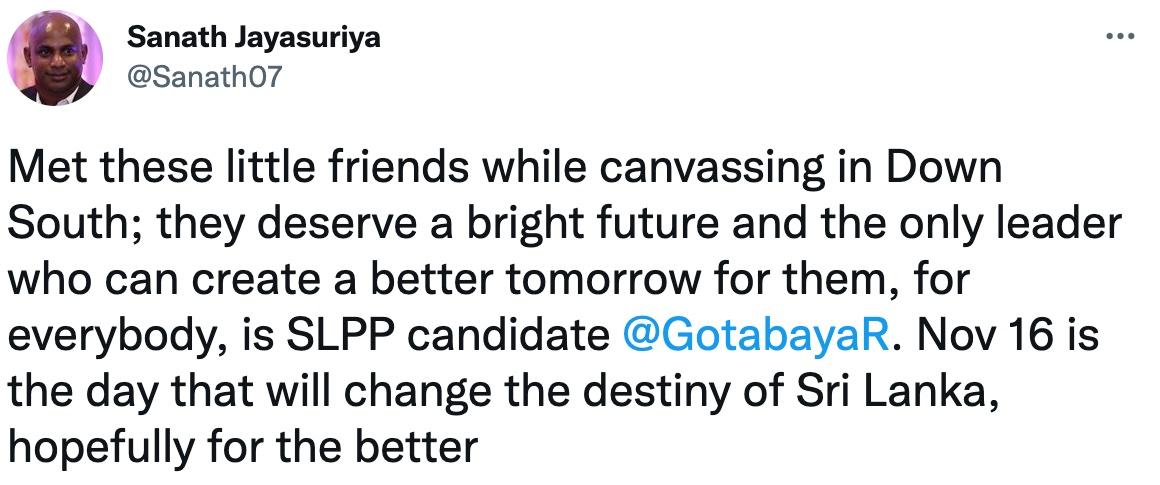 In the wake of Rajapaksa's victory, Jayasuriya tweeted "this indicates the confidence we Sri Lankans have on you".
"Be assured of my commitment to strengthening your hands all the way."

The tweets are still visible on his profile.
Jackson Anthony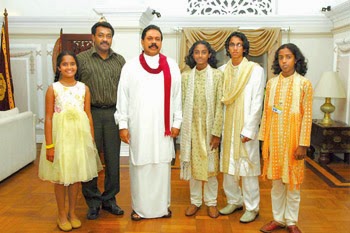 Jackson Anthony, a popular actor who has been described as a "veteran" in the Sri Lankan film industry, claimed he has been a "non-partisan artist" since 2016 and this week sent a message of support to the anti-government protestors.
"I sincerely hope that this youth struggle, which has no political affiliations, shouldn't be another deflated balloon, but a revolution coupled with success," he said on Facebook.
In the past, Anthony has been a vocal Rajapaksa supporter.
In 2011, he hosted the reality TV show 'Ranaviru Real Star', a show described as the "brainchild" of Defence Secretary Gotabaya Rajapaksa.
Whilst delivering a speech during the final, Jackson was full of praise for the Rajapakasas, including then-president Mahinda who was the chief guest in the audience. The actor, who also describes himself as a tele-historian, went on to claim that the Rajapaksa lineage stretched back to the ancient Sinhala king Dutugemunu who had defeated the Tamil king Ellaalan.  
Jackson went on and even claimed the Rajapaksas descended from the Buddha himself.
Samanth Subramanian describes what happened next in his book "This Divided Island: Stories from the Sri Lankan War":
"Anthony went on. Earlier in the opening ceremony, 10 burly men, representing the 10 legendary warriors of Dutugemunu, had marched up to Mahinda and presented him with a missive. "It occurred to me that this was an incident complete in meaning, in every aspect, for two primary reasons," Anthony said. "The first is because this is the ultimate moment in the history of Sri Lanka's governance. If King Dutugemunu were to send a royal message to any head of state of post-independence Sri Lanka, he would naturally choose our great military leader." The camera panned to Mahinda, who allowed himself a long, slow, implacable blink. I couldn't tell if he was embarrassed even in the slightest, or if he knew well in advance - or perhaps had even directed - the contents of Anthony's lavish introduction.

The second reason, Anthony continued, was the "generational pull' of Dutugemunu upon the Rajapaksas. In the modern Sri Lankan region of Giruwapaththu, a 12-year-old Dutugemunu was believed to have engaged in and won a debate, with a man far older than him, on the subject: 'The political heritage of this country belongs to us.'Anthony tortuously traced Dutugemunu's ancestry back to Amithodana, the Buddha's uncle. And today, he said, Sri Lanka had a leader who had unified the country, and who hailed from the Rajapaksa family, which was rooted in Giruwapaththu. "Therefore it is fitting that a leader from Giruwapaththu, destined to lead a free and independent Sri Lanka into the future, would be chosen to receive a royal message from his great ancestor King Dutugemunu. It is fitting that this message should be delivered at an occasion where the war heroes of the country are being felicitated."

At some point during this speech, Gotabhaya and the rest of the audience fell into gentle applause. Anthony beamed. The president sat on, hands clasped in front of him. I recall that he laughed toothily once, either because he was sharing a joke with his brother or because Anthony had said something especially obsequious. Otherwise, though, he wore no expression at all. He just absorbed these conferrals of greatness and divinity without flinching, accepting them as his due."
Racist Sinhala Buddhist monks
On April 12, a host of Sinhala Buddhist monks were seen evoking their blessing on the protestors, in a religious ceremony held at Galle Face demonstration site. Many of the monks involved have openly flouted their racists politics, including self-confessed racist Omalpe Sobitha, a monk who is also a MP with the extremist Jathika Hela Urumaya (JHU).
JDS Lanka highlighted how those who led the monks "have always been hardcore racists including OPPP candidate Pahiyangala Ananda Sagara, who has previously accused "marauding Muslim extremists" of vandalising the Devanagala Temple in Mawanella, Budugala Jinawansa and others.
Read more: Openly racist Sinhala monk 'blesses' anti-government protests in Sri Lanka
Just pointing out advantages of having a bit of historical literacy: those who led the group of monks & were glorified as "anti-racists" on Tuesday, have always been hardcore racists & remained politically associated with Sihala Urumaya & later with it's successor JHU. 1/2 https://t.co/rp3OBUlbyQ

— JDS (@JDSLanka) April 13, 2022
Ama Dissanayake
Counsellor Ama Dissanayake was seen waving a Sri Lankan flag as she attended the protest at Galle Face this week.
Seen at #GotaGoGama

Ama Dissanayake who is facing a court case for inciting police to discriminate against gays by claiming that "homosexuals" in Sri Lanka are preying on others, especially the youth, trying to make them a part of the LGBTIQ community
https://t.co/br7To5kLBw pic.twitter.com/9n4luRfUcu

— LankaFiles (@lankafiles) April 16, 2022
The controversial counsellor is currently facing a court case, after a video surfaced last year of Dissanayake at a training program for the Sri Lankan police, claiming that "homosexuals" in Sri Lanka are preying on young people to make them part of the LGBTQI community on the island. In the video, she goes on to state such relationships are "unnatural" and asks all participants to say aloud that they are against such relationships.
According to a petition lodged by Equal Ground, Dissanayake has repeatedly made similar homophobic statements in the past.
Meththika Vithanage
Dr.Meththika Vithanage,(seated 3rd from left) a hydrogeologist by training, who advocated a policy of forced cremation of COVID19 dead, contravening WHO guidelines & denying religious rights of #Muslims in #SriLanka, was also seen today at the protest site in #Colombo. #CrisisLK pic.twitter.com/IWEbzZTrHv

— JDS (@JDSLanka) April 13, 2022
Dr Meththika Vithanage is the Director of the Ecosphere Resilience Research Centre at the Faculty of Applied Sciences, University of Sri Jayewardenepura, and a backer of one of this regime's most controversial policies – the forced cremation of Muslim COVID-19 victims, which directly goes against Islamic practices.
Despite clear guidance from the World Health Organisation that burial was safe, and widespread outrage from Muslims around the world, international governments and human rights groups, Sri Lanka maintained the policy of forced cremations, pointing to the advice of scientists such as Vithanage.
Vithanage was seen at the protest this week, with a Sri Lankan flag in her hand.
Earlier this month, protestors in Battaramulla turned away a Sinhala Buddhist monk who leads the nationalist Janasetha Peramuna party, with one man telling him "it is because of the people like you, we suffer today like this".
However, it seems none of the figures listed above were challenged over their presence.
"Co-conspirators of the Rajapaksa regime are slowly popping up at protests to oust them," tweeted one user. "It's irony."
"I wish when celebrities/scholars apologize for supporting the Rajapaksas, they would tell us WHY they are sorry," added another.
We need your support
Sri Lanka is one of the most dangerous places in the world to be a journalist. Tamil journalists are particularly at threat, with at least 41 media workers known to have been killed by the Sri Lankan state or its paramilitaries during and after the armed conflict.
Despite the risks, our team on the ground remain committed to providing detailed and accurate reporting of developments in the Tamil homeland, across the island and around the world, as well as providing expert analysis and insight from the Tamil point of view
We need your support in keeping our journalism going. Support our work today.
For more ways to donate visit https://donate.tamilguardian.com.