22 May 2015
A Sri Lankan court on Saturday banned all protests within the Jaffna municipal council for 14 days, warning that anyone who breached the order would be arrested, following angry protests outside the Jaffna court complex this week against the rape and murder of a school girl in Pungudutivu on May 13.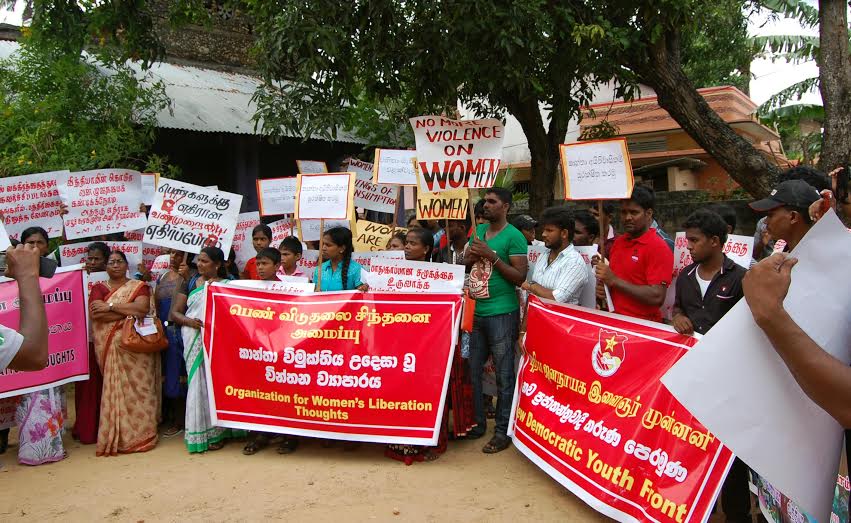 Photographs Tamil Guardian

Women's groups who had planned large scale demonstrations in Jaffna on Saturday, were forced to shift their protests just outside the border to the village of Kokkuvil.
Security remained tight in Jaffna, as Sri Lankan riot police, Special Task Force officers and military personnel who were deployed across region this week remained with armoured vehicles stationed along Jaffna streets, despite the violence subsiding by Friday.
Peaceful protests calling for those responsible to face justice turned violent on Wednesday, as distrust and scepticism over whether the Sri Lankan police and legal system would ensure justice increased, following the escape of one of the suspects to Colombo. The suspect was later found and returned to Jaffna police station.
Demanding that justice be done, protesters on Wednesday encircled Jaffna court house.  Riot police, military personnel and special task force officers were deployed firing into the air, as stones were thrown towards the court house. In total 130 people were arrested.
Related article: Sri Lankan police pursue and assault protesters in Jaffna (21 May 2015)
Vithiya, who went missing after school last Wednesday, was found dead with her hands and feet tied to logs the next day. Arrests have been made regarding the incident as demonstrations were held across the North-East, demanding prompt action against the perpetrators.
The violence has been condemned by the chief minister of the northern province, who said that outside elements were trying to exacerbate the longstanding distrust that existed between the Sri Lankan police and the Tamil people. See here.