16 May 2012
Rajiva Wijesinha, Sri Lanka's presidential advisor on reconciliation
Tensions ran high at a live public debate run by London based media forum, The Frontline Club, on Wednesday, as the Sri Lankan president's advisor on reconciliation, Rajiva Wijesinha, accused fellow panellists talking "complete nonsense" and called the Sri Lankan researcher at Amnesty International a "vengeful harridan".
Chaired by the BBC's Stephen Sackur, the panellists considered the impact of the Channel 4 documentary 'Sri Lanka's Killing Fields' and the situation in Sri Lanka today three years after the end of the armed conflict.
Panellists included the director of 'Sri Lanka's Killing Fields' - Callum Macrae, Yolanda Foster of Amnesty International, Jan Jananayagam of TAG (Tamils Against Genocide), Arun Thambimuttu – the presidential coordinator for Batticaloa district and Batticaloa's SLFP organiser and the president's advisor on reconciliation - Rajiva Wijesinha.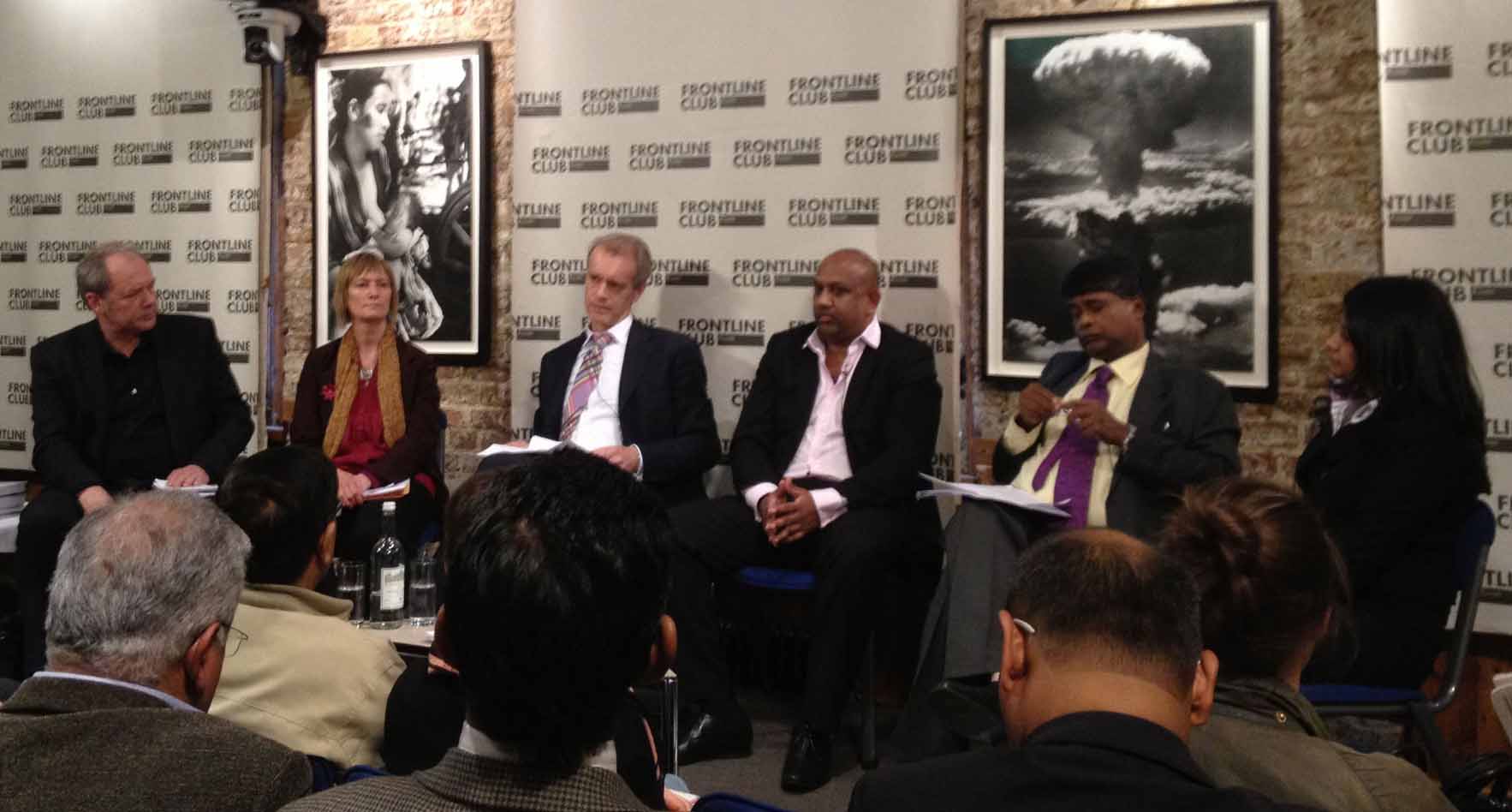 Panel from left: Callum Macrae, Yolanda Foster, Stephen Sackur, Arun Thambimuttu, Rajiva Wijesinha and Jan Jananayagam
Flatly rejecting the documentary, Wijesinghe imitated the footage of a blindfolded LTTE cadre dying after being shot in the head by twitching his leg. Wijesinha asserted that the footage broadcast by the Channel 4 documentary was "absolutely not true".
"I thought something was wrong because the dead bodies keep vanishing," he said.
Oblivious to the incredulous looks from panellists and audience alike, Wijesinha remained undeterred. Citing a "strong propaganda outfit" within the Tamil diaspora and the West, he said,
"If you look at the scenes some of them are clearly doctored,"

"[It is] quite possible that soldiers spliced it together backwards."

"I can't say it's false but I do think that all the evidence suggests it was doctored"
Echoing his sentiments, fellow government advisor, Arun Thambimuttu detailed the story of his childhood and the assassination of his father by the LTTE. Acknowledging that "there are many people who have committed crimes against humanity on both sides", Thambimuttu argued that the "vengeful" diaspora, whom he described as "economic migrants", had "their own agenda where their care little".
"Unfortunately channel four and the international media also has its own agenda," he added.
Callum Macrae reiterated the on-going abuse of human rights including the detention of 11,000 'suspected LTTE cadres' and the extensive militarisation of the North-East. Whilst acknowledging the resolution adopted by the UN Human Rights Council earlier this year, Macrae reflected that the "omens are not good." 
Macrae said,
"Until the facts are addressed there can be no reconciliation. Repressing and denying is a recipe for more violence."
His statements on the on-going detention of Tamils without charge, however, were abruptly interrupted by Wijesinghe who exclaimed, "complete nonsense" before adding, "you must not tell lies Callum".
Yolanda Foster drew attention to an "alarming rise in enforced disappearances" and said that the government had consistently failed to fulfil its promises. She commented on the recent announcement by the government that the details of all detainees would be released, and remarked, "we have discovered this promise is completely empty."
Quoting from a fax received earlier that morning from families in Vavuniya who had attempted to access details of detained relatives, Foster said, "our complaints to government officials NGOs have been futile. Will we ever know the fate of our loved ones."
Wijesinha responded by opining what he described as Yolanda Foster's 'transformation' from a human rights activist to a "vengeful harridan". 
Jan Jananayagam of TAG detailed the sentiments of Tamils who were present at Mullaivaikal in 2009,  through excerpts of witness testimony. Quoting from the testimony of one source, Witness 2, Jananayagam said, the witness had felt that to the Sri Lankan armed forces all Tamils were terrorists, and there was an "overall attempt to destroy everything and anything in the area."
Highlighting the relentless pattern of human rights abuses, she remarked that "what they [government of Sri Lanka] are doing now is a continuation of the past" and asserted that "independent accounting" was the only hope for the future.
Her statements were frequently interrupted by Wijesinha who rejected the statements of Tamil eye-witnesses as mere "anecdotal evidence". Visibly exasperated by attempts to curtail Wijesinghe's personal retorts and loud exclamations, the chair Stephen Sackur said to Wijesinha, "I want to draw other people in, we can't just focus entirely on you", adding, "you are making chairing this discussion actually quite difficult."
Mirroring tensions on stage, as the floor was opened to questions from the audience, some Tamil members of the audience were heckled by a number of Sinhala members of the audience, who had accompanied the Sri Lankan delegates, prompting Sackur to remark, "I don't know what the point of heckling is".
As one middle-aged Tamil woman spoke passionately of her experiences of discrimination and oppression, Thambimuttu exclaimed, "You have selective amnesia", as another Sinhalese gentleman shouted, "take your tablets".
The father of one of the victims of Trinco-5 massacre, Dr Manoharan, detailed the promise given by Wijesinha on 12th June 2009 that those responsible would be brought to justice and demanded to know why no progress had been made.
"Till now nothing" asserted Dr Manoharan.
Wijesinha said that he had pressed the attorney general to prosecute, and when the attorney general said there was not enough evidence to prosecute, Wijesinha said he replied: "I said for gods sake take a leaf from the British. What they do is prosecute ten of them acquit nine."
Incredulous, Stephen Sackur remarked, "I can't believe you said that thinking it would console him [Dr Manoharan]."
Speaking to Tamil Guardian after the event, Dr Manoharan described Wijesinha's remarks as a  "blank response".
Dr Manoharan said,
"In 2009 he gave a promise to me, but till now, nothing [and] now he says there is no evidence."
Asked on reflection, whether he thought there was any possibility of reconciliation, Dr Manoharan said,
"No. Nothing."