04 November 2019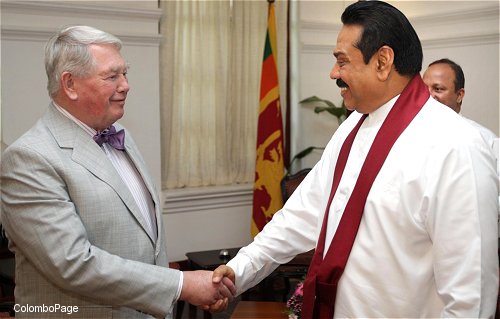 File photo.
Controversial British politician Lord Naseby continued to push widely debunked casualty figures relating to the final stages of the Sri Lanka military's offensive in 2009, claiming that less than 6,000 civilians were killed.
Naseby, who has been courted by Colombo, and in the past been labelled an "apologist" for the Rajapaksa regime, continued to table questions in Britain's House of Lords calling for the release of the diplomatic despatches from UK Military Attaché Colonel Anton Gash, from 2009.
Sri Lanka Campaign published extracts from the despatches last year and analysed the figures stated in them, concluding that Naseby's denial of mass atrocities was "nonsensical".
"Sri Lanka's critics continue to make unsubstantiated and exaggerated estimates of the number of casualties during the final stages of the battles in Mullivaikkal," a statement from the Conservative peer claimed. It went on to state that he was "critical of the UK for not countering the obvious misinformation about allegations of war crimes by the Sri Lankan army as it causes considerable anger in Sri Lanka".
Several reports from the United Nations, the World Bank and censuses concluded that tens of thousands of Tamil civilians were killed in the offensive, with hospitals shelled and those who attempted to surrender executed.
"Naseby's recent attempt to re-mould widely accepted truths lies at the heart of a growing constellation of forces and actors currently seeking to ensure that no one responsible for atrocity crimes in Sri Lanka is brought to book," said Sri Lanka Campaign last year.
Naseby has repeatedly come under criticism for his unabashed support for the Sri Lankan state, after it emerged he reportedly visited Sri Lanka 14 times between 2002 and 2017. A one-day visit to the island in 2012, cost more than Rs. 1 billion and involved the Commander of the Sri Lankan Air Force chartering a helicopter ride for the British Lord.