03 June 2018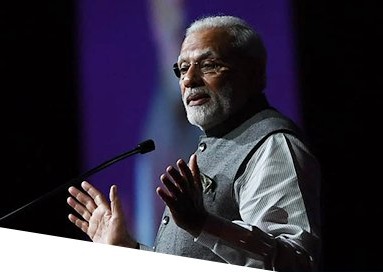 Photograph: Twitter @PMOIndia
India's Prime Minister Narendra Modi spoke on the importance of "strong and stable" relations between India and China, stating it was "an important factor for global peace and progress".
Speaking before senior military and defence officials from around the world at the Shangri-La Dialogue in Singapore last week, Mr Modi said,
"No other relationship of India has as many layers as our relations with China. We are the world's two most populous countries and among the fasting growing major economies. Our cooperation is expanding. Trade is growing. And, we have displayed maturity and wisdom in managing issues and ensuring a peaceful border. There is growing intersection in our international presence."

In April, a two-day informal Summit with President Xi helped us cement our understanding that strong and stable relations between our two nations are an important factor for global peace and progress.

I firmly believe that Asia and the world will have a better future if India and China work together with trust and confidence".
The Indian premier went on to add,
"This is a world of inter-dependent fortunes and failures. No nation can shape and secure on its own. It is a world that summons us to rise above divisions and competition to work together."
His comments, the keynote speech at the event organised by the London-based International Institute for Strategic Studies, were well received by the Chinese, with Lieutenant General He Lei, head of the Chinese delegation at the conference, telling state media,
"Modi gave a positive assessment of China-Indian relations in his speech".
In April Mr Modi met with China's President Xi in the Chinese city of Wuhan, where the two reportedly spoke for almost 10 hours, mostly one-on-one.
During the Singapore summit, Mr Modi also met with US Defense Secretary James Mattis. The meeting comes following the US decision to symbolically rename its 'Pacific Command' to the 'Indo-Pacific Command' last week.