08 February 2019
Students from the University of Jaffna joined an event held by the US Consulate in Chennai to mark Black History Month.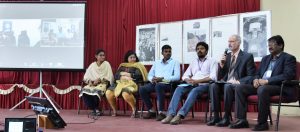 The Jaffna students joined in with the event, a screening of a documentary on black civil rights icon Martin Luther King Jr, via video conference.
The screening was held at the same hall in Presidency College where King had addressed students during a historic visit to Chennai fifty years ago.
Students from Jaffna and Chennai engaged in a discussion on King's legacy following the screening. The discussion was moderated by an officer from the US Consulate.
(Photo: News Today)