20 November 2019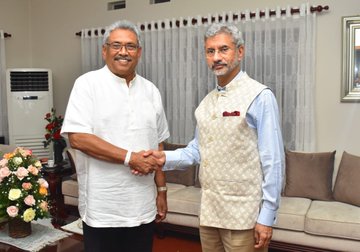 India's foreign affairs minister met with Sri Lanka's new president Gotabaya Rajapaksa this week, passing on an invitation from the Indian prime minister to make an official visit to Delhi.
S Jaishankar met with Rajapaksa in Colombo yesterday, where he said he conveyed Narendra Modi's "message of a partnership for shared peace, progress, prosperity & security".
In a tweet after the meeting, Rajapaksa said he had accepted the Indian prime minister's invitation for later this month, which would be his first overseas visit as Sri Lankan president. Rajapaksa added the trip would "strengthen the relationship and discuss key aspects of regional security, peace and economic development".