16 August 2015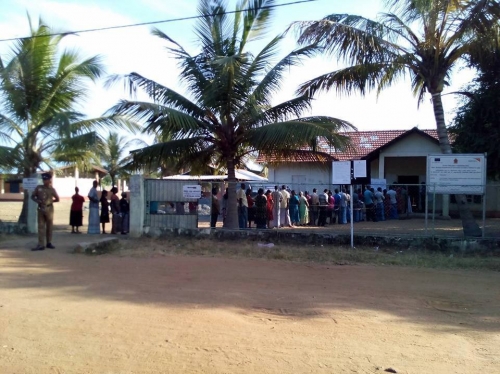 Tamils cast their vote in the North-East. (Photograph Tamilwin).

Polls opened this morning local time for Sri Lanka's parliamentary election. Tamils awoke today to elect an expected maximum 18 MPs to seek constitutional change within a 225 seat Sinhala majority parliament where there has been a rejection of Tamil demands from across the spectrum of Sinhala majority political parties.
The election has seen the return of the formerly defeated president, Mahinda Rajapaksa, to run on as the Sri Lankan Freedom Party (SLFP) candidate against the United National Party, which has formed a coalition together with smaller parties including the JHU - the United National Front (UNF).

The ruling UNF majority Sinhala coalition as well as the UPFA Sinhala majority opposition have rejected Tamil demands for fully devolved federalism, acknowledgement of the Tamil right to self-determination, de-militarisation of the North-East and international justice mechanisms. 
Amid credible reports of ongoing torture in Sri Lanka, Tamils in the militarised North-East have been clear in reiterating their demands however, which stem from over six decades of seeking solutions within Sinhala majoritarianism in parliament.
As campaigning has heated up over recent weeks, the Tamil parties have launched their campaigns precisely on these very issues that remain of the greatest significance to the Tamil electorate. The two main Tamil parties - the Tamil National Alliance (TNA) and the Tamil National People's Front (TNPF) have said they will seek constitutional change to fully devolve powers to the North-East  through a federal solution and recognise Tamils as a nation on the island, as well as proceeding to seek an international process to deal with the findings of the upcoming UN investigation in to Sri Lanka's mass atrocities.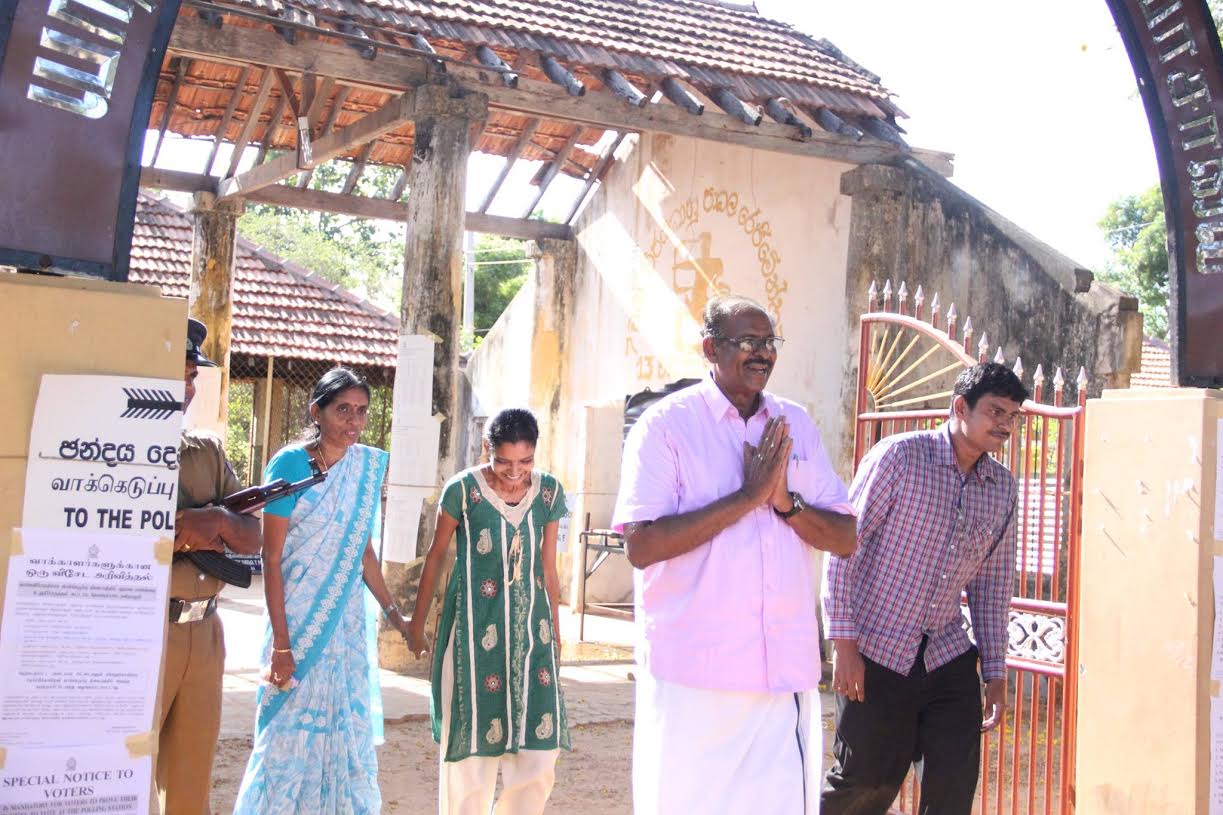 TNA candidate and ITAK leader, Mavai Senathirajah casts his vote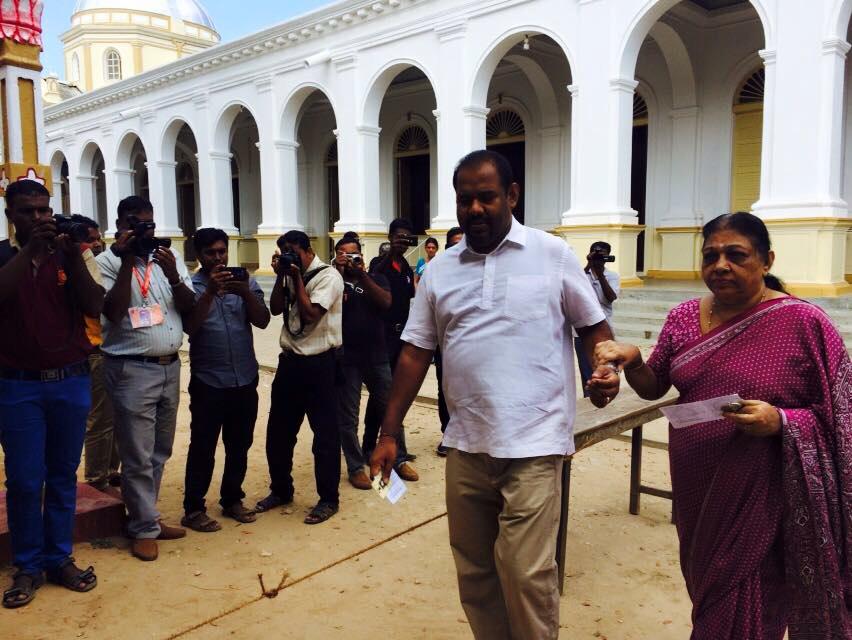 TNPF candidate Gajendrakumar Ponnambalam, accompanied by his mother got to the polling station.
Polls closed at 4pm today local time.

Links to recent calls by Tamil voters are listed below, followed by responses of Sinhala parties:
Tamil voters:
Jaffna University Teachers Union calls on North-East to elect those in support of Tamil Nation (15 August 2015)
Wigneswaran urges Tamils to vote for 'justice, homeland and self-determination' (14 August 2015)
TNPF calls for internationally mediated political solution acknowledging 'two sovereign nations' in one country (14 August 2015)
International investigation is essential agree Tamil political parties across North-East (02 August 2015)
SLMC reiterates desire to re-establish Tamil homeland by re-merging Northern and Eastern provinces (28 July 2015)
TNA manifesto calls for constitutional change that accepts Tamil right to self-determination (25 Jul 2015)

Sinhala parties:
Rajapaksa claims Tamil leaders are 'dividing the country' (15 August 2015)
Ranil rules out federalism for Sri Lanka (14 August 2015)
'Separatist forces are destabilising the country' claims Rajapaksa (14 August 2015)
'No room for LTTE regrouping' warns government minister (14 August 2015)
Chief Buddhist monks from across the world slam UNP for 'Eelam poster' (13 August 2015)
Ranil says torture report will be addressed after OISL report is released  (13 August 2015)
Sinhala organisations demand Ranil clarifies rejection of international war crimes probe (11 August 2015)
Ranil assures Sri Lankan traders that GSP+ will return (11 August 2015)
UNP has 're-established Sri Lanka's tarnished reputation' says minister (10 August 2015)
'UNP will allow international war crimes probe' warns Weerawansa (10 August 2015)
'LTTE will never be allowed to regroup' says Sri Lankan minister (09 August 2015)
UNP 'will do utmost to preserve Buddhism' - Ranil (08 August 2015)
UPFA accuses UNP of furthering interests of multinationals (08 August 2015)
'Sirisena as defence minister would stop LTTE resurgence' – Ranil (07 August 2015)
'Federalism will never be given to North' says government minister (06 August 2015)
'Unitary status needs to be maintained' says Sri Lankan president (06 August 2015)
Sri Lanka PM pledges domestic mechanism to deal with UN findings (05 August 2015)
UN cannot deal with North-East directly to provide assistance – Government (05 August 2015)
UNP will protect a united Sri Lanka – Minister (05 August 2015)
Sinhalese back Rajapaksa for PM as Tamils overwhelmingly reject him – CPA poll  (04 August 2015)
Sinhala opposition mounts against federal solution (04 August 2015)
Mahinda vows to leave no room for separatism (03 August 2015)
TNA using 'communal issues' to get votes - JVP (02 August 2015)
UPFA rejects any autonomy to Tamil regions beyond 13th amendment (01 August 2015)
Sri Lanka's cabinet rejects Tamil demands for federal state power sharing solution (31 Jul 2015)
Sri Lankan election commissioner says candidates must affirm commitment to unitary state (30 Jul 2015)
UNP coalition partner calls for on Tamils to 'integrate' with Sinhalese (30 Jul 2015)
Sinhala nationalist organisations rally against federalism (30 Jul 2015)
UNP reiterates rejection of federal solution (29 Jul 2015)
JVP slams TNA manifesto and opposes federalism (29 Jul 2015)
UPFA election manifesto limits political solution to ethnic conflict to 13A (28 Jul 2015)
Sri Lankan MP says TNA manifesto threatens country's sovereignty (26 July 2015)
United National Front rejects claims of working with TNA to grant further autonomy (25 Jul 2015)
Sri Lanka's army chief reiterates commitment to maintaining and strengthening military camps (24 Jul 2015)
Buddhism given foremost place in UNP election manifesto (23 Jul 2015)
UNP rules out federalism (22 Jul 2015)
Sri Lanka's foreign minister reiterates rejection of OISL report (22 Jul 2015)
Rajapaksa accuses new government of allowing 'chaos' in 'North' of Sri Lanka (12 Jul 2015)