04 June 2020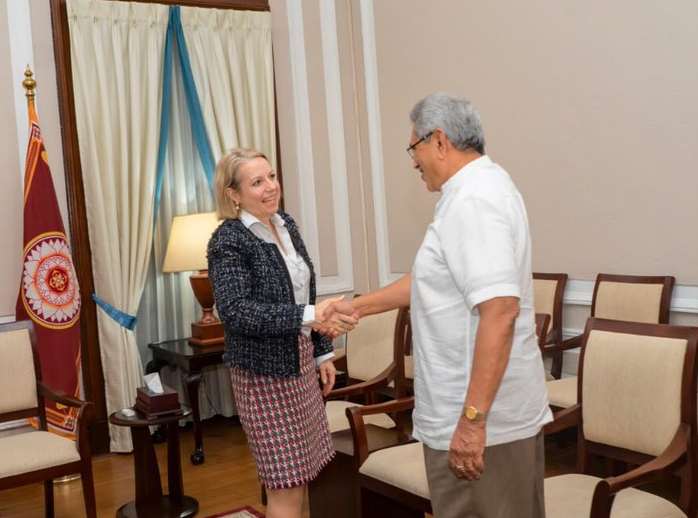 File photograph: Hulton meets Rajapaksa in 2019.
Britain's High Commissioner to Sri Lanka Sarah Hulton said she was "pleased that President Rajapaksa is able to share Sri Lanka's experiences" on tackling the coronavirus at the UK-hosted virtual Global Vaccine Summit, as Colombo continued to face criticism for its highly militarised approach. 
Sri Lanka's coronavirus task force is headed by credibly accused war criminal Shavendra Silva, with the state adopting a tactic which has seen thousands of people sent to 'coronavirus quarantine centres' which have been largely set up in the island's Tamil North-East. Tens of thousands of people have also been arrested for violating strict curfews, which the military has been enforcing in recent weeks. During the same period, there has been a spike in state violence in the North-East and a proliferation of checkpoints in the already heavily militarised region.
Despite the concerns, which have been raised by Tamil civil society groups and international human rights organisations, Hulton praised Sri Lanka's approach.
"Sri Lanka has an impressive record in many aspects of public health," she said in a column for FT.lk.
"Malaria and Polio have been eradicated. Sri Lanka has an excellent track record of universal vaccination for communicable diseases. Like the UK, free healthcare is a proud tradition here. That is why I am pleased that President Rajapaksa is able to share Sri Lanka's experiences at the Summit."
The High Commissioner also said the "UK and Sri Lanka have long been partners in education and innovation, and the COVID-19 response is no exception".
"The University of Oxford and the University of Sri Jayewardenepura are partnering on ground-breaking research to help prevent, treat and control further outbreaks. They are drawing on their longstanding collaborative studies in the field of dengue fever to progress advances in COVID-19 vaccines, therapeutics and diagnostics. The British High Commission is proud to now be funding this research directly."
See the full text of her column here.