13 April 2019
At least four "Sri Lankan nationals" have been arrested at Luton airport this week on suspicion of membership of a proscribed terrorist organisation announced Britain's counter-terror police on Friday.
According to a statement from the Metropolitan Police, British authorities "were made aware of the men" who had arrived in the UK on an international flight on the evening of Wednesday, 10 April.
The next day the police stopped them under Schedule 7 of the UK Terrorism Act 2000 at Luton airport. 
They were all arrested and are currently being held  in custody at a police station in Bedfordshire.
Speaking to the Tamil Guardian, a spokesperson said investigations were currently underway while the man remain in custody.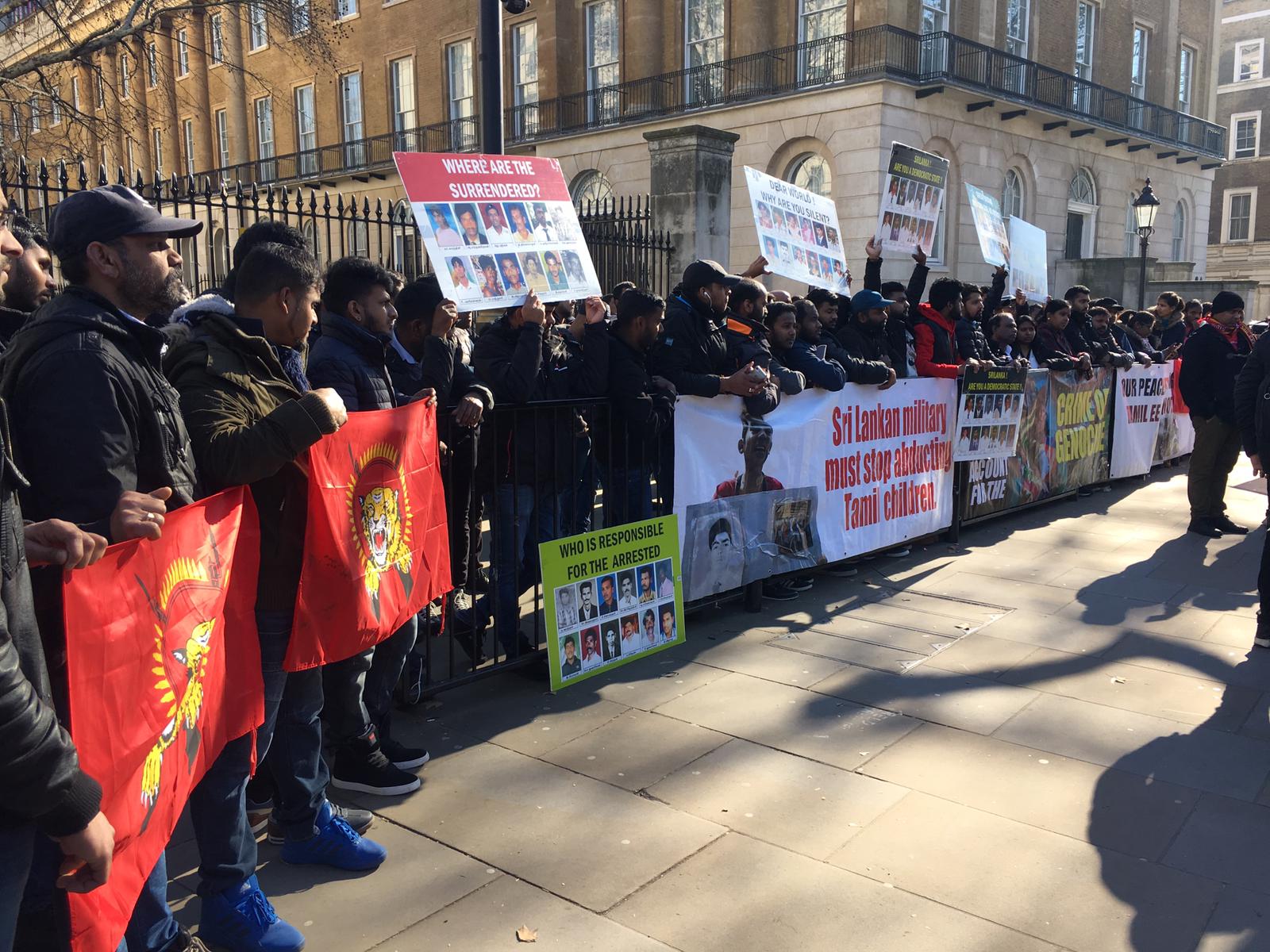 File photograph: British Tamils protest in London earlier this year.
Last month, two Tamil activists were also arrested by British counter-terrorism police at Heathrow airport as they were about to travel to Geneva to participate in a demonstration at the UN Human Rights Council, calling for Sri Lanka to be referred to the International Criminal Court. 
Read more: 2 Tamil activists arrested by counter-terrorism police at Heathrow
Just days before that arrest it was revealed at a court case involving Sri Lanka's former defence attache that officials stationed in the UK were expected to be "monitoring any anti-Sri Lanka activities in the UK" and reporting to the ministry of defence, intelligence agencies, amongst others, as well as "monitoring any LTTE activities in the UK and devising appropriate plan with the coordination of intelligence agencies in Sri Lanka to counter it". 
Read more: Judge says Brigadier death threats not covered by diplomatic immunity
In October 2018 four Tamil activists including a member of the Transnational Government of Tamil Eelam (TGTE) were arrested by UK police after protesting the visit of the Sri Lankan Prime Minister in Oxford.