27 December 2014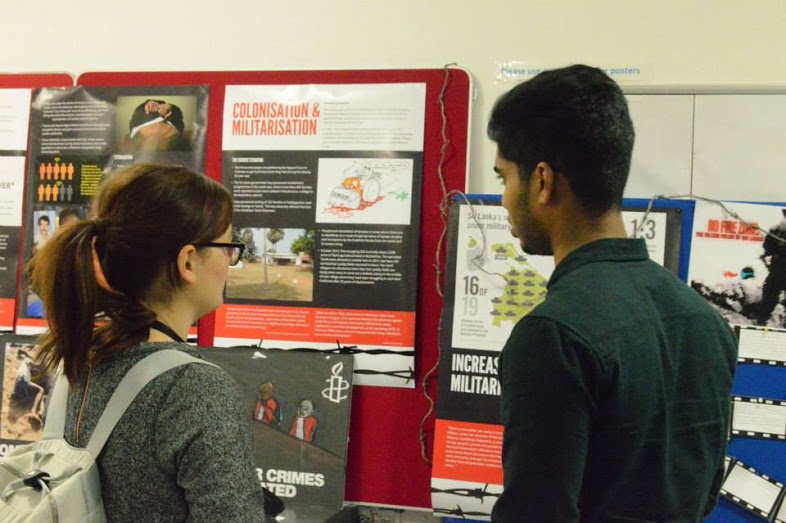 Photographs St George's Tamil Society
After last year's first ever 'Breaking the Silence' exhibition at St George's, the exhibition, aimed at raising awareness of the genocide of Tamils and ongoing human rights violations in Sri Lanka, was held on December 1. 
Organised by St George's Tamil Society together with St George's Amnesty, the exhibition was set up outside St George's Library, a hotspot for students ahead of January exams.
As the day went on students stopped by, expressing their shock to the organisers that one of the top tourist and elective destinations had such a dark story hidden.
"I was planning on going there for my elective because I've heard it's such a beautiful country. Now hearing about these on-going human violations I think I may have to reconsider my decision. The fact that there is a chance that the money I spend as a tourist, may end up in the hands of the Sri Lankan Government and Armed Forces and potentially worsen the situation frightens me," said one of the students who stopped by. 
Many students, having watched the 'No Fire Zone' documentary by acclaimed director Callum Macrae, were aware of the mass atrocities committed agains the Tamil people during the final stages of the armed conflict between the Sri Lankan government and the Tamil armed resistance group, the LTTE. Nonetheless, they were horrified to hear that human rights violations were still on-going, 5 years since May 2009.
As an outlet for students to express their feelings, they were given space to express their emotions by putting paper balls into cups.
St George's Amnesty were also at hand to promote and gain support for the "Sri Lanka: #OurFuture" campaign by gathering people to take photos holding up the hashtag #OurFuture.
"I am happy that Breaking the Silence was successful today and gave us the opportunity to fulfill our duty in raising awareness of the war crimes and human rights violations to as many people as possible," said the co-president of St George's Tamil Society, stating how important 'Breaking the Silence' was for her and that it was a fundamental purpose of UK university Tamil societies.
"I hope that this on-going struggle for liberation, which has lasted way too long, will be resolved in the near future with continued global effort," she added.
Breaking The Silence Journal 2014:
Kings College London

Cardiff University