09 August 2014
The Bishop of Mannar in a letter to the Presidential Commission on Missing Persons said he would not contribute to the commission due to Sri Lanka's historic failure of domestic inquiries in addressing injustices faced by Tamils.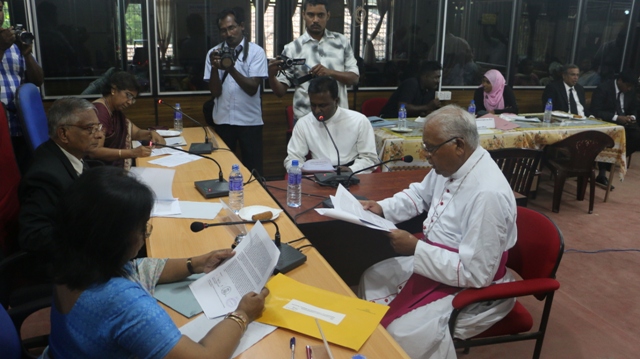 Bishop of Mannar reads letter to commission      Photo:Uthayan
Highlighting years of impunity and failed domestic mechanisms in Sri Lanka, Rev Rayappu Joseph, said,


"Over the years many commissions such as yours have been set up and there is absolutely no shred of evidence that they have tackled impunity. Most, if not all these commissions have provided only to be eye washers for the then Governments in power."
Rev Joseph further added that the commission failed to address the actual problem of enforced disappearances that the Tamils faced, stating,


"May I add this that the Commission's name itself – 'Commission on Missing Persons' – appears to indicate a denial on part of those that created this commission that the issue is one relating to enforced disappearances and not merely about 'missing persons.'"
Noting that Tamils in the North-East were testifying in the commission, the Bishop stressed,


"The only reason why they come before the commission is not because they believe that your commission will help locate their loved ones, but because they have nothing to lose in doing so. Hence they go and air their grievances wherever they can, whilst well knowing that no consequences are likely to follow. This is the terrible plight of the Tamil people in this country."
Rev Rayappa further said that a programme to encourage and coerce Tamil families into accepting death certificates in parallel to the government commission on missing persons was underway to undermine Tamil grievances.
See full letter here.
TNA remains sceptical over government commission (27 July 2014)
Only an international independent investigation will provide truth and justice - GTF (27 July 2014)