13 February 2017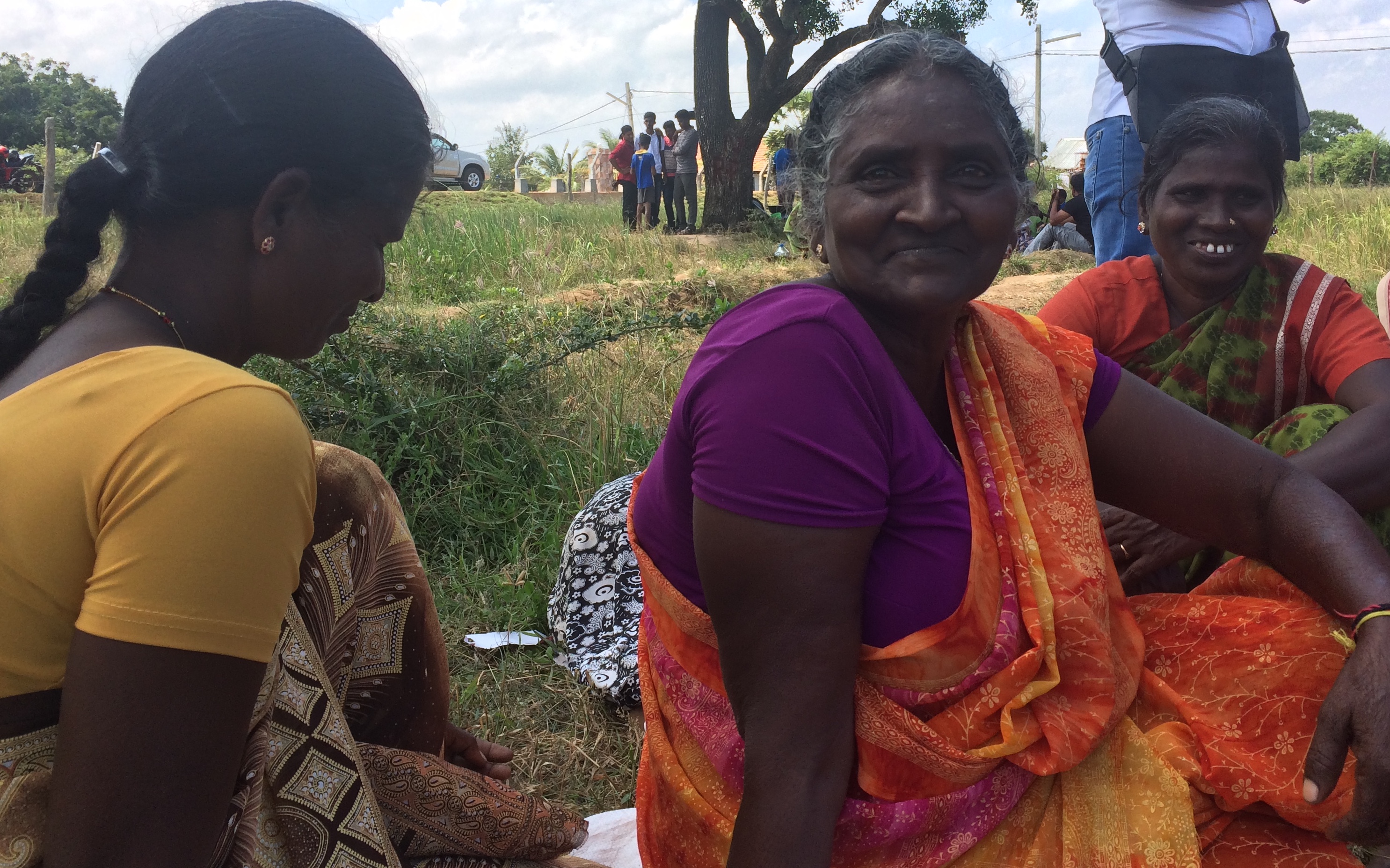 The Pilakudiyirippu (Pilavu) protest for land return enters its third week. With each morning that breaks at their base outside a Sri Lankan air force camp, the protestors reaffirm their resolve. 
By Dharsha Jegatheeswaran and Mario Arulthas, for Tamil Guardian | Jaffna
"We will not move from here until we get our land back," the paatti (grandmother) told us firmly watching her grandchildren play a few metres away, both her and them a part of multiple generations of Pilakudiyiruppu villagers protesting for the release of their land by the military. Sitting among a group of women gathered under a tree for shade under the hot midday sun, her resolve was shared throughout the protest as villagers made clear that this was a final stand for them to reclaim the land that was rightfully theirs.
Today marks the 14th day since families from Pilakudiyiruppu, Keppapilavu, began their protest demanding their land back from military occupation. On January 31st, 2017, villagers from Pilakudiyiruppu had gone to the site of their occupied lands after being told by the military that they would be receiving their lands back that day. Their high hopes and excitement quickly turned into severe disappointment and anger when the military told them that they still could not release their lands upon their arrival. Frustrated with the continuous lying and evasiveness of both military and government officials, villagers set up camp across from the Air Force Base, vowing not to move until their land was returned.
Keppapilavu is a Grama Niladhari division within the Maritimepattu Divisional Secretariat in the Mullaithivu district, comprising the 4 different villages of Sooripuram, Seeniyamottai, Keppapilavu, and Pilakudiyiruppu. Most villagers in the area were affected quite badly by the war, and within Pilakudiyiruppu alone, out of 84 families approximately 30 are women-headed households, and many families have members with physical disabilities caused by the war.
In 2009, residents of Keppapilavu were forcibly displaced when the military took control of the area and most were sent to the infamous Menik Farm in Vavuniya. After 3 long years and numerous petitions and protests, villagers in Keppapilavu were finally relocated, among the last to close out the Menik Farm camp.
However, the relocation of the residents itself was a highly criticized move, as the government for the first but not the last time falsely promised the villagers that they would be moved back to their own lands. Instead, villagers were relocated to a "Model Resettlement Village" in the area of Sooripuram. In the case of Pilakudiyuruppu, the reason the government gave for being unable to resettle villagers on their own land was that the land had originally been an LTTE airport and so it had simply been turned into a camp for the Sri Lankan Air Force.  However, villagers repeatedly told us that during the war the LTTE had no bases or permanent presence set up in Keppapilavu, and that the nearest LTTE airport was far outside the area. Travelling around Keppapilavu now, one gets the sense that you are almost always in the vicinity of a military camp, with camps stretching for many kilometres at a time.
The Model Resettlement Village, in addition to not being the villagers' actual lands, was made up of poorly constructed houses, and on land with limited access to groundwater and cultivation possibilities. For communities that survived for generations off of subsistence farming, this was and continues to be a huge livelihood problem.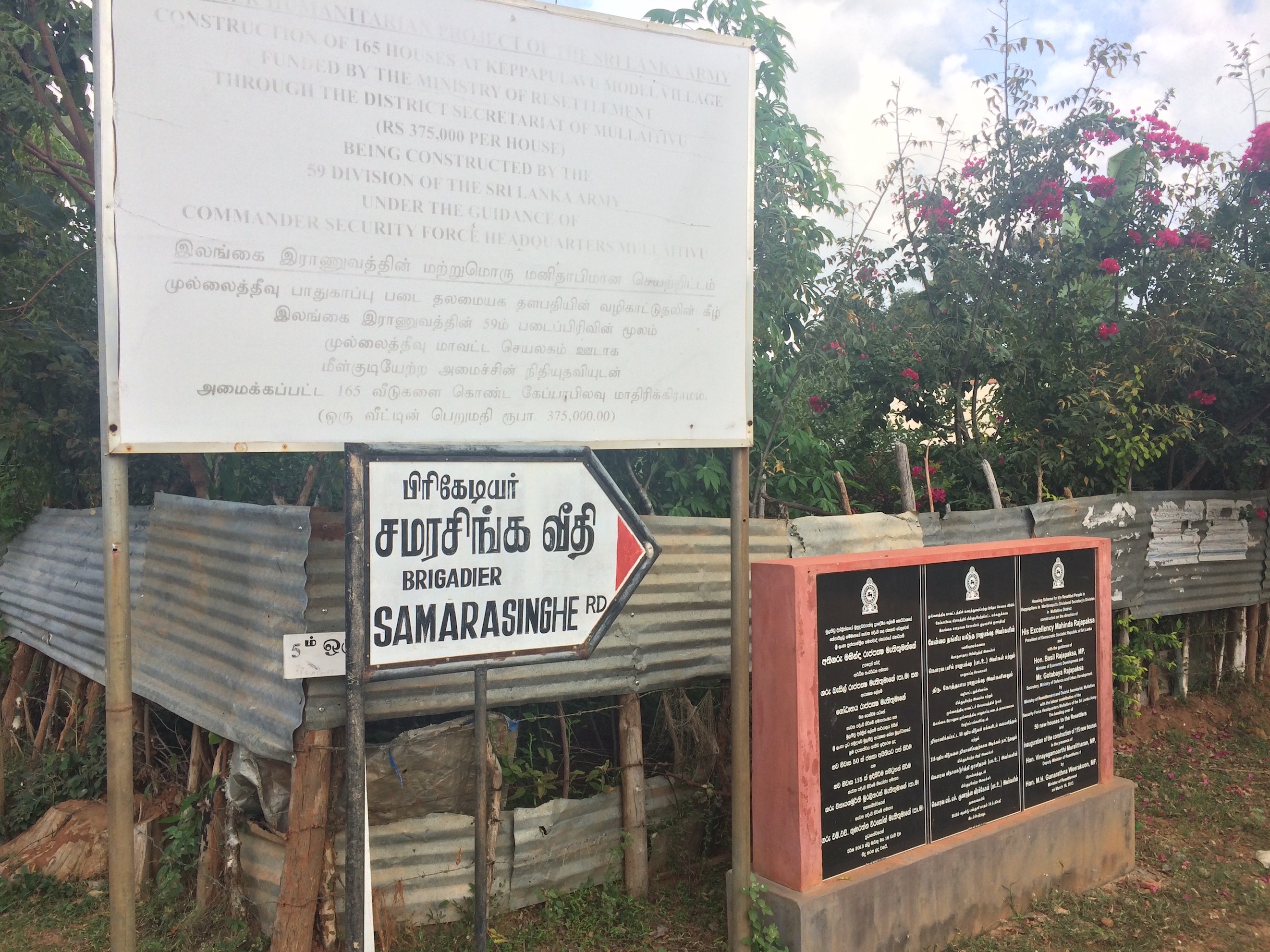 Model village with roads named after alleged war criminals
"We used to be able to reach the groundwater just with our hands but now we have to dig very deep," said Yogarasa*, a displaced Tamil man from Pilakudiyiruppu who now lives with his family in the Model Resettlement Village. Yogarasa, his brother, and his father were all subsistence farmers before displacement, but now struggle to make ends meet due to the small plots of land they were given in the Model Village and the difficulty accessing groundwater. "We already suffered so much," Yogarasa said pointing to his leg injury, "now we just want to live in peace but how am I supposed to feed my four children when this plot is barely enough to feed one?"
Villagers were quick to point us to cracks in the walls of their houses, crumbling doors, leaking roofs, and poorly made window shutters. The government first said that it paid 350,000 SLR to construct the houses in the Model Resettlement Village, but after the protests started, they are now saying that the houses actually cost 550,000 SLR. According to villagers and local officials, these estimates are far from the truth, and that given army labour and shoddy materials, in actuality the houses were likely constructed for far less than even 350,000 SLR.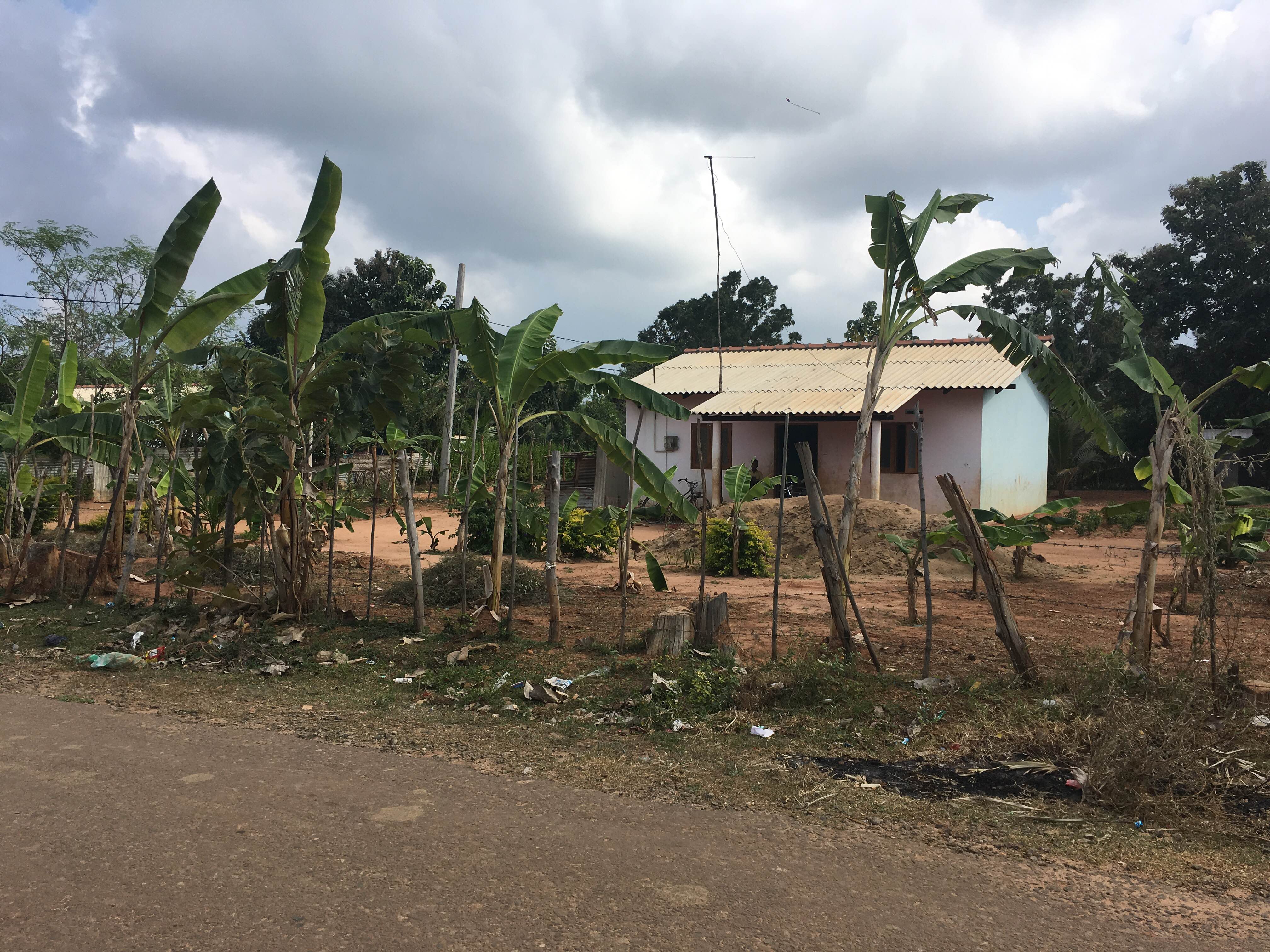 Model resettlement village house
"This pattern of lying about land releases and poor resettlement efforts is all too familiar to me," said Kopahan, a member of a delegation of villagers from Sampur who came to Keppapilavu to show their solidarity and provide support based on their experiences. Like Keppapilavu, villagers from Sampur spent years protesting the army's occupation of their land and repeatedly were lied to by the government about when land would be released and the amount of money that would be available for resettlement once land was released. To date even after this protracted struggle including a court case, villagers from Sampur have only received the land on which their houses were originally built, while the navy still occupies the vast expanse of paddy fields and coastline necessary for their livelihood. Even that land that was finally released was given back in terrible condition with trees razed to the ground, and wells destroyed.
Kopahan warned us and the Keppapilavu villagers to be wary of the "resource grabbing" that in his view is part of the military's motivation for why it continues to occupy certain areas of land for as long as it has. He noted that like Keppapilavu, Sampur once was a fertile area known for being conducive to agriculture, and that it is those areas of Sampur which the navy continues to occupy and use for farming. The agricultural potential of the land in Pilakudiyiruppu was repeatedly pointed out to us by villagers.
"This fight is not just about us, we are also thinking about the future and legacy we leave our children," said one villager.
Mrs. S. Chandraleela, the Head of the Keppapilavu Women's Development Organization, said to us, "[w]e would rather go live on our own lands with nothing than live in the Model Resettlement Village because at least we know that on our lands there is the potential to make something sustainable and make a livelihood."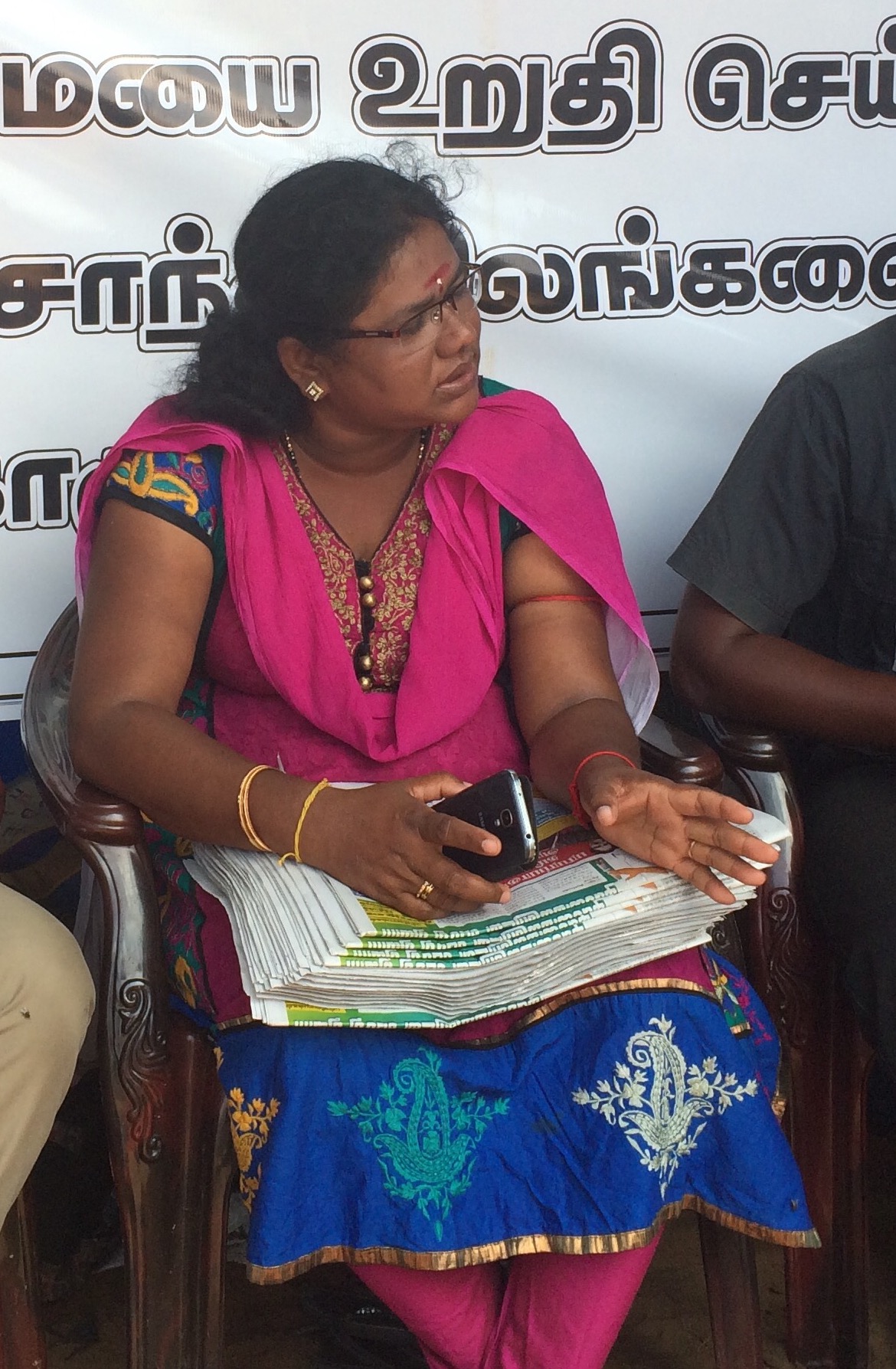 Mrs Chandraleela, head of Keppapilavu Women's Development Organization
It is this push for a sustainable and stable life that appears to be driving many of the primarily female protesting villagers of Pilakudiyiruppu to stay firm in their resolve. Despite the military's harassment of them in the first few days and ongoing surveillance both by the Air Force Base across the road and the CID, all of the villagers we spoke to were determined to stay where they were until they were given their land. Even the children who have joined the protest out of necessity understand what is happening and one boy told us, "[w]e will go to school when we can go from our own land." (Children are currently being schooled by teachers in the evenings at the site of the protest.)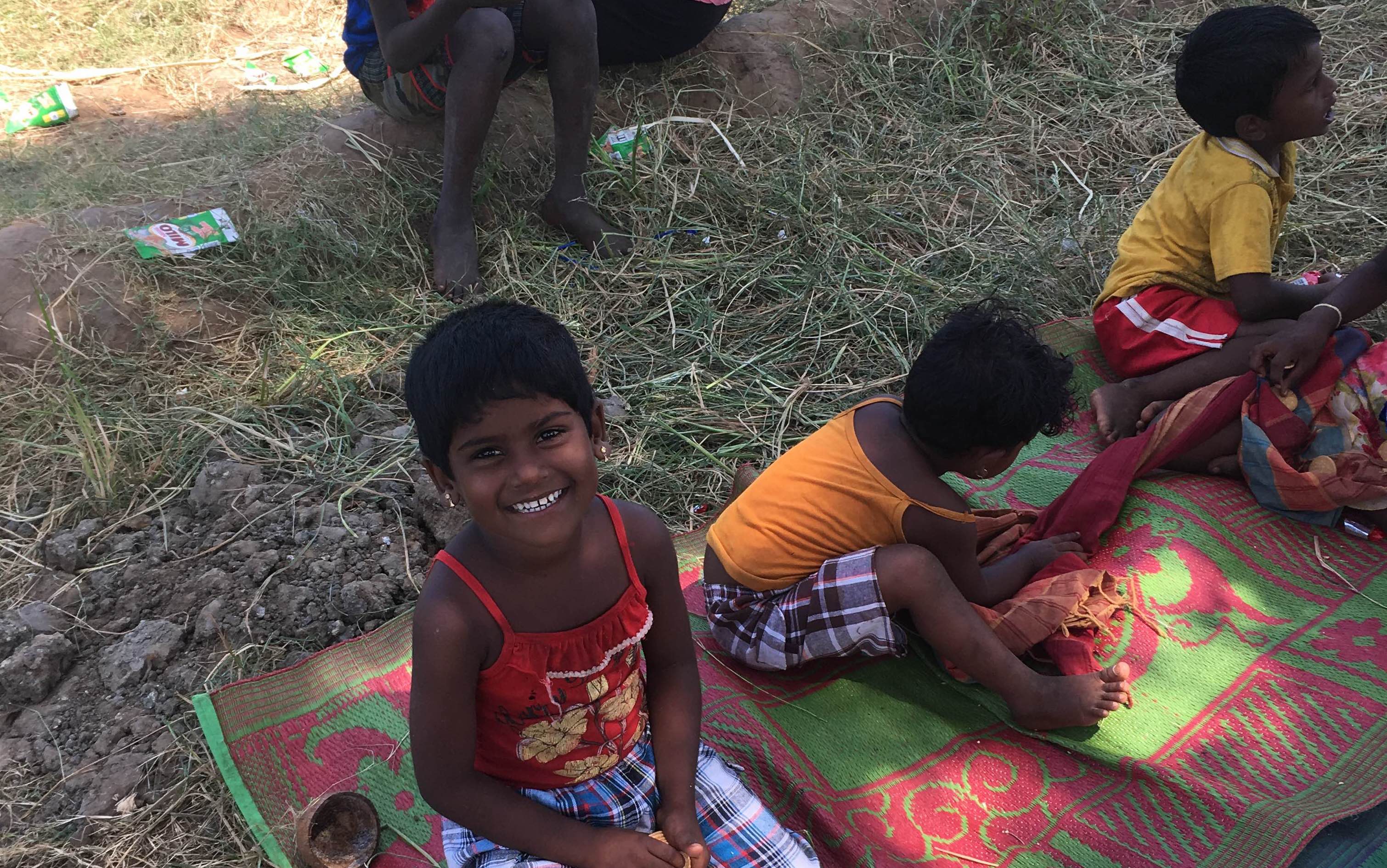 Children of Pilavu
But despite the strength and perseverance of Pilakudiyiruppu's villagers, the central government and the elected representatives of the Tamil people, the Tamil National Alliance (TNA), still have not responded. Villagers criticized TNA leader and leader of the Official Opposition, Mr. Sampanthan, for still not having visited the protest or even made a call or message to protestors, as of the time of this article. "If the Chief Minister [of the Northern Provincial Council] can make time to visit then why can't Mr. Sampanthan?" asked one villager. After a flurry of visits by members of the Northern Provincial Council yesterday, today the NPC is meeting to sign a memo prepared by NPC Councillor for Mullaitivu, Mr. Ravikaran, to be handed to the President in support of the Pilakudiyiruppu villagers' demand.
Villagers are adamant that they will not leave the site of their protest to meet with politicians as demonstrated when they declined an invitation 10 days into their protest to meet with government officials in Colombo. "We aren't leaving until they come and take us to our lands and our aim is not going to change so what will we gain from negotiations? We've seen what has happened to others who have stopped their protest to go and meet the government in Colombo – nothing," explained Mrs. Chandraleela. Villagers made clear that they expect their representatives in the TNA to negotiate with the central government and get them the solution they are asking for, the release of their lands.
In the seventeenth month since Resolution 30/1 was co-sponsored by the Sri Lankan government at the UN Human Rights Council, and two years after the "National Unity" government first came to power, the situation facing the villagers of Pilakiudiyiruppu is unacceptable and symbolic of the lack of adequate progress in Sri Lanka. But in the space that has opened up under the new regime, the absolute stand that Pilakiudiyiruppu villagers are taking is the beginning of a path forward. The growing culture of resistance through peaceful protest, as with protests over disappeared including most recently with a hunger strike in Vavuniya and protests of military occupation of land and disappearances in Puthukudiyiruppu, should be encouraged and supported. It was heartening to see diverse support for protestors while in Keppapilavu, ranging from women's groups who came from across the North-East to families who had cooked and brought food paid for by relatives in the diaspora.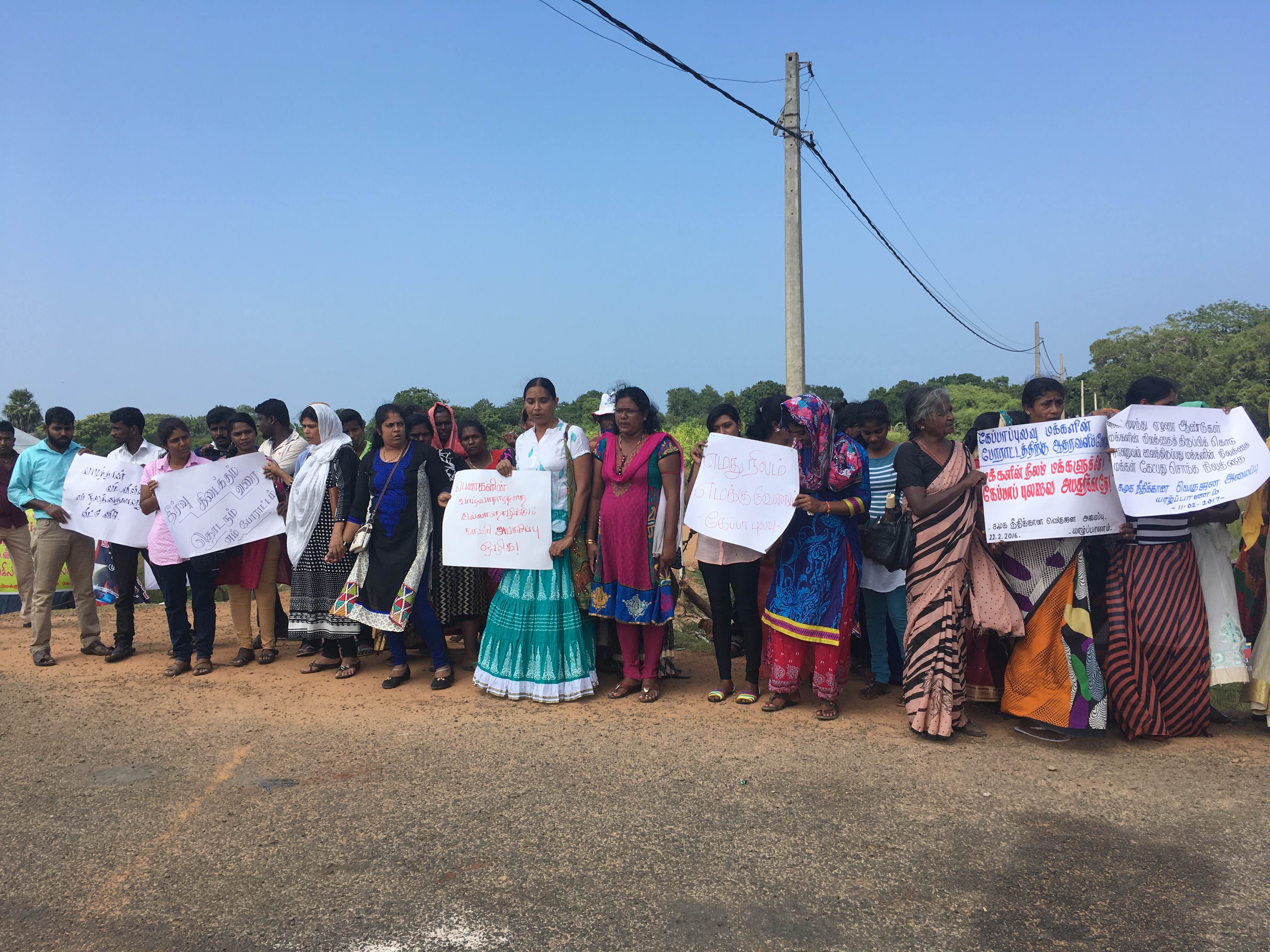 Inter-faith women's group attend in solidarity
War-affected Tamil communities across the North-East are demonstrating that they will not be silenced, lied to or forced to fit within a particular victim narrative. Villagers from Pilakudiyiruppu may be protesting for the release of their one village, but in their courage and strength they are showing the Tamil polity in Sri Lanka a way forward in resisting the continued pattern of broken promises by the government and ongoing militarization of the North-East. "We will not move from here until we get our land back," the people of Pilakudiyiruppu are saying. And it is time the Sri Lankan government listened.
*Some names have been changed to protect the safety of the persons in question.
Dharsha Jegatheeswaran is a Senior Researcher at the Adayaalam Centre for Policy Research and the Human Rights Director of P.E.A.R.L. She is currently based in Jaffna.
Mario Arulthas is the Advocacy Director of PEARL. He is based between Washington, D.C. and Jaffna.
We need your support
Sri Lanka is one of the most dangerous places in the world to be a journalist. Tamil journalists are particularly at threat, with at least 41 media workers known to have been killed by the Sri Lankan state or its paramilitaries during and after the armed conflict.
Despite the risks, our team on the ground remain committed to providing detailed and accurate reporting of developments in the Tamil homeland, across the island and around the world, as well as providing expert analysis and insight from the Tamil point of view
We need your support in keeping our journalism going. Support our work today.
For more ways to donate visit https://donate.tamilguardian.com.