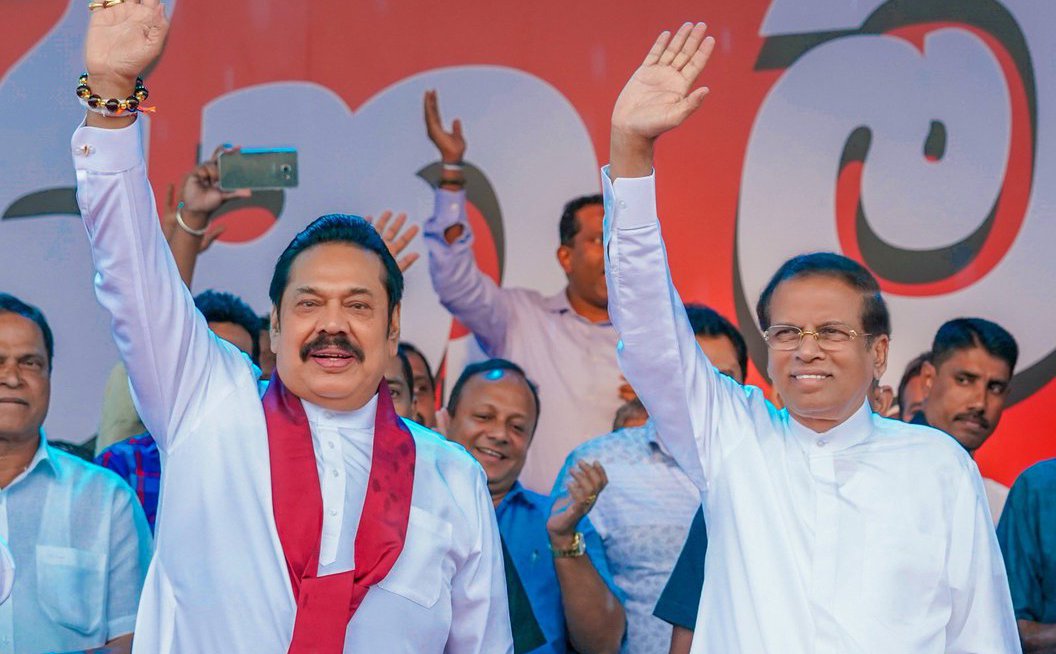 Sri Lanka's president Maithripala Sirisena today issued a gazette notification dissolving parliament and sacking all 225 lawmakers. 
The gazette notification, released this evening, states elections will be held on January 5, 2019, almost two years ahead of schedule. 
This week Kilinochchi district residents continued to clear their local thuyilum illams, LTTE cemeteries, in preparation for Maaveerar Naal - the Tamil National Remembrance Day - on November 27.

Clearing took place at Mulankavil and Kanagapuram, with...

The UNP Leader Ranil Wickremesinghe said the UNF would form a new alliance in order "save the nation". 

Urging all political parties to join this force, Ranil vowed "we will not allow anyone to destroy this nation which we have managed to safeguard at the risk of our lives."

"I promise to pull this nation through the present curse by associating myself in a new and a broad alliance. Therefore I invite everyone to join this new political force," he added. 

Sri Lanka's Special Task Force has deployed troops to state media institutions: Lake House; Rupavahini; Sri Lanka Broadcasting Corporation; and ITN; as well as to the Attorney General's Department and the Department of Government Printers, claiming that this is to bolster 'security'. 

State media agencies were among the first institutions to be taken under the control of the de facto Rajapaksa-Sirisena government, with Rajapaksa supporters taking the institutions by force within hours...

The annual tree planting drive in the Northern Province to honour fallen LTTE cadres was marked with a cultural programme and plant sale and exhibition in Jaffna on Saturday.

Sri Lanka's former president Mahinda Rajapaksa has left the Sri Lanka Freedom Party (SLFP) with a reported 44 other parliamentarians, as a flood of lawmakers joined the Sri Lanka Podujana...

The UN Secretary General expressed concern over Sri Lanka's ongoing political crisis, calling on he government to ensure the safety of all Sri Lankans and to uphold its commitments to human rights, justice and reconciliation. 

Sri Lanka's political turmoil sparked by the president's sacking of the prime minister last month descended further into...

The European Union said it expected a "swift and peaceful" resolution to Sri Lanka's political crisis in line with the constitution.

Sri Lanka's political turmoil sparked by the president's sacking of the prime minister last month descended further into crisis last week after his decision to dissolve parliament, sacking all 225 lawmakers and calling fresh parliamentary elections. 

Namal Rajapaksa, the Sri Lankan parliamentarian and son of former president Mahinda Rajapaksa, has joined the Sri Lanka Podujana Party (SLPP) leading a potential exodus from Sri Lankan president Maithripala Sirisena's Sri Lanka Freedom Party (SLFP).

"I am joining the [SLPP] effective immediately," Namal tweeted on Saturday. "We will strive to create a...

At least six people have been declared missing after heavy floods burst irrigation tanks in Mullaitivu, as flooding affected many parts of the North-East this week.

The Sri Lankan military has...

The Tamil National Alliance (TNA) is set to take legal action against the sudden dissolution of parliament by Sri Lankan president Maithripala Sirisena.

The party's spokesperson and MP, M A Sumanthiran said the party would be going to the Supreme Court to challenge the dissolution.

The 19th amendment to the constitution makes it 'crystal clear' that the president did not have the authority to dissolve parliament before it had passed its four and a half year term, Sumanthiran...

Sri Lanka's United National Party (UNP) has met with the elections commission and plans to take action in the Supreme Court against the dissolution of parliament by President Maithripala Sirisena.

"The emerging tyranny of Maithripala Sirisena will be fought in the courts, in Parliament and at an election," Mangala Samaraweera, the UNP's finance minister said.

The TNA MP Raviraj was remembered in Jaffna today on the 12th anniversary of his assassination.

TNA MP, Mavai Senathirajah, fellow party members and local residents took part in a commemorative event by the statue erected in his honour. 

The United States, UK, Australia and Canada were swift to express their concern at the Sri Lankan president's decision to dissolve parliament yesterday, warning that the move would undermine the country's international reputation.  

"The US is deeply concerned by news the Sri Lanka Parliament will be dissolved, further deepening the political crisis.  As a committed partner of #SriLanka, we believe democratic institutions and processes need to be respected to ensure stability and...

Sri Lanka's president Maithripala Sirisena on Friday brought the Department of Government Printing under his power, announcing an extraordinary gazette notice to that effect. 

The move came as Sirisena dissolved parliament, sacking all 225 lawmakers and calling fresh parliamentary elections on January 5, 2019. 

Despite international criticism and calls to reconvene parliament, Sirisena has vowed not to bow to such pressure. 

Sri Lanka's president Maithripala Sirisena today issued a gazette notification dissolving parliament and sacking all 225 lawmakers. 

The gazette notification, released this evening, states elections will be held on January 5, 2019, almost two years ahead of schedule. 

Sri Lanka's United National Party (UNP) is planning to mount legal action against Sri Lankan President Maithripala Sirisena and his snap dissolution of Parliament.

Managala Samaraweera, Finance Minister in the 'fallen' UNP government, and one time Foreign Minister, described Sirisena as a "menace" to Sri Lanka and its "democratic traditions".

Speaking to The Hindu, Samaraweera also said the UNP would move an impeachment motion against President Sirisena. It is unclear as to how...

Ambassadors of the European Union, France, Germany, Italy, Netherlands, Romania, UK, Norway and Switzerland yesterday warned that Sri Lanka's political crisis risked damaging its international reputation and could deter investors. 

The country plunged into turmoil last month after the president sacked the prime minister and appointment the former president, Mahinda Rajapaksa in his place. 

File photo. Welagama sits alongside former Sri Lankan president Mahinda Rajapaksa.

A senior Rajapaksa supporting parliamentarian has admitted that Sri Lanka has become "the laughing stock of the world" as political turmoil in Colombo continues.

US policy on Sri Lanka has over emphasised growing military relations "to the detriment of human rights accountability," writes J S Tissainayagam in the Asian Correspondent this week.

"The policy of western democracies – led by the United States – of over-emphasising military-to-military relations with Sri Lanka to the detriment of human rights accountability, has weakened their hand to play a constructive role in this crisis," said Tissainayagam.

Sri Lanka's former minister for National Languages and Social Integration has slammed ambassadors from the United States and Britain for meeting with Sri Lanka's speaker of parliament, reports Colombo Gazette.

Vasudeva Nanayakkara, who has been appointed by Mahinda Rajapaksa as Minister of National Integration, Reconciliation, and Official Languages, accused...

Sri Lanka's newly appointed foreign minister, Sarath Amunugama reassured India that it would always be "Colombo's first choice" during an interview to India Today this week. 

Amunugama, who was appointed by President Sirisena following the sacking of Ranil Wickremesinghe last month and appointment of Mahinda Rajapaksa in his place...

Journalists and media workers told Al Jazeera they now lived in fear following the return of Rajapaksa to the political scene. 

Several journalists with Sri Lanka's public media company said they  "are thinking of quitting their jobs because of increased government censorship". 

"We have been taken hostage," a journalist at Lakehouse told the news agency.

The United National Party's (UNP) spokesperson said it was looking at ways of ousting the Sri Lankan president, Maithripala Sirisena. 

The country was thrown into political turmoil last month after Sirisena sacked the prime minister, UNP leader, Ranil Wickremesinghe and replaced him with Mahinda Rajapaksa. 

"We feel that President Sirisena neither is nor fit to hold his post considering the way he believes and acts and therefore we are focusing on removing him under the article...

Ranil Wickremesinghe, who was sacked as Sri Lanka's prime minister on October 26, said he would still be willing to work with the president, who appointed Mahinda Rajapaksa as the new premier. 

Asked by The Hindu whether he would be willing to work with President Sirisena, Wickremesinghe said, "I'll have no problem working with him, that's a question you must ask him." 

"The Constitution doesn't make provision for personal prejudices," he added, during an interview with the...

Sri Lanka's coalition government did not sufficiently address the issues faced by the Tamil people, the TNA leader R Sampanthan told the new US ambassador, Alaina Teplitz yesterday. 

Highlighting the issues of political prisoners, disappeared persons, resettlement, military occupation of land and rehabilitation of former cadres Sampanthan told Teplitz that progress had been very slow. 

A sense of disappointment was present among Tamil people, he added, due to the failure to...

With Sri Lanka's political crisis ongoing, foreign selling and exiting from the Colombo Stock Exchange continued at a staggering rate. 

Over Rs3 billion was sold on Monday, prompting the UNP's state minister for economic affairs, Harsha de Silva to tweet, "Once again massive dumping of shares by foreign investors from #SriLanka stock market. Over LKR 3 billion today. Where is the confidence the #FakePM said they brought in? #CoupLK @RW_UNP"

The US State Department today urged Sri Lankan president, Maithripala Sirisena to "reconvene parliament immediately" warning that the uncertainty was undermining the country's international reputation. 

"We urge #SriLanka's President to reconvene parliament immediately to resolve the political crisis. Further delay compounds uncertainty in Sri Lanka, and undermines its international reputation and the aspirations of its people for good governance, stability and prosperity," the US...

The UK's Minister of State for the Foreign and Commonwealth Office, Mark Field said the FCO was "deeply concerned by the political situation in Sri Lanka". 

Responding to a written question by the shadow foreign secretary, Emily Thornberry asking if the UK recognised Ranil Wickremesinghe or Mahinda Rajapaksa as prime minister, Field replied, "...

The Sri Lankan police force follows the orders of the Sri Lankan president, the force's top chief has said, as the country's political crisis over who is the rightful Prime Minister continues.

Inspector General of Police (IGP) Pujith Jayasundara made the comments at a media briefing at the police headquarters in Colombo. He said that Sri Lanka Police would operate according to the gazette notification issued by President Maithripala Sirisena.

The skeletal remains of at least 232 people have been unearthed from a mass grave in Mannar, with over 100 days of excavations having taken place thus far and more bodies reportedly still to be discovered.

Senior Judicial Medical Officer Saminda Rajapakse said that since excavations began over fove months ago, 224 complete bodies have been discovered with the remains of other people making up a total of 232. The remains of children are amongst those found at the mass grave, with many...
The US Department of the Treasury's Office of Foreign Assets Control (OFAC) stated last week they are imposing sanctions on three individuals and nine entities backed by Russia. 

The individuals named, Andriy Volodymyrovych Sushkov, Aleksandr Basov, and Vladimir Nikolaevich Zaritsky are alleged to support Russia's attempt to "reintegrate" Crimea through private investments and privatisation projects and by doing so have endorsed serious human rights abuses. 

As many as 52 people were killed when attackers detonated at least two bombs and stormed a hotel in Mogadishu near the headquarters of Somalia's Criminal Investigation Department.

The militant Al-Shabab organisation, which has been known for regular attacks on the capital, claimed responsibility for the attack, stating that they were targetting government officials who were staying at the hotel.

China's human rights record was criticised by western nations such as France, Germany and the United States this week during the country's Universal Periodic Review at the UN Human Rights Council.  

Member states at the Counil called on China to close detention centres where an estimated million Uighur Muslims are said to be detained. 

Tensions have risen within the city of Carno in Central African Republic (CAR) as refugees, who are predominately Muslim, have started to return to find their homes and businesses occupied, exacerbating the conflict between Muslim and Christian communities.  

Aid organisations and the UN aim to build new houses to ease tensions and allow occupants to voluntarily leave.

Refugees from the Central African Republic, were forced into exile due to fighting among armed groups which...

Following a much anticipated by-election in New Jersey, Tom Malinowski unseated the incumbent five-term Republican representative Leonard Lance. This followed a reclamation of the House by the Democratic party whilst the Republicans retained control over the Senate. 

Malinowski had served as the former assistant secretary of State for Democracy, Human...

Aung San Suu Kyi's National League for Democracy (NLD) is projected to have won only seven out of 13 seats in a by election held in Myanmar this week.

The NLD won the majority of seats in the central heartland which is predominately ethnic Bamar Buddhists but in the northern state of Kachin, they finished third in an Upper House race which it had won in 2015.

Results in the state capital Myithyina showed a victory for the military-aligned Union Solidarity and Development Party...

The French Pacific territory New Caledonia rejected independence in a referendum, although the winning majority was significantly smaller than predicted.

With voter turnout over 80%, 56.4% opted to remain as part of France.

Polls had actually forecasted a win of up to 75% for the 'no' [to independence] campaign.

New Caledonia is of strategic importance to France as a foothold in the Pacific.

The blockage of aid shipments has threatened famine in Yemen, warned the United Nations, as fighting between the Yemeni government, backed by a Saudi-led coalition, and Houthi rebels, reportedly backed by Iran, continues.

In particular fighting has brokenout in regions surrounding the largest hospital in the port city of Hodeidah, which has made it difficult to access those most in need, including children.  The United Nations estimates that if this continues 14 million people, half...

Boko Haram have attacked two villages in northeastern Nigeria, Bulaburin and Kofa, as well as a camp in Dalori for internally displaced people (IDP), resulting in the deaths of at least 12 civilians, reports Al Jazeera.  

Boko Haram militants arrived in seven trucks on Wednesday. Babakura Kolo, a civilian militia leader, reported to AFP news agency that...

During talks between Libya's rival assemblies an agreement was forged to unify the government under a central authority and reform state institutions. 

The United Nations which had been assisting both sides has welcomed the progress made in these talks which finished on Wednesday. 

There is, however, concern that whilst administrative bodies may agree to these decisions, armed militias may not as they have benefited from the nation's disunity. 

A military crackdown on the Shi'ite organisation Islamic Movement of Nigera has been reported in the country's capital, Abuja, killing 42 people, Reuters reports. 

Security forces shot and used tear gas on a group of protesters who were marching to demand the release of their leader Ibrahim Zakzaky, who has been in imprisoned since December 2015. He was arrested during violent clashes in the northern city of Zaria and had allegedly called for an Iranian style islamic revolution. The...

A Bangladesh court has doubled the jail time from five years to ten years for former prime minister, Begum Khaleda Zia for her involvement in the Zia Orphanage Trust corruption case. 

The case accused her, along with five others including her son, of embezzling approximately $253,000 from foreign donations intended for an orphanage set up for the former president, Ziaur Rahman, who was Khaleda's former husband. 

Jair Bolsonaro, a far right candidate and former paratrooper, has won the presidential election in Brazil. His party, the Social Liberal Party (SLP) secured 56 percent of the vote running against the left-wing candidate Fernando Hadad of the Workers Party (PT) who gained 44 percent, according to the electoral authority TSE. 

Bolosonaro's victory runs in sharp contrast to the previous government which was run by the leftist Workers Party (PT), which had run the country for 13 of the...

Indian and Japan signed a $75 billion bilateral currency swap agreement during the first day of Prime Minister Narendra Modi's visit to Tokyo.

During the trip Modi also announced that Japan and India had agreed a new programme aimed at deepening ties between both defence ministries  reports Bloomberg News.

"The aim of this is to further work towards world peace...

Ethiopia last week elected its first female president, Sahle-Work Zewde, who is currently the only female head of state in Africa. Her appointment follows the resignation of Mulatu Teshome Wirtu on October 25. 

She is the fourth president under EPRDF rule which claimed power in Ethiopia in 1991, following a coup against the military regime.

She has a long service in government having served as ambassador in many countries across Africa and Europe as well working with the UN...

Around a thousand Indonesian Muslims gathered for a protest in the capital Jakarta to protest against burning of an Islamic flag, linked to a banned organisation on Friday.

Protestors gathered to condemn the burning, which was captured in a viral video in which a member of the youth wing of Nahdlatual Ulama (NU) burnt a rival organisation's flag which bore the Tauhid - an Islamic concept asserting that there is only one God. During the protest this was the message they chanted, "there...

The Indian government has frozen the bank accounts of Amnesty International after an initial raid on its Bangalore office in Southern India on Thursday.

The Enforcement Directorate, India's financial crime investigating agency, had conducted the search under suspicion that Amnesty had violated foreign direct investment guidelines. Critics have responded asserting that this is an attempt to crack down on dissident voices airing criticism of the governmen'ts conduct in Kashmir and at...

Japan and China have agreed a $30 billion currency swap deal to strengthen financial stability during their first bilateral summit in seven years.

Japan's Prime Minister Shinzo Abe is on a 3 day state visit to China to take part in a formal Sino-Japanese summit which had previously ceased to take place amidst souring relations. 

Speaking to press Mr Abe said,

The US is set to revoke visas of 21 Saudi officials thought to be involved in the murder of Washington Post journalist Jamal Khashoggi.

Having identified some of the Saudi government and security officials believed to be involved in the murder, the US State Department said 21 Saudis would have their visas revoked or be made ineligible for US visas.

Speaking to reporters, US Secretary of State Mike Pompeo, said,

Australia has placed travel and financial sanctions on five of Myanmar's most senior military officers who stand accused of overseeing violence against the Rohingya community.

The sanctions follow similiar actions by the European Union and United States placed on Myanmar's military earlier this year.

A recent report by the UN accused Myanmar's military of rapes and mass killings with 'genocidal intent,' calling for its commander-in-chief and five generals to be prosecuted under...

The United Nations accused the Sudan People's Liberation Army and it armed opposition of committing war crimes, in a report released last week.

The report by the UN Mission in South Sudan (UNMISS) and the UN Human Rights Office states that 900 people were abducted and 24,000 forced to flee their homes in the Western Equatoria region of South Sudan, as violence flared between the two sides.

The UK, German and French Foreign ministers condemned the killing of journalist Jamal Khashoggi, with "the strongest possible terms" on Sunday.

In a joint statement, the ministers said,

Punjab's chief minister, Amarinder Singh has confirmed the deaths of 59 people and the injuries of 57 in a railway incident on Friday.

On that day a train ran over a large crowd which had gathered to celebrate a major Hindu holiday.

Chief Minister Singh has thus far declined to comment on the reasons behind the accident and has told reporters on Saturday that an official inquiry would be undertaken and completed within four weeks.

For the first time Saudi Arabia has confirmed the death of journalist Jamal Khashoggi after initially providing strenuous denials.

Khashoggi, a journalist for the Washington Post and US resident, initially arrived in Saudi Arabia's consulate to file in documents certifying that he had divorced his ex-wife so that he could remarry.

The United States and either other governments have requested the United Nations fact-finding mission that investigated atrocities committed by Myanmar against Rohingya Muslims brief the UN Security Council this week.

The Chief Executive and chairman of Swedish group Lundin Oil may face charges of war crimes, after the Swedish government paved the way for an indictment to be issued this week.

Alex Schneiter, the current CE of Lundin Oil and Ian Lundin, the chairman of the board, may be indicted, for war crimes committed in Sudan. Lundin Oil is accused of bankrolling the Sudanese army and several paramilitary groups that drove away locals from areas where the company planned to carry out oil...

The Chief Prosecutor of the International Criminal Court has warned the Israeli government over the "imminent" planned eviction of the Bedouin community of Khan al-Ahmar, in the West Bank. 

"I have been following with concern the planned eviction of the Bedouin community," said ICC Prosecutor Fatou Bensouda. "Evacuation by force now appears imminent, and with it the prospects for...

Three senior Afghan officials have been killed and two American officials injured, in a Taliban attack in Kandahar on Thursday that narrowly missed the top US commander in Afghanistan.

Police Chief, General Abdul Raziq; the provincial governor of Kandahar, Zalmai Wesa; and, intelligence chief General Abdul Mominera were killed in the attack. Two American officials were injured but US General Austin Miller, commander of US and NATO troops in Afghanistan, managed to survive without...

Thousands participated in an anti-Indian protest in the city of Srinagar in Kashmir, following a joint funeral commemorating those who died during the shootout with the Indian security forces. 

Police have arrested at least 26 people during anti-government protests in the Nicaraguan capital of Managua on Sunday. These protests were organised by an alliance of 40 opposition groups calling on President Daniel Ortega and Vice President Rosario Murillo, to resign.

The current demonstrations began in April of this year and demanded that proposed changes to the nation's pensions schemes be scrapped. However following heavy handed and sometimes violent state repression of the...