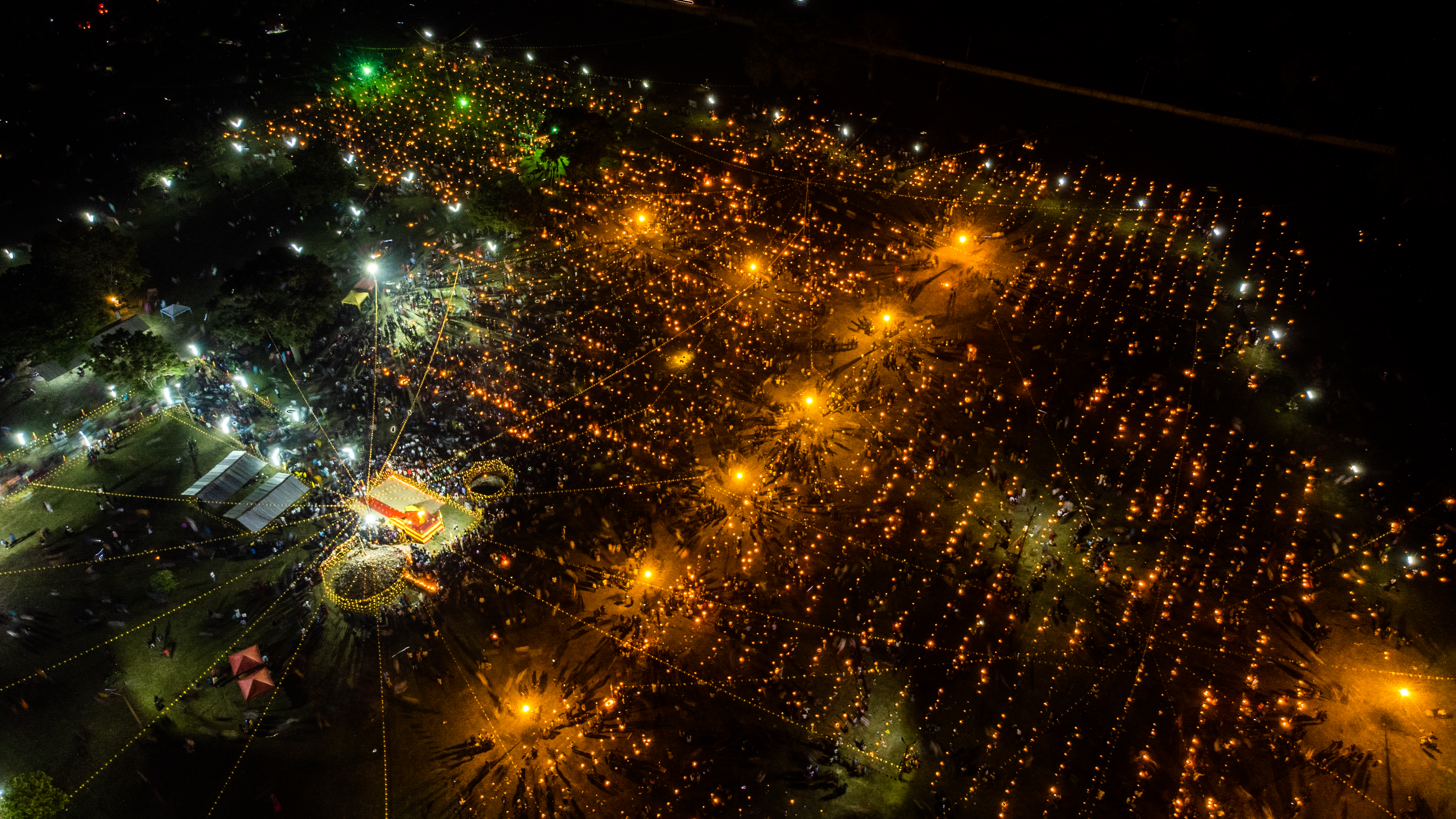 Last week, thousands of Tamils, from the political strongholds in Jaffna, the militarised heartlands of the Vanni, to the allegedly contested territories of Amparai, lit up destroyed LTTE cemeteries to pay tribute to those who laid down their lives in the armed struggle. Since 2016, when Tamils reclaimed the Kanagapuram Thuyilum Illam in Kilinochchi to hold Maaveerar Naal publicly for the first time since 2012, when Tamil students were beaten by the Sri Lankan army for attempting to mark the day, the commemorations have been growing in scale each year, disrupted only by the lockdowns...
 


The Sri Lankan navy arrested 20 asylum seekers who were reportedly fleeing the island by boat on Monday. 

The 20 asylum seekers who were on board the fishing vessel, were detained in the seas east of the Foul Point, Trincomalee after a tip off was received by the navy.

The massacre of 32 Tamils in Othiyamalai, Mullaitivu by the Sri Lankan army in 1984 was remembered last week. 

Last week, thousands of Tamils, from the political strongholds in Jaffna, the militarised heartlands of the Vanni, to the allegedly contested territories of Amparai, lit up destroyed LTTE cemeteries to pay tribute to those who laid down their lives in the armed struggle. Since 2016, when Tamils reclaimed the...

Harrow Arts Centre, the prestigious heritage building in the London borough of Harrow will be hosting an exhibition to mark Tamil Heritage Month 2023.

For the exhibition which "aims to creatively explore the rich heritage of the Tamil community", the arts centre is calling on members of the Tamil community to submit artwork which creatively expresses their heritage and culture.

In it's callout the centre says:

Approaching Sri Lanka's 75h Independence Day, Sri Lanka's Foreign Minister, Ali Sabry, met with US Secretary of State, Anthony Blinken where the US reaffirmed its support for Sri Lanka amidst its ongoing economic crisis and stressed the...

Vijay Sethupathi films tend to be a 50:50 deal for me. He is either a part of some of the best Tamil films in recent history or run-of-the-mill, unoriginal template masala films. Unfortunately, DSP falls in the latter category.

Meeting with Tamil National Alliance (TNA) MPs, U.S. Ambassador to Sri Lanka, Julie Chung, emphasised that "advancing human rights, rule of law & reconciliation among all communities" is key "to a stable and democratic Sri Lanka".

Responding to continued military land grabs, Jaffna Tamils chased out official land surveyors, which had planned to hand over 11 acres from Karainagar, belonging to 44 families, to Sri Lanka's army.

"We live in rented houses without our own land and depend on rain and water. They are trying to give land to the army without considering...


British High Commissioner to Sri Lanka, Sarah Hulton has made a wide-ranging tour of Jaffna and Kilinochchi where she met with civil society groups, women's organisations and Jaffna's Mayor and Municipal Commissioner.

Tamils in Canada held a commemoration event in Toronto to mark Maaveerar Naal on Sunday. 

Flowers were laid by rows of photographs of fallen Liberation Tigers of Tamil Eelam (LTTE) cadres and candles lit by makeshift gravestones.

Acclaimed Kollywood music producer Santhosh Narayanan, and singer Dhee performed at the event.

Presidential Adviser Rear Admiral Sarath Weerasekara slams the commemoration of war dead by #Tamils throughout the north and east, as one for 'Tiger Terrorists'

"If your son was a terrorist, if he was a rapist, a killer, there's no prohibition to lighting a lamp inside a house" pic.twitter....

Senior members of the Ilankai Tamil Arasu Kadchi (ITAK), the largest constituent party of the Tamil National Alliance (TNA), marked Maaveerar Naal at the party's Jaffna headquarters on Sunday.

A Secretary of the Sri Lankan Embassy in Oman was arrested last week for his suspected involvement in a human trafficking racket. 

Tamil Nadu Chief Minister M.K. Stalin wrote to the Minister of external affairs, S. Jaishankar, to intervene in the arrest of 24 Indian fishermen by the Sri Lankan navy. 

In his letter, Minister Stalin urged Mr Jaishankar to request that the Sri Lankan navy refrain from arresting the fishermen. 

 

Sri Lanka's police and military brutally assaulted a Tamil youth in Manipay, Jaffna.

He was not taken to the hospital and was detained at Manipai police station.

Last Sunday, Tamils in Mullaitivu gathered to remember the 12 civilians slaughtered in an Sri Lankan government air strike.

Kannan, who lost his father and brother during the attack, lit flames of remembrance at the event and those who participated in the event paid their tributes to the victims. The government air strikes took place on 27 November...

 

Former Jaffna University Students' Union President M. Thivakaran and Secretary S. Babilaraj have been acquitted after being detained under Sri Lanka's draconian Prevention of Terrorism Act (PTA).

On Sunday, the University of Nottingham's Tamil Society held an event to commemorate Maveerar Naal and pay respects to the sacrifices of those who fought.

...

Australian Tamils marked the 33rd Maaveerar Naal by holding a large memorial in Sydney for those who sacrificed their lives during the freedom struggle.

The event...

Several Tamil parties met last week (25) at the residence of TNA leader R Sampanthan to discuss critical issues to achieve a political solution on the island.

The TNA hierarchy invited all Tamil political parties representing the North and East to participate in a discussion scheduled at the residence of its Leader MP R. Sampanthan in Colombo.

All photographs courtesy of Sharmilan Sivakumaran

Hundreds of Tamils marked Maaveerar Naal in Queens, New York yesterday. 

Flowers were laid by a makeshift memorial dedicated to fallen Tamil fighters. There were also a series of speeches and dance performances on the Tamil liberation struggle. 

See more below...

All photographs courtesy of Thaarakam 

Tamils in Auckland, New Zealand joined Tamils in the homeland and the diaspora to mark Maaveerar Naal. 

Candles were lit and flowers laid by photographs of fallen cadres. 

...

Thousands of British Tamils gathered at London ExCel yesterday to mark Maaveerar Naal. 

The flag of Tamil Eelam was hoisted while 'Eruthu Paar Kodi' the Tamil Eelam flag song was...

Maaveerar Naal was marked in Italy with large events in cities with significant Tamil communities.

In Palermo, representatives of the Catholic Church and local civil society members attended the commemoration.

...

Marking the 33rd Maaveerar Naal, French Tamils gathered in Le Grand Dôme in Northern France to hold a memorial in honour of those who sacrificed their lives for the freedom struggle.

...

Photos by Sagi Thilipkumar

In the Swiss city of Fribourg, Eelam Tamils have gathered en mass to mark the 33rd Maaveerar Naal and to remember the sacrifices of those who fought for a free Tamil Eelam.

Eelam Tamils in Kilinochchi gathered to mark Maaveerar Naal and remember the sacrifices made by those who died in the armed struggle.

 

...

In Trincomalee and Batticaloa, Eelam Tamils gather to mark the 33rd Maaveerar Naal and to remember the sacrifice of those who gave their lives fighting for Tamil liberation.

Maaveerar Naal was marked at Eechankulam, the only Thuyilum Illam to have been built by the Liberation Tigers of Tamil Eelam (LTTE) in the Vavuniya district.

...

Thousands of Tamils gathered in eleven LTTE cemeteries, 'Thuyilum Illam', and significant places across the Mullaitivu District to mark Maaveerar Naal today.

Shops remained closed in the district's commercial centres while homes and temples were also lit with lamps to mark the day.
Al Jazeera Media Network has submitted a formal request to the International Criminal Court (ICC) to investigate and prosecute those responsible for killing veteran Palestinian-American journalist Shireen Abu Akleh.

More than half of Tigrayan forces have been withdrawn from the frontlines, a month after a ceasefire agreement was signed. 

Following last month's ceasefire agreement which sought to bring an end to the two-year conflict, Tadesse Wereda commander-in-chief of the Tigray People Liberation Front (TPLF) has said, 

"We have accomplished...

Sweden deported a Kurdish man with alleged ties to the Kurdistan Workers Party (PKK) to Turkey. 

Mahamut Tat had sought asylum in Sweden in 2015 after being sentenced in Turkey for six years and 10 months for alleged links to the Kurdistan Workers Party (PKK). His final application was denied last year by the Swedish migration agency. 

On Wednesday, the District Court of The Hague concluded that the 2007 airstrike mounted by the Dutch armed forces on an Afghan residential compound violated international humanitarian law. 

Many of the world's largest asset managers and state pension funds are passively investing in companies that have allegedly engaged in the repression of Uighur Muslims in China, according to a new report.

The supreme court has ruled that the Scottish government cannot hold an independence referendum without the UK government's consent. 

Nicola Sturgeon had planned to hold a referendum on 19 October 2023 but the supreme court ruled unanimously that she does not have the power to do so, stating that the issue is reserved to Westminister. 

A man who arrived in the UK on a small boat a week ago and was being processed at Manston has died, the Home Office said on Saturday. He became ill while at the Kent detention site and was taken to hospital, but later died.

t is understood that he arrived on 12 November and was taken ill on...

The Tigray region has recieved humanitarian aid for the first time since the peace agreement, departing from two years of a devestating blockade.

Following the coup and a brutal crackdown on unarmed protestors, the people of Myanmar have taken up arms against the military which now only has stable control over 17 per cent of the country. 

Ukrainian President Volodymyr Zelenskyy has accused Russian soldiers of committing war crimes and killing civilians in Kherson, which was retaken by Ukraine last week.

The European Union and the United Kingdom have imposed additional sanctions on Iranian officials in response to the widespread use of force against protestors. 

So far, 336 demonstrators have been killed in the unrest and nearly 15,100 detained, according to the activist HRANA news agency.

A court in Tehran has issued the first death sentence to a person arrested for taking part in protests.

A human rights group warned authorities might be planning "hasty executions".

At least 20 people are currently facing charges punishable by death, Norway-based Iran Human Rights said, citing...

The UK has agreed to open negotiations with Mauritius over the future handover of the Chagos Island, in a major reversal of policy following years of resistance and legal defeats in international courts but will continue to maint control over it's military base in Diego Garcia. 

The proposed agreement will allow for the return of former inhabitants of the Chagos archipelago who were forcibly displaced by the British government in the 1960s and 1970s. 

Ethiopia's government and the TPLF have agreed to facilitate immediate humanitarian access to "all in need" in war-ravaged Tigray and neighbouring regions.

The agreement comes after talks in Nairobi, Kenya this week after the signed peace agreement between the two warring sides brought an end to the two year conflict in Northern Ethiopia...

The Brazilian Defence Ministry's report concluded that no discrepancies were found in the recent election, which saw right-wing president Bolsonaro unseated by a narrow margin. 

Dressed in full army uniform, President Xi called on military personnel to "focus all its energy on fighting" according to reports from a Chinese Communist party mouthpiece. 

The Iranian leadership is resisting growing demands from clerics and some reformist politicians to stage a new referendum on Iran's constitution.

The Spanish government is facing growing pressure to explain how at least 23 people died in June at the fortified border of Melila, Spain's enclave in North-Africa. 

About 2,000 people attempted to cross the heavily fortified border between the Moroccan region of Nador and the Spanish enclave last week. The Moroccan authorities say ...

In the run-up to the 2022 FIFA World Cup, Football Australia has released a statement claiming that they are "engaged in a process of education" concerning the dire state of human rights in the host country of Qatar. 

A petrol bomb attack on an immigration center in Dover, UK is said to have been motivated by extreme right-wing ideology according to British police.

The incident took place on 30 October. Nobody was seriously injured as a result of the attack.

66-year-old Andrew Leak was found dead at a nearby service station, Leak was said to have acted alone. Leak threw homemade bombs at the immigration centre, leaving two staff with minor injuries.

Major international banks, including Australia's ANZ, have continued to do business with a bank owned by Myanmar's military administration despite its violent crackdown on anti-government protestors, according to an advocacy group and leaked documents.

ANZ, one of Australia's "big four" banks, was used by Hong Kong-based insurer AIA to transfer funds to accounts operated by Innwa Bank, which is owned by military conglomerate Myanmar Economic Corporation (MEC), in August and September...

Senior UK Parliamentarians will investigate the state of human rights within Kazakhstan.

The former director of public prosecutions Lord MacDonald will lead an independent investigation into the detention and treatment of Zhanbolat Mamai, the leader of the unregistered opposition Democratic party in Kazakhstan.

Peace talks between the warring sides of the TPLF and the government of Ethiopia have been extended into this week.

According to an official, the peace talks between Ethiopia's federal government and representatives from the northern Tigray region continued in South Africa.


A leading West Papuan Human rights and independence campaigner Filep Karma,  was found dead on November 1,  on a beach in the Melanesian region's capital Jayapura.

The death of the former political prisoner has shocked Papuans and activist communities in Indonesia and around the Pacific.

Iran has announced that it will hold public trials for as many as 1,000 people detained during recent protests in Tehran alone – and more than a thousand others outside the capital.

The judiciary made the announcement as protests continued following the death of  22 year-old Kurdish Mahsa Amini. 

Brazil's former President, Luiz Inácio Lula da Silva has claimed victory in a tightly contested election which saw far-right Bolasanaro narrowly lose. 

Myanmar's military has killed 60 people, including musicians, in a devastating airstrike that targeted a concert held by a rebel faction of the country's minority Kachin ethnic group, according to organisers and a rescue worker.

Mynamar minorities have sought greater autonomy for decades, but anti-government resistance has increased in recent years following last year's military takeover. 

A charter airline hired to remove people seeking refuge in the UK to Rwanda has pulled out of the scheme after pressure from campaigners.

A plane operated by Privilege Style first attempted to fly asylum seekers to the east African country in June but was grounded by an 11th-hour ruling by the...

Almost 12,500 people have been arrested and nearly 250 killed since the street protests began in Iran, according to a prominent human rights group, HRANA.

Maj Gen Hossein Salami, said security forces were close to snuffing out the remaining protests. He said: "Sedition is going through its last moments...

The United Nations security council has approved a "sanctions regime" to punish criminal gangs in Haiti, as protests intensified against a possible foreign intervention.

The UNSC on Friday unanimously passed a resolution proposed by the United States and Mexico that sanctioned powerful gang leader Jimmy Cherizier, also known as "Barbecue". The sanctions...