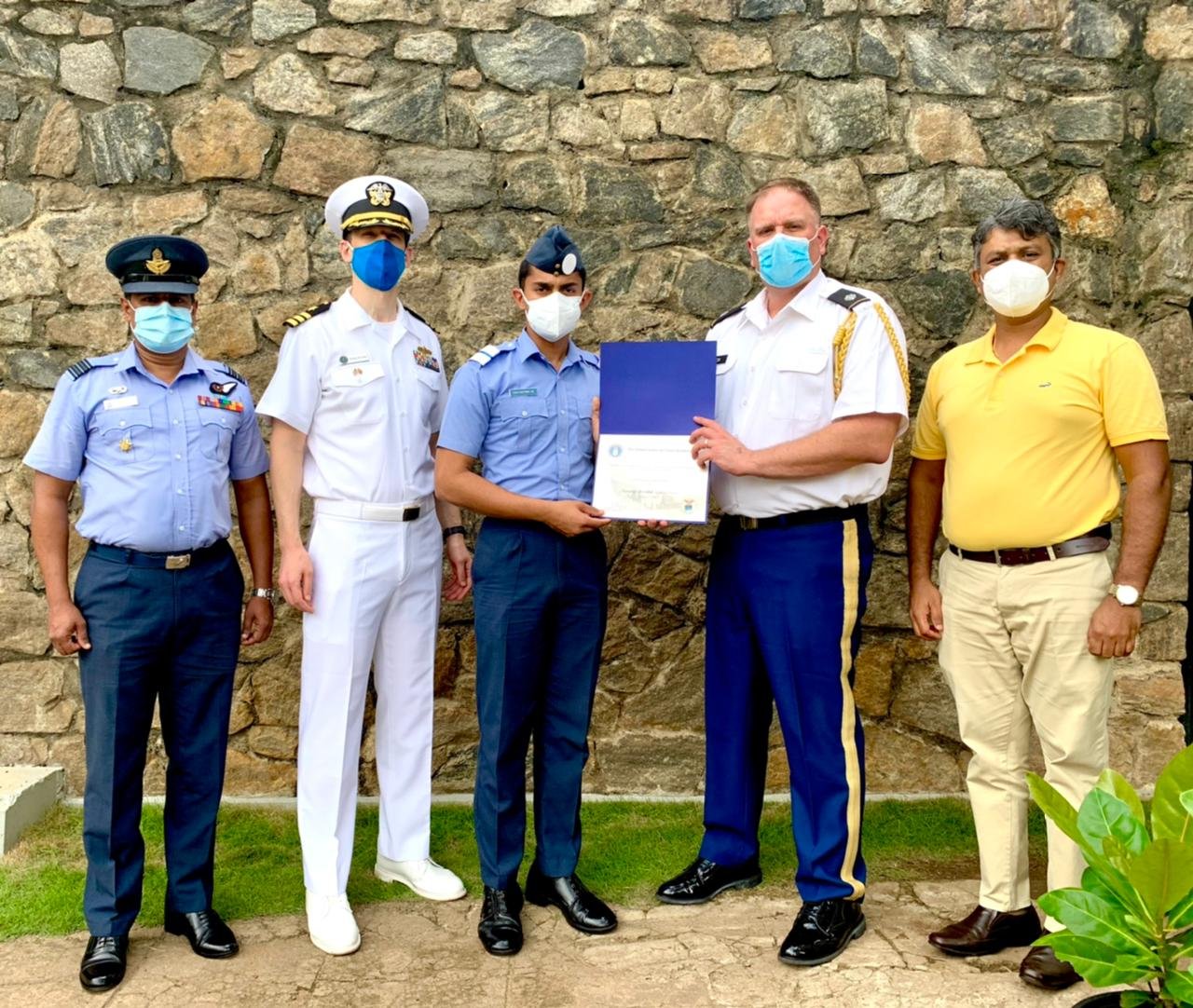 The United States says that all Sri Lankan soldiers continue to be fully vetted for involvement in human rights abuses before being allowed to train in the country. Recent appointments however point to holes in the vetting process and raise questions from survivors.  
On this day 32 years ago, up to 64 Tamil civilians were killed by the Indian Peace Keeping Force (IPKF) in Valvettithurai in a massacre that was termed "India's My Lai".

A Mullaitivu photographer was found dead in his home in Mallavi - Palinagar on Monday.

Mallavi police said they were investigating the circumstances surrounding the death of Shanmugaratnam Vinothan.

Vinothan was 34 years of age and a father of two children.

The Mannar Chancellors' and Professors' Union organised a protest in the district earlier today demanding higher wages and an end to militarisation of free education through the Kotelawala National Defence University (KNDU) Bill. 

A Tamil Nadu fisherman has been injured following an attack by the Sri Lankan navy yesterday. The attack took place near Kodiyakarai when the navy opened fire at an unarmed group of fishermen. 

Speaking at a media conference, US Ambassador to Sri Lanka, Alaina Teplitz, called on the Government of Sri Lanka to abide by its international commitments to human rights and take decisive steps to either repeal or amend its draconian Prevention of Terrorism Act.

The statement comes despite Tamil parliamentarians and human rights organisations calling for a full repeal of the...

Sri Lankan prisoners are to be enrolled in a new government scheme aimed at cultivating fertilisers following severe shortages caused by Sri Lanka's import ban on chemical fertilisers this year.

People 's Council of Eelam Tamils (VETD) has urged the German government to immediately stop the deportation of a Tamil torture survivor and asylum-seeker, Sasi K.

Sasi K. moved to Germany in 2015 and was taken into an immigration detention in Büren last Friday. His deportation is set to take place on Tuesday...

Sri Lankan opposition leader, Sajith Premadasa, announced his interest in reintroducing the death penalty for terrorists and drug traffickers at a meeting with reporters outside the Criminal Investigation Department (CID) headquarters in Colombo on Wednesday.

Tamil families of the disappeared held demonstrations across the North-East on Friday, calling for the international community and United Nations to step in to find their disappeared relatives.

Families in Jaffna, Batticaloa, Mullaitivu, Mannar and Vavuniya protested, emphasising their years-long struggles for justice and...

The Sri Lankan government has released a statement, revealing that it had complained to American sportswear corporation Nike, after a video clip of a pair of customised trainers drew the ire of officials in Colombo.

Sri Lanka's former finance minister, Mangala Samaraweera, warned of a likely fuel shortage in Sri Lanka as the economy continues to grapple with a crisis and fuel debt of 1.2 billion USD, was pushing the island towards becoming a "failed state".

Despite persistent questioning on whether the British government would impose sanctions on Shavendra Silva, and other Sri Lankan officials accused of grievous human rights abuses, Minister for Asia at the Foreign and Commonwealth Office and Department for International Development, Nigel Adams maintained silence.

On the 27 July, The Wire reported that the phone numbers of a number of Tamil Nationalists and Periyarist activists had been found among a leaked database of over 50,000 numbers listed as potential targets for surveillance by a client of the Israel-based NSO...

New Zealand's High Commissioner to Sri Lanka, Michael Appleton, met with Sri Lanka's State Minister of Regional Cooperation, Tharaka Balasuriya, to discuss strengthening economic ties between the two countries and attracting investment in Sri Lanka's economic zones and the Colombo Port City.

Eleven international rights organisations have jointly called on the Sri Lankan government to "immediately and unconditionally" release prominent Muslim human rights lawyer, Hejaaz Hizbullah, from his arbitrary 15-month detention under the draconian Prevention of Terrorism Act (PTA) legislation. 

Following a damning US State Department report which warned investors of the risks they faced in Sri Lanka, US Ambassador to Sri Lanka, Alaina B. Teplitz, raised concerns over the legislation covering Colombo's Port City.

This week Jaffna court ordered the complete release of five Tamils who had been detained for 93 days after the Terrorism Investigation Division (TID)  notified the court that there were 'no charges to file against them'. 

The five Tamils had been arrested by the TID on charges of 'trying to recreate the LTTE' and had then been subsequently detained for 93 days without charge under the draconian Prevention of Terrorism Act (PTA). Four of those detained were from Jaffna...

Photo credit (Twitter: @PragasGnanam) Read more here.

Rithish Kirushnaneethan, a four-year-old Tamil boy, died in a house fire in Melbourne's Southeast last Saturday. 

The Sri Lankan navy deployed dozens of troops in response to a protest against a mass land-grab in the Vadduvakal area.

After efforts were stepped up to permanently seize 617 acres of Tamil-owned land for the 'Gotabhaya Navy Base', a process initiated with a gazette in 2017 but was stalled due to heavy local opposition and...

Basil Rajapaksa, the newly appointed Sri Lankan Minister of Finance and the fourth Rajapaksa brother to enter the Cabinet instructed state officials to refrain from committing corruption and burdening the public despite difficulties amidst the pandemic.

During a meeting with Governors, Provincial Chief and District Secretaries and others, Rajapaksa asked officials to make...

Valaichenai District court issued an order on Tuesday to extend the remand of 10 Tamil men and women arrested under the widely condemned Prevention of Terrorism Act (PTA) to August 13, according to JDS Lanka. 

Academics across Sri Lanka withdrew from their teaching and administrative responsibilities on Wednesday to protest the government bill intended to "militarize" education.

The Federation of University Teachers Association is campaigning against the General Sir John Kotelawala National Defence University (or KDU) Bill. Its...

Sam Tarry - MP for Ilford South 

Sam Tarry, Labour MP for Ilford South released a video statement commemorating the 'Black July pogrom', highlighting how the pogrom led to a 'brutal war of oppression' being waged by the Sri Lankan government which led to 'many being murdered' by state forces. 

Sri Lanka's ruling party has blamed the Tamil Tigers for the recent surge in protests and strikes across Sri Lanka despite over a decade passing since the end of the armed conflict.

Sri Lanka Podujana Peramuna (SLPP) general secretary S. Kariyawasam told reporters on Monday, "the same groups who tried to prevent the war victory have come out today to...

Former Northern Provincial Council member Thurairasa Ravikaran called for Sri Lankan state forces to take accountability and impose sanctions on the illegal encroachment of fishermen from Southern Sri Lankan into the seas in Mullaitivu. 

The United Kingdom has admitted to failing to carry out an assessment of Sri Lanka's compliance of human rights in its trade agreements. 
Dominic Raab - British Foreign Secretary 

A British citizen has claimed he was tortured in Somalia and questioned by US intelligence officers, raising concerns about the continuation of controversial practices of the post-9/11 "war on terror" are still being used, the Guardian...

During an Axios interview, Pakistan's Prime Minister, Imran Khan, fell silent on the Uyghur genocide, claiming that any issues Pakistan had with China would "always be behind closed doors".

Marking the 100th anniversary of the Chinese Communist Party, President Xi Jinping warned foreign powers that China "will never allow any foreign force to bully, oppress, or subjugate us".

Solar lamps marking each of the discovered unmarked grave - Photo credit: (Mickey Djruic/CBC)

751 unmarked graves were discovered at the site of a former residential school in Saskatchewan, just weeks after the remains of 215 children were found in British Columbia. 

Alieu Kosiah, became the first Liberian to be convicted for war crimes committed during the country's civil war, in a court hearing in Switzerland earlier this month.

Concluding the first-day summit, NATO Secretary-General Jens Stoltenberg called for a unified response to the challenges posed by China.

Photograph: UN News

An appeal by Ratko Mladic, the commander of Bosnian Serb forces in the country's 1992-95 war, against the 2017 verdict that convicted him of genocide has been turned down by the International Criminal Tribunal for the Former Yugoslavia (ICTY).

Switzerland will be holding a referendum on a controversial terrorism bill, which has been widely panned by international human rights organisations, on 13 June.

Photo credit (Twitter: @TVRVNTO)

A mass grave was found at a residential school in British Colombia, Canada, containing the remains of 215 indigenous children on Friday.

French President, Emmanuel Macron, asked for Rwandan's forgiveness its silence over the Rwandan genocide, in which 800,000 Tutsi and Hutu dissidents were killed, however, Macron fell short of apologising for the role France played.

Myanmar's ousted democratic leader Aung San Suu Kyi made her first public appearance since the military deposed her government and seized power on 1 February 2021, at a court hearing on Monday. 

Palestinian casualties have sharply increased as Israel stepped up its bombardment of Gaza early on Friday as tanks and artillery massed at the border and joined aerial attacks.

The Irob minority group in Ethiopia are facing an existential crisis in addition to the mass atrocities inflicted by ongoing conflict in the Tigray state. 

Ethiopian Prime Minister Abiy Ahmed launched military forces in response to "traitorous" attacks on military camps that has since escalated to thousands of civilian casualties, hundreds of thousands of people who have been internally displaced within Tigray, and 63,000 refugees who have fled to Sudan since fighting broke out on...

The Taliban has announced a three-day ceasefire to mark Eid al-Fitr following the bombing of a girls' school in Dasht-e-Barchi, in which over 50 people, mostly young girls, were killed and over 100 were injured.

Afghanistan's President, Ashraf Ghani, accused the Taliban of conducting the attack and declared Tuesday a day of national...

Human Rights Watch (HRW) has reported that Israel's policies constitute apartheid; with the intention to "maintain the domination by Jewish Israelis over Palestinians and grave abuses committed against Palestinians living in the occupied...

Over 100 Palestinians and 20 Israeli police were injured in a far-right Israeli protest in occupied East Jerusalem.

A group of UK charities and Human Rights Watch joined Palestine in condemning British Prime Minister Boris Johnson's letter to the Conservative Friends of Israel, in which he expressed the UK's opposition to the ICC decision to investigate alleged war crimes in Palestine since June 2014.

Joe Biden is the first US President to formally recognise the systematic killing of over a million Armenians by the Ottoman Empire during the First World War, as genocide. 

In a statement marking Armenian Remembrance Day, Biden wrote:

"We remember the lives of all those who died in the Ottoman-era Armenian genocide and...

The European Union (EU) imposed sanctions on eight Iranian militia officers and police chiefs over a deadly crackdown of protests in November 2019 by the Islamic Republic. 

Hossein Salami, the head of the Islamic Revolutionary Guard Corps, was amongst those who were sanctioned. 

"Hossein Salami took part in the sessions that resulted in the orders to use lethal force to suppress the November 2019 protests. Hossein Salami therefore bears responsibility for serious human rights...

Photo of US troop in Afghanistan

Following the announcement of US President, Joe Biden, that America would withdraw its forces from Afghanistan by 11th September, Britain has similarly stated that it will withdraw nearly all of its approximately 750 soldiers.

The British House of Lords has voted down the government's proposed overseas operation bill which would establish "a presumption against prosecution" for service personnel accused of committing crimes overseas, except for sexual offences, if more than five years had passed since the alleged...

A Turkish court has jailed for life 22 former soldiers for their involvement in a coup attempt that sought to overthrow President Recep Tayyip Erdogan. 

A mass trial which concluded on Wednesday investigated nearly 500 soldiers and identified the ex-military personnel as guilty.

Addressing the media today, Former Myanmar ambassador, Kyaw Zwar Minn, said that staff were forced to leave Myanmar's embassy and he was dismissed as the country's representative by Myanmar's military attaché.

Britain's Foreign Secretary, Dominic Raab, has announced further sanctions on Myanmar, targeting the military-linked conglomerate Myanmar Economic Corporation (MEC) following the military coup on the 1 February.

The former United Nations Special Rapporteur on arbitrary executions and renowned human rights law professor Christof Heyns passed away this weekend.

Tributes have flooded in around the world for Nawal El Saadawi, an Egyptian doctor, feminist and writer, who was a panel member in the 2010 Permanent People's Tribunal on Sri Lanka which acknowledged the "importance of continuing investigation into the possibility of genocide".

Secretary-General of the UN António Guterres stressed the key role that the United Nationals plays in combating deteriorating human rights violations around the globe in his opening remarks at the 46th session of the UNHRC session in Geneva.

The United Kingdom and Canada announced that they are imposing sanctions on individuals responsible for serious human rights violations against the people of Myanmar during the coup. 

UK Foreign Secretary Dominic Raab announced that three Myanmar military generals will face travel bans and their assets will be frozen under the UK's sanctions regime. 

Photo of ICC's chief prosecutor, Fatou Bensouda

The International Criminal Court (ICC) on Friday determined that it has jurisdiction over the territories occupied by Israel in the 1967 Arab-Israeli conflict, opening the way for the chief prosecutor to inquire into allegations of Israeli war crimes.